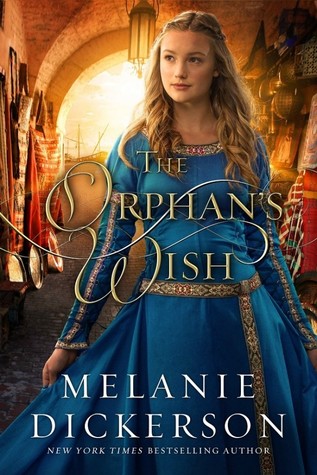 Recommended Age: Young Adult
Genre: Fantasy (Christain), Retelling (Aladdin)
About the Book:
From the streets to an orphanage in a faraway kingdom, Aladdin has grown up alone. Until he meets Kirstyn. With a father who is the duke of Hagenheim and a mother who is the patroness of the orphanage where Aladdin lives, Kirstyn is a member of the most powerful family in the land . . . and way out of his league. Despite the difference in their stations, Aladdin quickly becomes Kirstyn's favorite companion for taking walks in the forest, and their childhood friendship grows along with them.
Through his scrappy skills, intelligence, and hard work, Aladdin earns a position serving in the duke's house. But he knows it isn't enough to grant him his one desire: Kirstyn's hand in marriage. If he hopes to change his station in life and feel worthy of marrying Kirstyn, he must leave Hagenheim to seek his fortune.
But once Aladdin leaves, no one is around to protect Kirstyn, and the greedy men desperate to take advantage of her father's wealth take notice. Now, more than Aladdin's background stands in the way of the future he's worked so hard to obtain. His only hope is to rescue Kirstyn and somehow manage to win her hand as well.
About the Author:
Melanie Dickerson is a
New York Times
bestselling author and a Christy Award winner. Her first book,
The Healer's Apprentice
, won the National Readers' Choice Award for Best First Book in 2010, and
The Merchant's Daughter
won the 2012 Carol Award. Melanie spends her time daydreaming, researching the most fascinating historical time periods, and writing stories at her home near Huntsville, Alabama, where she gathers dandelion greens for her two adorable guinea pigs between writing and editing her happily ever afters. Visit her online at MelanieDickerson.com; Facebook: MelanieDickersonBooks; Twitter: @MelanieAuthor.
Noteworthy experiences while reading this book: I always seem to enjoy these books. They are not overly religious and the stories are just amazing!
Do I Recommend this book? Yes if you love retellings then check this one out! And you do not have to read the others (this being number 8)
Notes and Opinions: This one started out with a few flash backs that did slow the story down but without these I do not think the story would have been as good. They really showed us where these characters were coming from and allowed us to understand them more. This was one interesting book with characters struggling to endure their situataion and appearing perfect to those around them when they are not. I do think that parts of this story could have been a lot better. Parts of it do a lot of telling vs. showing and other parts the character's don't feel as fleshed out as others. But all in all it was a well paced slight retelling of the story we have all come to love Aladdin. If you love retellings (slight) or this time peiord or are just a fan of this author I would say pick this one up!
Go Into This One Knowing: Slight retelling about Aladdin
a Rafflecopter giveaway
Disclaimer:
"All opinions are 100% honest and my own."
Thanks to Goodreads and Amazon for the book cover, about the book, and author information. Buying via these links allows my site to get a % of the sale at no cost to you.
FTC Guidelines: In accordance with FTC guidelines regarding endorsements and testimonials for bloggers, I would like my readers to know that many of the books I review are provided to me for free by the publisher or author of the book in exchange for an honest review. If am compensated for any reviews on this site I will state that post has been sponsored.
Comments are DELICIOUS! and now that were using this new format for comments the TOP 3 Commenters will all win bookish goodies each month! So that is just one more reason to comment! This is open to everyone! So get commenting!
Don't forget to check out our Facebook, Twitter, Instagram, and Pinterest!