June/July pics were so amazing and were so excited to share July's Featured Author as well as the picks for our meetings in Aug. We hope that everyone had a great time with last month's titles! Below you will find the information that you need to know! We hope to see you at one of the meetings as well as on the group!
#TheBookAddicts
This month we have the chance to speak with author Jennifer Brody and her book The 13th Continuum. I have read this book and it was freaking amazing! It won the
Gold Medal Winner, Young Adult Fiction ― Fantasy/Sci-Fi,

Independent Publisher

's Moonbeam Children's Book Awards.
Make sure to join us this month on The Book Addicts group on Facebook!
Goodreads | Amazon | Group
One thousand years after a cataclysmic event leaves humanity on the brink of extinction, the survivors take refuge in continuums designed to sustain the human race until repopulation of Earth becomes possible. Against this backdrop, a group of young friends in the underwater Thirteenth Continuum dream about life outside their totalitarian existence, an idea that has been outlawed for centuries. When a shocking discovery turns the dream into a reality, they must decide if they will risk their own extinction to experience something no one has for generations, the Surface.
#WinterHavenYABC
This month's choice is the first Harry Potter book. I have to say that I have not read the Harry Potter series (I know I am a bad reader) but I am excited to finally sit down and read them.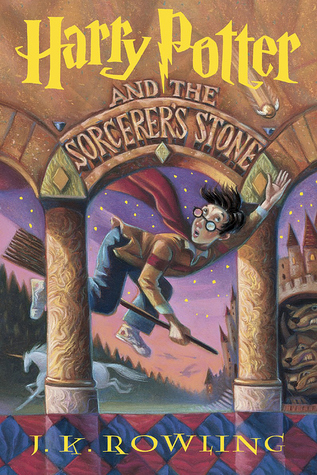 Harry Potter's life is miserable. His parents are dead and he's stuck with his heartless relatives, who force him to live in a tiny closet under the stairs. But his fortune changes when he receives a letter that tells him the truth about himself: he's a wizard. A mysterious visitor rescues him from his relatives and takes him to his new home, Hogwarts School of Witchcraft and Wizardry.
After a lifetime of bottling up his magical powers, Harry finally feels like a normal kid. But even within the Wizarding community, he is special. He is the boy who lived: the only person to have ever survived a killing curse inflicted by the evil Lord Voldemort, who launched a brutal takeover of the Wizarding world, only to vanish after failing to kill Harry.
Though Harry's first year at Hogwarts is the best of his life, not everything is perfect. There is a dangerous secret object hidden within the castle walls, and Harry believes it's his responsibility to prevent it from falling into evil hands. But doing so will bring him into contact with forces more terrifying than he ever could have imagined.
Full of sympathetic characters, wildly imaginative situations, and countless exciting details, the first installment in the series assembles an unforgettable magical world and sets the stage for many high-stakes adventures to come.
This month is a book that Jessica (me) has already read so I can tell you first hand this book was the bomb! But I am really excited that this won for the July pick (aug. meeting) because I really need to reread it so I can read book two! This book was so good and I hope you join us!
Odessa is one of Karthia's master necromancers, catering to the kingdom's ruling Dead. Whenever a noble dies, it's Odessa's job to raise them by retrieving their souls from a dreamy and dangerous shadow world called the Deadlands. But there is a cost to being raised--the Dead must remain shrouded, or risk transforming into zombie-like monsters known as Shades. If even a hint of flesh is exposed, the grotesque transformation will begin.
A dramatic uptick in Shade attacks raises suspicions and fears among Odessa's necromancer community. Soon a crushing loss of one of their own reveals a disturbing conspiracy: someone is intentionally creating Shades by tearing shrouds from the Dead--and training them to attack. Odessa is faced with a terrifying question: What if her necromancer's magic is the weapon that brings Karthia to its knees?
Disclaimer:
"All opinions are 100% honest and my own."
Thanks to Goodreads and Amazon for the book cover, about the book, and author information. Buying via these links allows my site to get a % of the sale at no cost to you. This money gets used to buy items for giveaways.
FTC Guidelines: In accordance with FTC guidelines regarding endorsements and testimonials for bloggers, I would like my readers to know that many of the books I review are provided to me for free by the publisher or author of the book in exchange for an honest review. If am compensated for any reviews on this site I will state that post has been sponsored.
Donations: All donations are to help keep this site running via costs from shipping, .com charges, and other giveaways.
Comments are DELICIOUS! and now that were using this new format for comments the TOP 3 Commenters will all win bookish goodies each month! So that is just one more reason to comment! This is open to everyone! So get commenting!
Don't forget to check out our Facebook, Twitter, Instagram, and Pinterest!
Save
Save
Save
Save
Save
Save
Save
Save
Save
Save
Save
Save
Save
Save