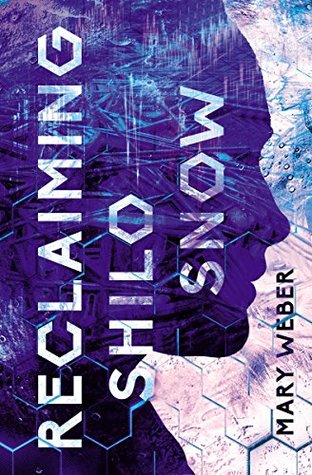 Recommended Age: Young Adult
Genre: Science Fiction (Dystopian)
About the Book:
Trapped on the ice-planet of Delon, gamer girl Sofi and Ambassador Miguel have discovered that nothing is what it seems, including their friends. On a quest to rescue her brother, Shilo, a boy everyone believes is dead, they must now escape and warn Earth of Delon's designs on humanity. Except the more they unearth of the planet and Sofi's past, the more they feel themselves unraveling, as each new revelation has Sofi questioning the very existence of reality.
Meanwhile, back on Earth, Sofi's mom, Inola, is battling a different kind of unraveling: a political one that could cost lives, positions, and a barely-rebuilt society, should they discover the deal made with the Delonese.
But there's a secret deeper than all that. One locked away inside Sofi and ticking away with the beginnings, endings, and answers to everything. Including how to save humanity.
Want to try out this one check out the Amazon link above becuase its on sale for .99 Centers!
About the Author:
Mary Weber is the multiple-award-winning author of the bestselling young adult Storm Siren Trilogy, and The Evaporation of Sofi Snow series (all by HarperCollins). An avid school and conference speaker, Mary's passion is helping others find their voice amid a too-loud world. When she's not plotting adventures involving tough girls taking over the universe, Mary sings 80's hairband songs to her three muggle children, and ogles her husband who looks strikingly like Wolverine. They live in California which is perfect for stalking L.A. bands and the ocean.
Mary's books have been featured in the Scholastic School Book Fairs and endorsed by bestselling authors Marissa Meyer, Wendy Higgins, and Jonathan Maberry. You can also find Mary and Marissa Meyer's fun interview in the paperback of Marissa's NYT bestselling, CRESS.
She gets nerdy on FACEBOOK @MaryWeberAuthor, INSTAGRAM @MaryWeberAuthor, TWITTER @mchristineweber, and GOODREADS. Come say hi!!
***For FUN EXTRAS, School Visits & Speaking INFO, & BOOK NEWS, visit her at MaryWeber.com***
Noteworthy experiences while reading this book: This one fell back into what I didn't like about book one.
Do I Recommend this book? If you liked book one I do not see why you wouldn't like this one.
Notes and Opinions: This one fell into the same old, same old as book one did. It was confusing and well the writing really didn't flow the way I was hoping for. I am still a full on fan of Mary Weber's stories but this one just didn't really work out for me. I think one of the biggest issues with this duology as a whole was that I had a hard time picturing the story as it went along in my mind. When I read I see everything like a movie (yes yes I know that it totally cool!) but this one I just couldn't do it.
Go Into This One Knowing: Confusing, and well CONFUSING!
Disclaimer:
"All opinions are 100% honest and my own."
Thanks to Goodreads and Amazon for the book cover, about the book, and author information. Buying via these links allows my site to get a % of the sale at no cost to you.
FTC Guidelines: In accordance with FTC guidelines regarding endorsements and testimonials for bloggers, I would like my readers to know that many of the books I review are provided to me for free by the publisher or author of the book in exchange for an honest review. If am compensated for any reviews on this site I will state that post has been sponsored.
Comments are DELICIOUS! and now that were using this new format for comments the TOP 3 Commenters will all win bookish goodies each month! So that is just one more reason to comment! This is open to everyone! So get commenting!
Don't forget to check out our Facebook, Twitter, Instagram, and Pinterest!