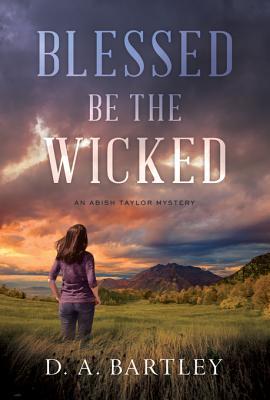 About the Book:
Detective Abish Taylor left Utah for a reason. But with her husband's passing, it's time to come home. Reconnecting with her family means dealing with her past: the father she abandoned and the community she left behind. Her one escape is serving as the sole police detective in the small town of Pleasant View. But when the quiet Mormon suburb in the Wasatch Mountains is shaken by a macabre death—with the hallmarks of a sacred ritual dating back to the days of Brigham Young— Abbie is called into action.
As she uncovers the dark side of the picturesque neighborhood—infidelity, corruption, and the greed of a global religion—Abbie discovers just how far some powerful leaders of the Church will go to bury their secrets. Especially as the brutal murder unearths a sinister tradition lurking in the religion's not-so-distant past: the ultimate sacrifice for unforgivable sins. With the chief pressuring her to close the case and the community that once sheltered her watching her every move, Abbie must find justice for the dead—before she's silenced for good.
About the Author:
D.A. Bartley (Alison) grew up Mormon. Her family can trace its roots back to some of the earliest converts to the Church of Jesus Christ of Latter-day Saints. Alison is a member of the Daughters of Utah Pioneers, which means her ancestors settled in Utah (or Deseret, if you're going to be technical) before the Transcontinental Railroad was finished in 1869.
Alison was born in Edinburgh, Scotland, where her dad was studying linguistics at the time. Her parents moved back to Ogden, Utah, when she was two (which is why Alison does not have a charming Scottish accent). When she was ten, her family moved to France, and when she was eleven they moved to Germany. Her family returned to Salt Lake City where Alison went to high school. (Go Olympus Titans!)
Alison attended Boston University, but the need to travel was in her blood and she spent her junior year abroad. She moved to Leningrad, USSR, in 1991, and moved from St. Petersburg, Russia, in 1992. The following summer she pretended to study French in Paris, but mostly drank black coffee at sidewalk cafés and did some serious people watching.
After college, Alison went on to get her Ph.D. in political science (her dissertation focussed on how countries used the concept of sovereignty in legal disputes) and a J.D. both from the University of Pennsylvania. She then moved with her husband to New York City where she practiced law and spent time as a research scholar writing academic papers.
Alison has lived in Manhattan longer than she has any other place on the planet, but she still finds it hard to navigate without mountains. She and her husband live with their teenage daughter and son on the Upper East Side.
Noteworthy experiences while reading this book: For me this one was a little over the top.
Do I Recommend this book? If you like religious cop books I would check this one out.
Notes and Opinions: The characters in this one were ok and the book was actually really thought out. I just really didn't connect with all the religious aspect of the title and what was going on. For me this one just didn't work and there is nothing wrong with it in my eyes. It just wasn't for me. The story and characters are all there and the pacing was well in hand. It was just the content and the story itself that just didn't speak to me at all.
Go Into This One Knowing: Religion, Procedures (cops)
Disclaimer:
"All opinions are 100% honest and my own."
Thanks to Goodreads and Amazon for the book cover, about the book, and author information. Buying via these links allows my site to get a % of the sale at no cost to you.
FTC Guidelines: In accordance with FTC guidelines regarding endorsements and testimonials for bloggers, I would like my readers to know that many of the books I review are provided to me for free by the publisher or author of the book in exchange for an honest review. If am compensated for any reviews on this site I will state that post has been sponsored.
Comments are DELICIOUS! and now that were using this new format for comments the TOP 3 Commenters will all win bookish goodies each month! So that is just one more reason to comment! This is open to everyone! So get commenting!
Don't forget to check out our Facebook, Twitter, Instagram, and Pinterest!