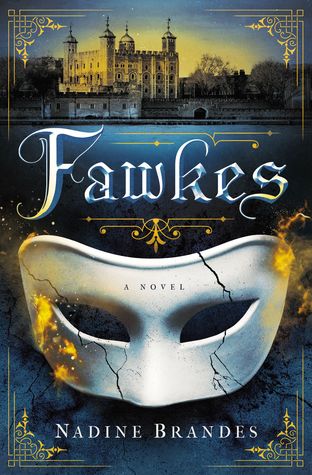 Publisher: Thomas Nealson
Recommended Age: Young Adult
Genre: Historical Fantasy
About the Book:
Thomas Fawkes is turning to stone, and the only cure to the Stone Plague is to join his father's plot to assassinate the king of England.

Silent wars leave the most carnage. The wars that are never declared, but are carried out in dark alleys with masks and hidden knives. Wars where color power alters the natural rhythm of 17th century London. And when the king calls for peace, no one listens until he finally calls for death.

But what if death finds him first?

Keepers think the Igniters caused the plague. Igniters think the Keepers did. But all Thomas knows is that the Stone Plague infecting his eye is spreading. And if he doesn't do something soon, he'll be a lifeless statue. So when his Keeper father, Guy Fawkes, invites him to join the Gunpowder Plot—claiming it will put an end to the plague—Thomas is in.

The plan: use 36 barrels of gunpowder to blow up the Igniter King.

The problem: Doing so will destroy the family of the girl Thomas loves. But backing out of the plot will send his father and the other plotters to the gallows. To save one, Thomas will lose the other.

No matter Thomas's choice, one thing is clear: once the decision is made and the color masks have been put on, there's no turning back.
About the Author:
Nadine Brandes once spent four days as a sea cook in the name of book research. She is the author of the award-winning Out of Time Series and her inner fangirl perks up at the mention of soul-talk, Quidditch, bookstagram, and Oreos. When she's not busy writing novels about bold living, she's adventuring through Middle Earth or taste-testing a new chai. She and her Auror husband plan to live in a Tiny House on wheels. Current mission: paint the world in shalom.
Website: NadineBrandes.com; Instagram: NadineBrandes; YouTube: NadineBrandes Twitter: @NadineBrandes; Facebook: NadineBrandesAuthor;
Noteworthy experiences while reading this book: I was really excited to read this one and the premise was really good.
Do I Recommend this book? If you don't mind slower books this one might work for you.
Notes and Opinions: I loved the magic system in this one as well as all the action and what the author was trying to do. But all that was bogged down by a very slow story and at just shy of 450 pages I think this one would have worked better if it would have been about 100 pages less than that. I wish we would have gotten more about the magic system as well as the blend of fantasy and fiction.
But there was just to much going on in this one and way to many people to keep track of.
Go Into This One Knowing: Slow, To Long, To many people
Disclaimer:
"All opinions are 100% honest and my own."
Thanks to Goodreads and Amazon for the book cover, about the book, and author information. Buying via these links allows my site to get a % of the sale at no cost to you.
FTC Guidelines: In accordance with FTC guidelines regarding endorsements and testimonials for bloggers, I would like my readers to know that many of the books I review are provided to me for free by the publisher or author of the book in exchange for an honest review. If am compensated for any reviews on this site I will state that post has been sponsored.
Comments are DELICIOUS! and now that were using this new format for comments the TOP 3 Commenters will all win bookish goodies each month! So that is just one more reason to comment! This is open to everyone! So get commenting!
Don't forget to check out our Facebook, Twitter, Instagram, and Pinterest!