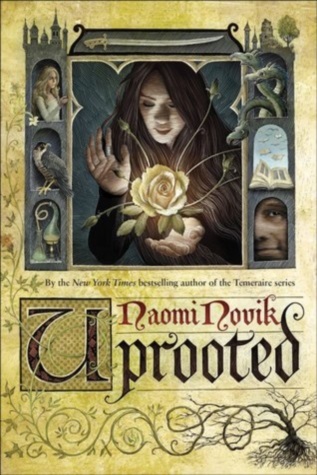 Recommended Age: Young Adult, New Adult, Adult (see disclaimer)
About the Book:
"Our Dragon doesn't eat the girls he takes, no matter what stories they tell outside our valley. We hear them sometimes, from travelers passing through. They talk as though we were doing human sacrifice, and he were a real dragon. Of course that's not true: he may be a wizard and immortal, but he's still a man, and our fathers would band together and kill him if he wanted to eat one of us every ten years. He protects us against the Wood, and we're grateful, but not that grateful."
Agnieszka loves her valley home, her quiet village, the forests and the bright shining river. But the corrupted Wood stands on the border, full of malevolent power, and its shadow lies over her life.
Her people rely on the cold, driven wizard known only as the Dragon to keep its powers at bay. But he demands a terrible price for his help: one young woman handed over to serve him for ten years, a fate almost as terrible as falling to the Wood.
The next choosing is fast approaching, and Agnieszka is afraid. She knows—
everyone
knows—that the Dragon will take Kasia: beautiful, graceful, brave Kasia, all the things Agnieszka isn't, and her dearest friend in the world. And there is no way to save her.
But Agnieszka fears the wrong things. For when the Dragon comes, it is not Kasia he will choose.
About the Author:
Naomi Novik
is the acclaimed author of
His Majesty's Dragon, Throne of Jade, Black Powder War, Empire of Ivory,
Victory of Eagles, Tongues of Serpents, Crucible of Gold,
and
Blood of Tyrants,
the first eight volumes of the Temeraire series. She has been nominated for the Hugo Award and has won the John W. Campbell Award for Best New Writer, as well as the Locus Award for Best New Writer and the Compton Crook Award for Best First Novel. She is also the author of the graphic novel
Will Supervillains Be on the Final?
Fascinated with both history and legends, Novik is a first-generation American raised on Polish fairy tales and stories of Baba Yaga. Her own adventures include pillaging degrees in English literature and computer science from various ivory towers, designing computer games, and helping to build the Archive of Our Own for fanfiction and other fanworks. Novik is a co-founder of the Organization for Transformative Works.
She lives in New York City with her husband, Charles Ardai, the founder of Hard Case Crime, and their daughter, Evidence, surrounded by an excessive number of purring computers.
I wanted to add a disclaimer to this one. So this book is not technically young adult it is classified as Fantasy, although most of the story would be classified as such. There is one slight sex scene during the middle of the book that is about what you would find in a Sarah J. Maas novel. However, there is another one during the end of the book that is WAY more involved it goes for a page and a half. So I just want to warn you all about that.
Noteworthy experiences while reading this book:
Man o man people I have never wanted to give a book 10 stars in my life! This book was SO GOOD! I read this one after getting Spinning Silver from Uppercase and I thought I really should read this one first. But I guess I didn't have to but I am so glad I did. Because this book has it all man! And to top it off its a stand alone!
Do I Recommend this book?
YES! Read this one now people! OMG!
Notes and Opinions:
This world is already fully going by the time we start the book and that really worked well. I enjoyed where we were dropped into the story. This one has a lot of info-dumping as well but doesn't worry its not your normal info-dumping where you want to gouge your eyes out of your head by the time its over. It's in a way that it makes you interested in their world. It was so good.
The characters in this one were even better! I fell in love with everyone and man o man would I love a prequel of this world. Although parts of this were predictable it was just the way it had to go. Within seconds of starting you know who will be chosen by the Dragon to go to the tower. But hey that was totally ok. I loved how the author did these characters because you could just feel what they felt and it worked out so well. Not many authors can portray characters in a way that you feel what they feel.
The story flowed so well and it was original and breathtaking and I just couldn't put it down! I finished it at like 2 am just so I could find out what happened. The world building was fantastic and I know I just won't be able to explain the awesomeness of this title! I just want to meet the author and give her a hug and bow down before her for writing this one.
In the end, this one was just freaking amazing and this review does not do it the justice that it should have. If you haven't read this one you should because this is one that I will so be reading again and again! I need a movie now!
Go Into This One Knowing: Two Sex Scenes, Romance (not the main story), Gripping Story, Amazing Characters, 10 Million Stars!
Disclaimer:
"All opinions are 100% honest and my own."
Thanks to Goodreads and Amazon for the book cover, about the book, and author information. Buying via these links allows my site to get a % of the sale at no cost to you.
FTC Guidelines: In accordance with FTC guidelines regarding endorsements and testimonials for bloggers, I would like my readers to know that many of the books I review are provided to me for free by the publisher or author of the book in exchange for an honest review. If am compensated for any reviews on this site I will state that post has been sponsored.
Comments are DELICIOUS! and now that were using this new format for comments the TOP 3 Commenters will all win bookish goodies each month! So that is just one more reason to comment! This is open to everyone! So get commenting!
Don't forget to check out our Facebook, Twitter, Instagram, and Pinterest!