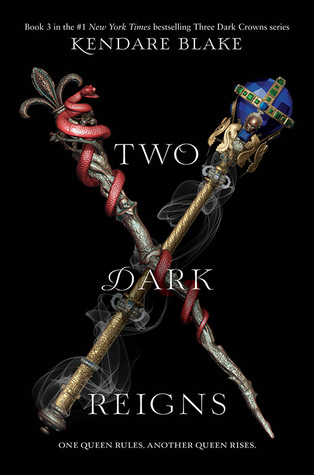 #1 New York Times bestselling author Kendare Blake returns with the highly anticipated third book in the Three Dark Crowns series!
Katharine sits on the throne, Mirabella and Arsinoe are in hiding, and an unexpected renegade is about to wage a war of her own.
The crown has been won, but these queens are far from done.
Recommended Age: Young Adult
Praise for TWO DARK REIGNS
"Tragic, devastating, horrifying, enthralling." ―
Kirkus Reviews
(starred review)
Praise for ONE DARK THRONE
★ "Blake's already pitch-dark tale shades even darker. Exquisitely restrained prose, deliberate pacing, paying off in a tumultuous climax that piles one shocking twist upon another. Achingly gorgeous and gruesomely fascinating." ―
Kirkus Reviews
(starred review)
"This sequel to Three Dark Crowns loses none of that book's momentum, powering
toward a conclusion that leaves several doors open. With wonderfully drawn characters and a lethal, unpredictable plot, this follow-up will leave readers breathless as the queens' fates unfold." ―
ALA Booklist
Praise for THREE DARK CROWNS
"New exciting heights with a driving plot. Dark indeed, and exploring themes of loyalty, this is a thrilling sequel with everything from action to romance to entice readers. A strong purchase for YA fantasy shelves." ―
School Library Journal
"Three Dark Crowns is a brutal and inventive fantasy that is as addictive as it is horrifying. I can't begin to guess the fates of these three remarkable sister-queens, but I'm salivating like poisoners at a feast to find out what will happen next." ―
Marissa Meyer, New York Times
bestselling author of the
Lunar Chronicles
"Full of mystery, intrigue, and deadly girls I wouldn't dare cross, Fennbirn is a darkly magical world I'm both drawn to and frightened by. In short, this is a book I could linger in for months, with three girls I am rooting for with all my heart." ―
Megan Shepherd, New York Times
bestselling author of
The Cage
series
★ "With exquisite world building and luminous detail, this is high fantasy at its best. The magic is fierce and the plot intensely twisted, but at this novel's dark heart beats a story about sisterhood, the unbreakable bonds of family, and ties that bind enough to kill." ―
Booklist
(starred review)
★ "The opener to a pitch-black epic fantasy series. Blake has constructed an insular, matriarchal society from convincing intimate details, vivid, complicated characters, [and] sumptuous, poetic prose. Gorgeous and bloody, tender and violent, precise, and passionate; above all, completely addicting. " ―
Kirkus Reviews
(starred review)
"I loved this book. Blake's Three Dark Crowns is hypnotic, twisting, and beautiful...as satisfying as a drop of poison in an enemy's cup." ―April Genevieve Tucholke, author of Wink, Poppy, Midnight
"Readers will be riveted by Blake's ingenious world-building, stunning developments of main and supporting characters, and spiraling tensions. Highly recommended for fans of fantasy action thrillers with strong female leads, such as Victoria Aveyard's 'Red Queen' and Sarah J. Maas's 'Throne of Glass' series." ―
School Library Journal
About the Author:
Kendare Blake
is the author of several novels and short stories, most of which you can find information about via the links above. Her work is sort of dark, always violent, and features passages describing food from when she writes while hungry. She was born in July (for those of you doing book reports) in Seoul, South Korea, but doesn't speak a lick of Korean, as she was packed off at a very early age to her adoptive parents in the United States. That might be just an excuse, though, as she is pretty bad at learning foreign languages. She enjoys the work of Milan Kundera, Caitlin R Kiernan, Bret Easton Ellis, Richard Linklater, and the late, great Michael Jackson, I mean, come on, he gave us Thriller.
She lives and writes in Kent, Washington, with her husband, their cat son Tyrion Cattister, red Doberman dog son Obi-Dog Kenobi, rottie mix dog daughter Agent Scully, and naked sphynx cat son Armpit McGee.
PHOTO CONTENT FROM KENDARE BLAKE
WEBSITE:
http://kendareblake.com/
TWITTER:
@KendareBlake
GOODREADS:
https://www.goodreads.com/author/show/4086715.Kendare_Blake
FACEBOOK:
https://www.facebook.com/Anna-Dressed-In-Blood-247641338610092/
INSTAGRAM:
https://www.instagram.com/kendareblake/
Noteworthy experiences while reading this book: Ok so first off I want to let you guys know. I HATED book one I think I DNFed that thing like three times before I got powered through the first few chapters and then fell in love with each of these queens. So if you were like me and through that change of POV to start was way choppy its ok you are not alone! But stick with it becuase it turns amazing as you go!
Do I Recommend this book? Yes please give these a try!


Notes and Opinions: OMG this book was fabulous! My only issue with this one was the pacing it felt a little choppy and a little slow at times. This was a great thrill ride with some twists and and a lot of action! There is another story in this one about the Blue Queen and I felt that it took away from the main story line but not so much as to ruin the story as a whole. Although this one didn't have as much action as the first two books this one did suffer a little with that book three syndrome that we normally see in a book two. I will continue with this series becuase it has become a love for me. And well we have one more book to come out unless they extend the series again. This one however has some great characters, an amazing story, and some killer twists I just didn't see coming.
a Rafflecopter giveaway
Disclaimer:
"All opinions are 100% honest and my own."
Thanks to Goodreads and Amazon for the book cover, about the book, and author information. Buying via these links allows my site to get a % of the sale at no cost to you.
FTC Guidelines: In accordance with FTC guidelines regarding endorsements and testimonials for bloggers, I would like my readers to know that many of the books I review are provided to me for free by the publisher or author of the book in exchange for an honest review. If am compensated for any reviews on this site I will state that post has been sponsored.
Comments are DELICIOUS! and now that were using this new format for comments the TOP 3 Commenters will all win bookish goodies each month! So that is just one more reason to comment! This is open to everyone! So get commenting!
Don't forget to check out our Facebook, Twitter, Instagram, and Pinterest!