Welcome to this weeks post of First Page Tuesday! This week we have a book that is pegged as
Morgan Matson meets Maggie Stiefvater in a story that will make you believe in friendship, miracles, and maybe even magic. I don't know about you but I can not wait to try this one out! Its out next week so make sure to preorder!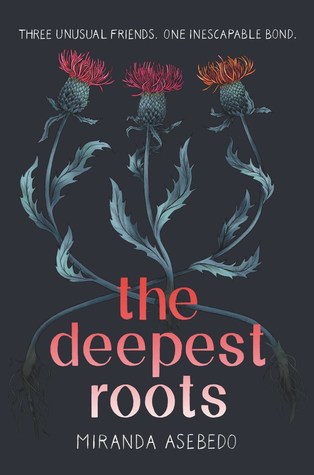 About the Book:
Contemporary with the slightest twist of magic, this stunning debut YA novel is a fresh and heartwarming story about the power of friendship.

Cottonwood Hollow, Kansas, is a strange place. For the past century, every girl has been born with a special talent, like the ability to Fix any object, Heal any wound, or Find what is missing.

Best friends Rome, Lux, and Mercy all have similar talents, but to them, their abilities often feel like a curse. Rome may be able to Fix anything she touches, but that won't help her mom pay rent or make it any easier to confide in Lux and Mercy about what's going on at home. And Rome isn't the only one. Lux has been hiding bigger, more dangerous secrets.

As Rome struggles to keep her friendships close, she discovers the truth about life in Cottonwood Hollow—that friends are stronger than curses, that trust is worth the risk, and sometimes, what you've been looking for has been under your feet the whole time.
Publisher:
HarperTeen
|
Recommended Age: Young Adult |
Genre: Magical Realism
About the Author:
Miranda Asebedo was born and raised in rural Kansas with a love of fast cars, open skies, and books. She carried that love of books to college, where she got her BA and MA in English, with an emphasis in creative writing and literature. A Seaton Fellowship recipient, her short fiction has appeared in
Kansas Voices
,
Touchstone
, and
Midway Journal
. Miranda still lives on the prairie today with her husband, two kids, and a majestic bulldog named Princess Jellybean. If Miranda's not writing or reading, she's most likely convinced everyone to load up in the family muscle car and hit the road. She can be found online at www.mirandaasebedo.com.
The thing about tornadoes is that they're a game of odds. Every die cast has to fall against you at the perfect moment. And when you live in the small, rural town of Cottonwood Hollow, Kansas, you think, What are the odds it' ll hit here out of all the places in the county?
Well, my odds have been shit lately.
"Why aren't you at the shelter, Mom?" I yell as I slam the front door shut behind me. She's got all the windows of our old single-wide trailer open, and they seem to suck in and amplify the tornado siren. The sky outside is a greenish gold, the color of an old bruise that is faded but still tender to the touch.
Mom should have left twenty minutes ago, when we were first put under the tornado warning, the radio blaring an advisory to take immediate shelter. Red let me off my shift at the auto shop early so I could beat the storm home, but when I passed Cottonwood Hollow's community tornado shelter and didn't see Mom's car, I knew something was wrong.
Mom's face when she sees me is one of surprise, quickly overshadowed by a tightening of her mouth, that face she makes when she's afraid. "What are you doing here?" she shouts back, her voice accusatory, as if I'm the one who's done something wrong. "You should have stayed in Evanston. I texted you to stay put. You would've been safe in the shop." She holds Steven's halter with one hand. Steven is a giant, beastly mix of generations of mutts who's begun to howl in concert with the tornado siren.
"My phone's out of minutes! I came back to meet you in the shelter," I shout back. "What the hell are you still doing here?"
"Garrett told me no pets allowed in the tornado shelter after Missy Underwood's dog bit one of the Pelter kids." Garrett Remington is the mayor of Cottonwood Hollow, and also our landlord. He may or may not have been one of Mom's previous boyfriends, too. He brags around town that he's descended from the Remingtons, and I think that's probably the only reason a creep like him got elected mayor.
"Tell Garrett to screw off." I bellow over the sirens and Steven's howls.
Disclaimer:
"All opinions are 100% honest and my own."
Thanks to Goodreads and Amazon for the book cover, about the book, and author information. Buying via these links allows my site to get a % of the sale at no cost to you.
FTC Guidelines: In accordance with FTC guidelines regarding endorsements and testimonials for bloggers, I would like my readers to know that many of the books I review are provided to me for free by the publisher or author of the book in exchange for an honest review. If am compensated for any reviews on this site I will state that post has been sponsored.
Comments are DELICIOUS! and now that were using this new format for comments the TOP 3 Commenters will all win bookish goodies each month! So that is just one more reason to comment! This is open to everyone! So get commenting!
Don't forget to check out our Facebook, Twitter, Instagram, and Pinterest!