Welcome to this week Waiting on Wednesday post! This week we have three amazing titles for you! Which one can't you wait to read? Let us know below in the comments which title you can't wait to read and one title you recommend!


To Kill a Kingdom by Alexandra Christo
About the Book:
Princess Lira is siren royalty and the most lethal of them all. With the hearts of seventeen princes in her collection, she is revered across the sea.
Until a twist of fate forces her to kill one of her own.
To punish her daughter, the Sea Queen transforms Lira into the one thing they loathe most—a human.
Robbed of her song, Lira has until the winter solstice to deliver Prince Elian's heart to the Sea Queen or remain a human forever.
The ocean is the only place Prince Elian calls home, even though he is heir to the most powerful kingdom in the world.
Hunting sirens is more than an unsavory hobby—it's his calling.
When he rescues a drowning woman in the ocean, she's more than what she appears.
She promises to help him find the key to destroying all of sirenkind for good—But can he trust her?
And just how many deals will Elian have to barter to eliminate mankind's greatest enemy?
About the Author:
Alexandra Christo decided to write books when she was four and her teacher told her she couldn't be a fairy. She has a BA in Creative Writing and works as a copywriter in London, both of which make her sound more grown up than she feels. When she's not busy making up stories, she can be found buying far too many cushions and organizing food crawls all over the city. Alexandra currently lives in Hertfordshire with an abundance of cacti (because they're the only plants she can keep alive).
Once A King (Clash of Kingdoms #3)
Erin Summerill
About the Book:
Aodren:
A lonely, young king, searching for a way to dismantle his father's dark legacy.
Lirra:
A girl with the power to control the wind, torn between duty and following her dreams
For twenty years, Channelers—women with a magical ability—have been persecuted in Malam by those without magic. Now King Aodren wants to end the bloody divide and unite his kingdom. But decades of hatred can't be overcome by issuing decrees, and rumors of a deadly Channeler-made substance are only fueling people's fears. Lirra has every reason to distrust Aodren. Yet when he asks for help to discover the truth behind the rumors, she can't say no. With Lirra by his side, Aodren sees a way forward for his people. But can he rewrite the mistakes of the past before his enemies destroy the world he's working so hard to rebuild?
About the Author:
Erin Summerill
was born in England. After spending years bouncing between Air Force bases in Hawaii, England, and California, her family finally settled down in Utah. When Erin doesn't have her nose in a book, she's busy chasing after her four kids, two dogs, and a cat. Visit her online at erinsummerill.com and follow her on Twitter: @erinsummerill.
Forest of a Thousand Lanterns (Rise of the Empress, #1)
by Julie C. Dao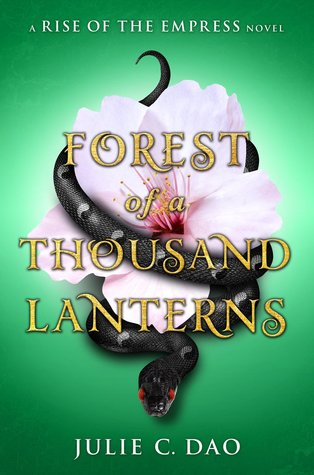 About the Book:
An East Asian fantasy reimagining of The Evil Queen legend about one peasant girl's quest to become Empress--and the darkness she must unleash to achieve her destiny.
Eighteen-year-old Xifeng is beautiful. The stars say she is destined for greatness, that she is meant to be Empress of Feng Lu. But only if she embraces the darkness within her.
Growing up as a peasant in a forgotten village on the edge of the map, Xifeng longs to fulfill the destiny promised to her by her cruel aunt, the witch Guma, who has read the cards and seen glimmers of Xifeng's majestic future.
But is the price of the throne too high?
Because in order to achieve greatness, she must spurn the young man who loves her and exploit the callous magic that runs through her veins--sorcery fueled by eating the hearts of the recently killed.
For the god who has sent her on this journey will not be satisfied until his power is absolute.
About the Author:
Julie C. Dao
(www.juliedao.com) is a proud Vietnamese-American who was born in upstate New York. She studied medicine in college, but came to realize blood and needles were her Kryptonite. By day, she worked in science news and research; by night, she wrote books about heroines unafraid to fight for their dreams, which inspired her to follow her passion of becoming a published author.
Forest of a Thousand Lanterns
is her debut novel. Julie lives in New England. Follow her on Twitter @jules_writes.
Disclaimer:
"All opinions are 100% honest and my own."
Thanks to Goodreads and Amazon for the book cover, about the book, and author information. Buying via these links allows my site to get a % of the sale at no cost to you.
FTC Guidelines: In accordance with FTC guidelines regarding endorsements and testimonials for bloggers, I would like my readers to know that many of the books I review are provided to me for free by the publisher or author of the book in exchange for an honest review. If am compensated for any reviews on this site I will state that post has been sponsored.
Comments are DELICIOUS! and now that were using this new format for comments the TOP 3 Commenters will all win bookish goodies each month! So that is just one more reason to comment! This is open to everyone! So get commenting!
Don't forget to check out our Facebook, Twitter, Instagram, and Pinterest!