This weeks First Page is one that has been pegged as "One of my all-time favorite fantasy novels!" —Ellen Oh, author of the Prophecy and Spirit Hunters series. I have been a fan of Julie Kagawa since the Iron Fey series and I have loved every book she has written since then! I can not wait for this title to come out! Which funny enough is today!!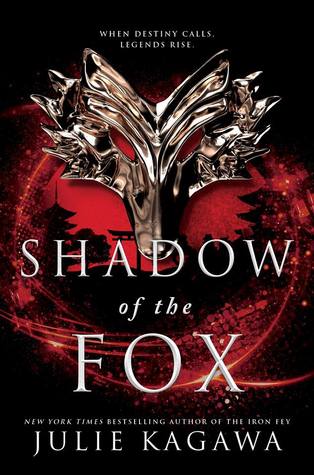 One thousand years ago, the great Kami Dragon was summoned to grant a single terrible wish—and the land of Iwagoto was plunged into an age of darkness and chaos.
Now, for whoever holds the Scroll of a Thousand Prayers, a new wish will be granted. A new age is about to dawn.
Raised by monks in the isolated Silent Winds temple, Yumeko has trained all her life to hide her yokai nature. Half kitsune, half human, her skill with illusion is matched only by her penchant for mischief. Until the day her home is burned to the ground, her adoptive family is brutally slain and she is forced to flee for her life with the temple's greatest treasure—one part of the ancient scroll.
There are many who would claim the dragon's wish for their own. Kage Tatsumi, a mysterious samurai of the Shadow Clan, is one such hunter, under orders to retrieve the scroll…at any cost. Fate brings Kage and Yumeko together. With a promise to lead him to the scroll, an uneasy alliance is formed, offering Yumeko her best hope for survival. But he seeks what she has hidden away, and her deception could ultimately tear them both apart.
With an army of demons at her heels and the unlikeliest of allies at her side, Yumeko's secrets are more than a matter of life or death. They are the key to the fate of the world itself.
About the Author:
Julie Kagawa, the New York Times bestselling author of the Iron Fey and Blood of Eden series was born in Sacramento, California. But nothing exciting really happened to her there. So, at the age of nine she and her family moved to Hawaii, which she soon discovered was inhabited by large carnivorous insects, colonies of house geckos, and frequent hurricanes. She spent much of her time in the ocean, when she wasn't getting chased out of it by reef sharks, jellyfish, and the odd eel.
When not swimming for her life, Julie immersed herself in books, often to the chagrin of her schoolteachers, who would find she hid novels behind her Math textbooks during class. Her love of reading led her to pen some very dark and gruesome stories, complete with colored illustrations, to shock her hapless teachers. The gory tales faded with time (okay, at least the illustrations did), but the passion for writing remained, long after she graduated and was supposed to get a
real job.
To pay the rent, Julie worked in different bookstores over the years, but discovered the managers frowned upon her reading the books she was supposed to be shelving. So she turned to her other passion: training animals. She worked as a professional dog trainer for several years, dodging Chihuahua bites and overly enthusiastic Labradors, until her first book sold and she stopped training to write full time.
Julie now lives in Louisville, Kentucky, where the frequency of shark attacks are at an all time low. She lives with her husband, an obnoxious cat, an Australian Shepherd who is too smart for his own good, and a hyper-active Papillion.
Chapter One:
Beginnings and Endings
It was raining the day Suki came to the Palace of the Sun, and it was raining the night that she died.
"You're the new maid, are you?" A woman with a narrow, bony face demanded, looking her up and down. Suki shivered, feeling cold rainwater sliding down her back, dripping from her hair to spatter the find wood floor. The head housekeeper sniffed. "Well, you're no beauty, that's for sure. But, no matter-Lady Satomi's last maid was pretty as a butterfly, with half the wit." She leaned closer, narrowing her eyes. "Tell me, girl. They said you were running your father's shop before you came here. Do you have an intelligent head on your shoulders? Or is it a full of air as the last girl's?
Suki chewed her lip and looked at the floor. She had been helping to run her father's shop within the city for the better part of a year. The only child of a celebrated flute maker, she was often responsible for dealing with the customers when her father was at work, too engrossed in his task to eat or talk to anyone until his last piece was done. Suki could read and do numbers as well as any boy, but being a girl, she was not allowed to inherit her father's business or learn his craft.
Disclaimer:
"All opinions are 100% honest and my own."
Thanks to Goodreads and Amazon for the book cover, about the book, and author information. Buying via these links allows my site to get a % of the sale at no cost to you.
FTC Guidelines: In accordance with FTC guidelines regarding endorsements and testimonials for bloggers, I would like my readers to know that many of the books I review are provided to me for free by the publisher or author of the book in exchange for an honest review. If am compensated for any reviews on this site I will state that post has been sponsored.
Comments are DELICIOUS! and now that were using this new format for comments the TOP 3 Commenters will all win bookish goodies each month! So that is just one more reason to comment! This is open to everyone! So get commenting!
Don't forget to check out our Facebook, Twitter, Instagram, and Pinterest!