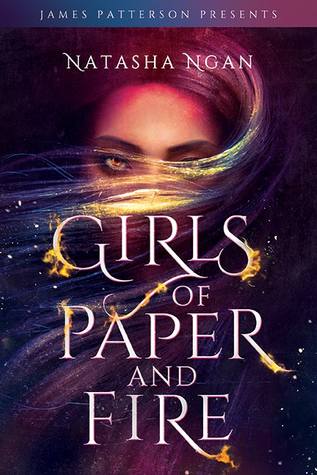 Each year, eight beautiful girls are chosen as Paper Girls to serve the king. It's the highest honor they could hope for...and the most cruel.

But this year, there's a ninth girl. And instead of paper, she's made of fire.
In this lush fantasy, Lei is a member of the Paper caste, the lowest and most oppressed class in Ikhara. She lives in a remote village with her father, where the decade-old trauma of watching her mother snatched by royal guards still haunts her. Now, the guards are back, and this time it's Lei they're after--the girl whose golden eyes have piqued the king's interest.
Over weeks of training in the opulent but stifling palace, Lei and eight other girls learn the skills and charm that befit being a king's consort. But Lei isn't content to watch her fate consume her. Instead, she does the unthinkable--she falls in love. Her forbidden romance becomes enmeshed with an explosive plot that threatens the very foundation of Ikhara, and Lei, still the wide-eyed country girl at heart, must decide just how far she's willing to go for justice and revenge.
Natasha Ngan is a writer and yoga teacher. She grew up between Malaysia, where the Chinese side of her family is from, and the UK. This multicultural upbringing continues to influence her writing, and she is passionate about bringing diverse stories to teens. Natasha studied Geography at the University of Cambridge before working as a social media consultant and fashion blogger.
She recently moved to Paris, where she likes to imagine she drifts stylishly from brasserie to brasserie, notepad in one hand, wineglass in the other. In reality, she spends most of her time getting lost on the metro and confusing locals with her French.
She is represented by Taylor Haggerty at Root Literary. Her YA novels THE ELITES and THE MEMORY KEEPERS are out now from Hot Key Books, and GIRLS OF PAPER AND FIRE will be published in November 2018 by Little Brown.
Follow Natasha at:
http://natashangan.com
or on Twitter: @girlinthelens
My Review: This has to be one of the best books I have read this year!! It pulled me in from the very first pages and then KILLED ME!! Yep, I died within the first few pages. Highlight for Spoiler*

They KILLED HER DOG!!

* If you are looking for a book that has all the feels and will empower you then look no further than this one right here!! This is a book where women are forced to have sexual relations with a demon against their will as Paper Girls but rise up to become rebels. I really can not wait for the next book in this series!!
The story to this book started off and never failed on its steam. So many books today are all over the place with pacing but this one did it very well. I was never bored and I never wanted to stop reading. It was a great length and it really didn't have any parts that I would have cut out.
The characters in this OMG!! The characters in this one were great. I do really hope we find out what happened to Lei mom. She is so twisted up with her in this story and we never get an answer on what happened to her. For side characters Wren was awesome!! And so was everyone else. I really loved to hate some of the paper girls and the king. Each character had their own voice and their own strengths and weaknesses. The characters really worked hand in hand with the story to make it flow and be amazing. The demon king was a horrible person and a great villain.
The romance to this one was freaking awesome!

The romance in this which is LGBT was done so well that I have to say it's one of the BEST Romances I have read this year! It is passionate and I loved every second of it!
The world building to this one was for me more geared toward the characters. Something that I would have liked would have been more explanation about their magic system. Because, although it is in this story we really don't learn a lot about it at all.
All in all, for this one I would have to say that this was one empowering read. It's one where you just want to go out and fight the forces of evil and become like Batman or something. I really loved that the author added information to all of the Rape and other organizations. I will say that if you ever are in a situation like these girls etc. Make sure you tell someone you trust and report it! It is NEVER ok for someone to touch you without it being your choice.
Go Into This One Knowing:
V
iolence, Sexual Abuse, Animal Murder, LGBT
Did you know that comments are DELICIOUS? Well they are and if you comment on any of these posts you could win some awesome goodies!
Disclaimer:
"All opinions are 100% honest and my own."
Thanks to Goodreads and Amazon for the book cover, about the book, and author information. Buying via these links allows my site to get a % of the sale at no cost to you.

FTC Guidelines: In accordance with FTC guidelines regarding endorsements and testimonials for bloggers, I would like my readers to know that many of the books I review are provided to me for free by the publisher or author of the book in exchange for an honest review. If am compensated for any reviews on this site I will state that post has been sponsored.