I know I have been slacking in these posts. It seems that being way tired and depression are on the rise here. But I am making my way through it and telling it to go away! So this week here are three books that are freaking amazing!
From debut author Peter Stone comes a heart-stopping, pulse-pounding political thriller that's perfect for fans of Ally Carter and House of Cards. When recent high school graduate Cameron Carter lands an internship with Congressman Billy Beck in Washington, DC, he thinks it is his ticket out of small town captivity. When he lacks connections and Beltway polish he makes up in smarts, and he soon finds a friend and mentor in fellow staffer Ariel Lancaster. That is, until she winds up dead. As rumors and accusations about her death fly around Capitol Hill, Cameron's low profile makes him the perfect candidate for an FBI investigation that he wants no part of. Before he knows it—and with his family's future at stake—he discovers DC's darkest secrets as he races to expose a deadly conspiracy. If it doesn't get him killed first.
Goodreads | Amazon
Its awesome becuase this comes out today!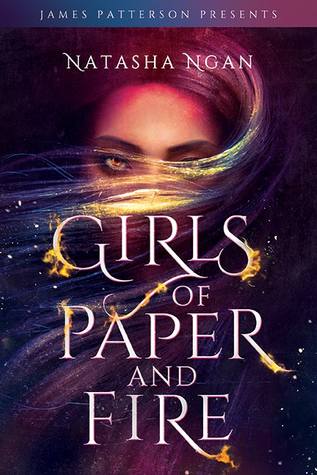 Each year, eight beautiful girls are chosen as Paper Girls to serve the king. It's the highest honor they could hope for...and the most cruel. But this year, there's a ninth girl. And instead of paper, she's made of fire. In this lush fantasy, Lei is a member of the Paper caste, the lowest and most oppressed class in Ikhara. She lives in a remote village with her father, where the decade-old trauma of watching her mother snatched by royal guards still haunts her. Now, the guards are back, and this time it's Lei they're after--the girl whose golden eyes have piqued the king's interest. Over weeks of training in the opulent but stifling palace, Lei and eight other girls learn the skills and charm that befit being a king's consort. But Lei isn't content to watch her fate consume her. Instead, she does the unthinkable--she falls in love. Her forbidden romance becomes enmeshed with an explosive plot that threatens the very foundation of Ikhara, and Lei, still the wide-eyed country girl at heart, must decide just how far she's willing to go for justice and revenge. TW: violence and sexual abuse.
Goodreads | Amazon
Naya, the daughter of a sea merchant captain, nervously undertakes her first solo trading mission in the necromancer-friendly country bordering her homeland of Talmir.
Unfortunately, she never even makes it to the meeting. She's struck down in the streets of Ceramor. Murdered.
But death is not the end for Naya. She awakens to realize she's become an abomination--a wraith, a ghostly creature bound by runes to the bones of her former corpse.
She's been resurrected in order to become a spy for her country. Reluctantly, she assumes the face and persona of a servant girl named Blue. She never intended to become embroiled in political plots, kidnapping, and murder.
Or to fall in love with the young man and former necromancer she is destined to betray.
Goodreads | Amazon
Did you know that comments are DELICIOUS? Well they are and if you comment on any of these posts you could win some awesome goodies!
Disclaimer:
"All opinions are 100% honest and my own."
Thanks to Goodreads and Amazon for the book cover, about the book, and author information. Buying via these links allows my site to get a % of the sale at no cost to you.

FTC Guidelines: In accordance with FTC guidelines regarding endorsements and testimonials for bloggers, I would like my readers to know that many of the books I review are provided to me for free by the publisher or author of the book in exchange for an honest review. If am compensated for any reviews on this site I will state that post has been sponsored.