This week on Book Recommendations its time to head to space!! This was one out of this world story that you should not miss!!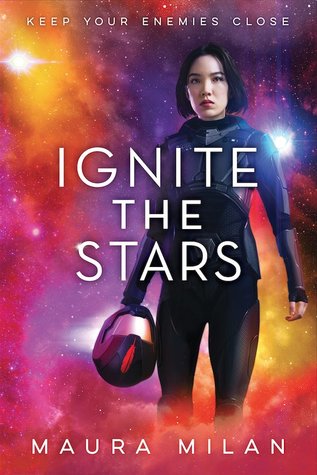 Publisher:
Albert Whitman & Company
Recommended Age: Young Adult
About the Book:
Everyone in the universe knows his name. Everyone in the universe fears him. But no one realizes that notorious outlaw Ia Cocha is a seventeen-year-old girl.
A criminal mastermind and unrivaled pilot, Ia has spent her life terrorizing the Olympus Commonwealth, the imperialist nation that destroyed her home. When the Commonwealth captures her and her true identity is exposed, they see Ia's age and talent as an opportunity: by forcing her to serve them, they will prove that no one is beyond their control.
Soon, Ia is trapped at the Commonwealth's military academy, desperately plotting her escape. But new acquaintances—including Brinn, a seemingly average student with a closely-held secret, and their charming Flight Master, Knives—cause Ia to question her own alliances. Can she find a way to escape the Commonwealth's clutches before these bonds deepen?
In this exhilarating edge-of-your-seat sci-fi adventure—perfect for fans of The Lunar Chronicles—debut author Maura Milan introduces our world to a thrilling new heroine.
About the Author:
Maura Milan currently resides in Los Angeles, where she can be found hanging out in cafes and drinking matcha lattes. In her free time, Maura enjoys watching Korean dramas and hanging out with her schipperke, Thor, who she believes should become a professional comedian.
To this day, Gilbert Blythe is her ultimate boy crush.
Notes and Opinions: First off this is totally NOT Throne of Glass in Space! Just No I have no idea where they got that one.
Holy crap readers! This book blew me away! Don't get me wrong I love sci-fi but usually for books I find them confusing or boring. But this one, this one was pretty much perfect! This one starts out with a bang and ends the same way. We have 3 POVs for this story and they all worked out well. I did think that one thing could have been changed. In this one, Ia (eye-ya) falls for Knives which is one of the other POVs and well for me I just kind of thought she should fall for Brinn. Don't get me wrong I loved Knives but with the interactions between Brinn and Ia, I just thought that sounded more plausible with how the story was going. But hey its ok Brinn, Ia, and Knives are happy with how things turned out in their love lives so who am I to judge.
The story in this title flowed so well! The author did an amazing job of intertwining the 3 POVs each one had their own voice and adds to the story at large. The most amazing things about this title were the twists, action, and the #OwnVoices part of the story. The action in this one started off on the very first page. You come into this story learning about Ia and how to say her name and learning that she stands to help others who may not be able to help themselves. She is also very arrogant in the start of this title. The action in this book was top notch and really blended well with how the author went about it all.
The twists in this one were spot on! I didn't see them coming and man this author knows how to make you gasp and be surprised. I can't wait to see what she does with book two! I am hoping to get even more surprises as the story unfolds.
Last but not least is the #OwnVoices aspect of the story. In this one there was a lot of discrimination that dealt with things like immigration and refugees which of course is something our world right now is dealing with. In this one, we have Brinn who is hiding who she is because she knows first hand how cruel people can be. I really loved her and how she grew over the course of this story. I do wish that we would have gotten something along the lines of heritage with Ia though. It was very interesting to get this kind of aspect from a side character. Because that is not usually what happens.
Ia was so badass in this one! I really kind of hated her to start. She was pretty much a bully in some aspects which I understood because I mean really she was being tortured and held against her will. (ie. being arrested) but still, she could have been a little nicer about it. Ya I know that sounds really really weird. But something about her really just made me want to slap her upside the head. I really loved how she grew as a character through the story. And I would love a prequel novella about her life in her early days of being Ia.
Brinn, as stated above, was awesome she had a true voice and really knew early on in the story what she wanted to do with her life. Which I have to say that we should all be as lucky. I really can not say enough about her. She is so strong by the end of this story and really came into her own.
Knives is Ia's love interest which rounds out this 3 POV story. For me, he was kind of the light if you ask me. I don't really know a lot about him other than what we were told early on in the story and well I think that Ia could do so much better. For me, I just think that Knives in some aspects needs to grow a pair and stop acting like a baby. I really hope going forward to book two that we really get to see what makes him tick and well I really hope that he learns to stand up to his father. Thinking about this now I think the author played it a little safe with him. He does show a little bit of hero during the beginning and last parts of this story but that's really about it.
The romance in this one I can fully say was not the main storyline. This one all centers around Ia getting free from her captors and learning to be human again. To learn to really care about something. It also centers around Brinn learning to be who she is without hiding and about Knives learning to move on from his sister's death (we don't learn a lot about this one and if you ask me I still wonder if she is really dead. I can't remember if they said they found her body or not).
In this sci-fi thriller, you will find three characters to love, twists to make you gasp out loud, and one killer ending! It kept me on the edge of my seat until the very last page!
Do I Recommend this book? Even if you are not usually a fan of Science Fiction you should really try this one out. Because this is the Scifi book that will make you fall in love with Scifi!
Go Into This One Knowing: 3 POVs, No Love Triangle, No Cliffhanger
Disclaimer:
"All opinions are 100% honest and my own."
Thanks to Goodreads and Amazon for the book cover, about the book, and author information. Buying via these links allows my site to get a % of the sale at no cost to you.
FTC Guidelines: In accordance with FTC guidelines regarding endorsements and testimonials for bloggers, I would like my readers to know that many of the books I review are provided to me for free by the publisher or author of the book in exchange for an honest review. If am compensated for any reviews on this site I will state that post has been sponsored.
Comments are DELICIOUS! and now that were using this new format for comments the TOP 3 Commenters will all win bookish goodies each month! So that is just one more reason to comment! This is open to everyone! So get commenting!
Don't forget to check out our Facebook, Twitter, Instagram, and Pinterest!