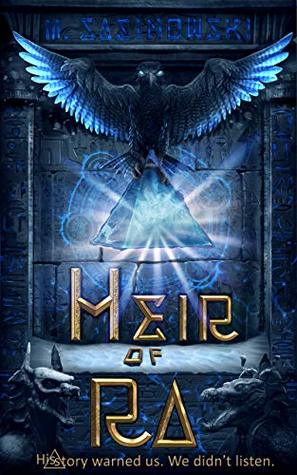 Series: Blood of Ra #1


Author:

M. Sasinowski




Genres:

Young Adult,
Egyptian Literature
Pages:
Kindle Edition
,
304 pages
Pub Date:
August 12th 2018
Publisher:
Kingsmill Press
Book Source:
Author
My Rating: 5 Stars
Add to Goodreads | Buy from Amazon
Synopsis:
Alyssa signed up to study history, not to rewrite it.
An excavation of the fabled Hall of Records beneath the Sphinx unleashes an ancient disease that leaves her father fighting for his life. As Alyssa races to find a cure, she stumbles onto an impossible artifact that could change history—or destroy our future.
With unexpected help from Oxford student Paul Matthews, Alyssa evades ruthless adversaries set on harnessing the power of the artifact. As a global epidemic looms, they must unravel deep secrets hidden within it and unveil the link between a mythical civilization and the birth of Egyptian mythology, before time runs out.
Compulsively readable, M. Sasinowski's electrifying debut thriller, Heir of Ra, is filled with action, technology, humor, and a generous dose of "what if" that just might have you question your history books.
About the Author:
written from the point-of-view of his 15-year old daughter (that's me! :)
Some say that M. Sasinowski writes until 4 am… fueled by a single cup of decaf coffee. Others say this Polish-born American hyper-nerd absorbs energy from late-night TV space shows. No matter the truth… he's my dad. He will never be cool.
He loves archaeology, Star Wars/Trek, martial arts (especially women who kick butt), and impromptu father/daughter (that's me! :) science debates or music jam-sessions. He's kind of smart, I suppose (he has a physics PhD, and an MD, or whatever) and likes to build computers for fun.
His teenage daughter (that's me! :) is occasionally a handful to deal with and also served as the inspiration for the main character in his debut young adult novel Heir of Ra.
You may recognize him from his glorious hair or his tendency to do the "vacuum cleaner" dance to embarrass his daughter (that's me… :(.
If you ever see this man, approach with care and greet him in a language he understands, like in Klingon or, better yet, in Wookie.
Guurrghghgh!
"Mind reeling experience... action filled story with historical elements beautifully embedded... if you're in need of a new novel, this is it... can't wait for Sasinowski's next book." -BooksOfVida

"Fast paced, action packed, and wildly entertaining! An edge of your seat, one sitting kind of read that is sure to impress... adventurous, intriguing, and full of action and humor... intense thrill ride... shocked at every twist and turn." -DarqueDreamer

"Blew me away from beginning to end... absolutely emerged into Mr. Sasinowski's world from page one... like reading a movie unfold before your eyes... cannot wait to read the next installment of this series... two thumbs way up!!" -We.read.to.know.we.aren't.alone

"I devoured the book...couldn't put it down... fast paced and interesting... likeable main character, the mystery addicting, the action well written... perfect blend of Fantasy and Sci-Fi adventure... loved the father/daughter relationship between Alyssa and Kade." -Mauy

"Loved the mythology aspect of this book... interesting and intriguing... gripping and fast paced... very original... great plot twists... keep the reader guessing! A very solid debut and a great series opener. I look forward to reading more from this author in the future!" -Chapters_and_Pages

"To say I loved this book would be an understatement... I was completely captivated... story line was absolutely incredible... Alyssa, the main character, had everything... brave, fierce, smart,and compassionate. The author is such an amazing story teller... easily one of my favorite reads of the year." (5/5 Stars) -WizardryLibrary

"Gripping from the very first page... fast paced action intertwined with Egyptian mythology and twists... holding my breath on behalf of the main characters throughout the book... couldn't put this book down." -BookBookOwl

"This book had everything; Action, Mystery, Fantasy, Mythology, and historical elements with a twist that didn't get lost in translation. I devoured this book, and I think other readers will too. M. Sasinowski's debut novel has something for all readers... everyone is going to want to read this enthralling story... eager to see what comes next for Alyssa..." (5/5 Stars) -RamblesAndReads
My Review: I should know better than to start books before bed. OMG LOOK AT THAT COVER!! Like really this has got to be one of the best covers I have seen this year!! And the book inside was even better. Lets just say that I went to bed early so around 7pm so I could sit in bed for a good two hours so I could read. Well I ended up finishing this book that night and went to bed around 1am instead. This book was just that good.
This one has everything that I love Egyptian, fantasy and really did my fill for my love of all things releating to my favorite movies
Indiana Jones
,
Tomb Rider
and my husbands all time favorite
National Treasure. If you are a fan of any of those you will die hard love this one!!
This young adult book has one thing that a lot of them do not have. And that is a parent that is actually there. I was so surpised that Kade, Alyssa's dad was actually in the story. Their relationship is one of the best that I have read this year. I also really liked that although there is some romance in this its really light and just begining. So many ya authors try to just toss it in our face and this story doesn't do that. I do hope we get more by book two but if you don't like it when a love interest takes over the story then you will totally love this one.
In the end this one with the use of
Egyptian mythology was one epic ride that I so want book two now!! I could not put it down and I really want a print copy of this one and well maybe a poster of that book cover becuase LOOK AT IT!!!
Go Into This One Knowing: Fantasy, Family Bonds, Romance (light)
Did you know that comments are DELICIOUS? Well they are and if you comment on any of these posts you could win some awesome goodies!
Disclaimer:
"All opinions are 100% honest and my own."
Thanks to Goodreads and Amazon for the book cover, about the book, and author information. Buying via these links allows my site to get a % of the sale at no cost to you.

FTC Guidelines: In accordance with FTC guidelines regarding endorsements and testimonials for bloggers, I would like my readers to know that many of the books I review are provided to me for free by the publisher or author of the book in exchange for an honest review. If am compensated for any reviews on this site I will state that post has been sponsored.