I love this cover and so wanted to share this one with you guys! This book was so good with such a beautiful story!
"The perfect story for anyone who's ever searched for magic in the everyday, THE LIGHT BETWEEN WORLDS will break your heart and then make it whole again. Laura Weymouth wields words like she's casting spells, and the result is utterly enchanting." (Sarah Glenn Marsh, author of the Reign of the Fallen series)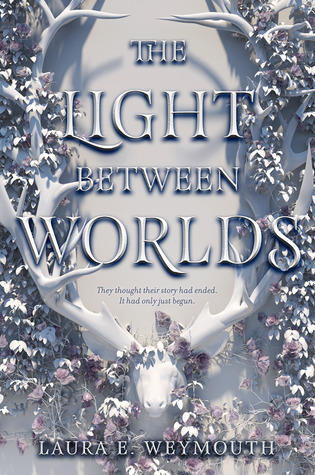 Five years ago, Evelyn and Philippa Hapwell cowered from air strikes in a London bomb shelter. But that night took a turn when the sisters were transported to another realm called the Woodlands. In a forest kingdom populated by creatures out of myth and legend, they found temporary refuge.
When they finally returned to London, nothing had changed at all—nothing, except themselves.
Now, Ev spends her days sneaking into the woods outside her boarding school, wishing for the Woodlands. Overcome with longing, she is desperate to return no matter what it takes.
Philippa, on the other hand, is determined to find a place in this world. She shields herself behind a flawless exterior and countless friends, and moves to America to escape the memory of what was.
But when Evelyn goes missing, Philippa must confront the depth of her sister's despair and the painful truths they've been running from. As the weeks unfold, Philippa wonders if Ev truly did find a way home, or if the weight of their worlds pulled her under.
About the Author:
Laura E. Weymouth
lives at the edge of the woods in western New York, along with her husband, two wild-hearted daughters, a spoiled cat, and an indeterminate number of chickens.
The Light Between Worlds
is her debut book, and she can be found online at www.lauraeweymouth.com.
Recommended Age: Young Adult
Genre: Fantasy
1
We're burying Old Nick in the back garden. It's just Jamie and me, and it's raining, and I know he's worried because of the way he stands, head bowed, shoulders tense. "You can cry, Ev," he says, and takes my hand in his own. No one's held my hand in such a long time, and I nearly do cry at that, because he's always so kind to me. But if I've learned anything in life, it's to choke back tears and smile. Jamie won't meet my eyes. Instead he glares at the freshly dug earth and kicks a clod of it with one foot. The soil hits up against the corrugated iron side of our Anderson shelter, a leftover from the war, and Jamie winces. I heard him and Philippa ask Mum and Dad about having it removed once, on an evening when they thought I was caught up in a book. My brother and sister are always having worried conferences behind my back, even though I'm sixteen and only two years younger than Phil. They fuss over me worse than our parents ever have, but in spite of their best efforts the shelter removal scheme never came to pass. Planted over with daisies now, it still crouches at the garden's far end, reminding me of what once was. I manage the smile I don't quite feel, and I think that worries my brother more than anything else. It worries him more than the fact that the family dog is gone—one of the last creatures who remembered me as I was before the shelling, when I was a child, and untouched by war. It worries him more, even, than the knowledge that next week, he's heading back to university. With Jamie at school and Philippa off in America, I'll be truly alone. For years, the three of us were never far apart, him down the road studying at St. Joseph's and Philippa across the hallway in our girls' school dormitory. Now it'll be just me, Evelyn Hapwell, a girl caught between two worlds and left, at last, to her own devices. I know the secret fear my smile wakes in Jamie and Phil, a worry they will never acknowledge, not to each other, not even to themselves. It frightens them to see me smile through pain because it means I refuse to give up. And my brother and sister have resigned themselves to a fate I won't accept. They've written the end of our shared history—been broken by the weight of a conclusion they see as inevitable. Cracks run through them; fault lines, breakages, places where they've shattered just a little. And they worry because I will not, cannot, be anything but whole. They think one day I'll break, too, and that I'll go off like a bomb because I've refused to let my breaking happen bit by bit. Maybe so. But every morning I wake up and watch the sun rise and listen to the birds sing and know that I will not let today be that day. My story hasn't ended yet. Jamie's words still hang on the air as his warm fingers grasp my own. He looks at me and I look at him. "I'm not crying till I get home," I say. The words are a prayer, a promise, and they burn my tongue with the heat of faith they require. "Oh, Ev," Jamie mutters, and stumps back up to the house with his shoulders bent. What he doesn't see, what he and Philippa never see, is that when my words burn, they leave ashes on my lips. Hope doesn't make parting less bitter. It doesn't lessen the sting of loss. It is, in itself, a sort of pain, but one I would break without. "Have you got everything you need for school, Ev?" Mum asks at breakfast. She and Dad and Jamie say nothing about Old Nick. All their words are careful, mouthed like razor blades that might cut me if they're not spoken just so. They needn't bother. I've never been as frail as they think. "I've just got to pick up more socks," I say around a bite of toast. "But I'm all packed, so we can stop for more on the way to the station." Mum sighs. "The rate at which you children go through clothes—it's a mercy clothing rationing's ended." "I'll drive Ev to the station," Jamie volunteers. I sip my tea suspiciously. He ought to be up to college already—he's got a scholarship studying the law at Christ Church in Oxford. When I give him a hard stare, he won't meet my eyes. He knows that I know he should be elsewhere. I don't like this. I don't like being handled as if I'm made of spun glass just because a dog who followed me in from the streets died three days before term. Just because Philippa's f lown off to America for school and the entirety of the Atlantic now lies between us. At least no one knows it's my fault she's gone. The sighs and sympathy and gentle treatment would be even worse if they did. Mum and Dad exchange a look. They were pressed from the same mold, both ordinary and brown-haired with worry-lined faces, like two fretful bookends. They hardly need speak to understand each other. I wish I could decode the meaning of Dad's raised eyebrow and the quirk of Mum's mouth that serves as a conversation between them. "That's good, thank you, James," Dad says to my brother before reaching across the table and pressing something into my hand. "In case you want anything on the train, love." It's a crisp five-pound note and I swallow hard. Kindness always threatens to undo me, and my parents can't afford this. It's not much, but we've never been rich and they've put everything into working for a future for Philippa and Jamie and me. I've watched them make quiet sacrifices for years to scrape together the money for expensive schools, the sort of places they think will open doorways. I wish I wanted to open the sort of doorway they're thinking of. I wish I wanted to go somewhere other than home, to be someone other than who I was. I take the note, because I can hardly say I love you but I am as I am and I will never be who you want me to be, at least not over the breakfast table when my suitcase is sitting by the door and we'll part ways in less than an hour. Instead, I tuck the money into the pocket of my school skirt and smile. "Thanks, Dad. You're a brick." The words come out light and normal, and a bit of the worry fades from my parents' faces. Jamie frowns down at his eggs, but keeps his counsel. When I'm meant to be looking my room over to make sure I haven't forgotten anything, I steal back out to the garden. I only have a moment, otherwise I'll be missed, but I plod through the rain and past poor Old Nick's grave. Then I lower myself down into the bomb shelter's musty half-light. The splintered, moth-eaten cots that once crammed the shelter's interior are gone. It's just an empty metal shell that smells vaguely of earth and rust. I press my forehead to one aluminum wall and shut my eyes, trying to fill myself with radiant Woodlands light. Light from a far world. Light from a place of myth and wonder. "Five and a half years," I whisper to the dank, uncaring air. "That's how long it's been since you sent us back. Have I not waited long enough to come home? I swear to you, Cervus, if you cut me, I bleed Woodlander's blood. My heart beats with a Woodlander's pulse." There's no answer, of course. There never is. The rain drums steadily on, and I hurry back to the house. Before long, it's time to go. Mum and Dad kiss me goodbye at the door, and I climb into Jamie's car. It always takes me by surprise that Jamie has a car. We spent so long traveling on horseback or on foot that it gives me an odd, unearthly feeling when I climb into the passenger seat and he competently shifts gears. For the most part we drive in silence, but I don't mind. None of us Hapwells have ever felt the need to fill the air with pointless chatter. We stop once, and I get my socks, and then Jamie pulls to a halt in front of the station. "You going to be alright, Ev?" he asks while lifting my bags out of the boot. There's uncertainty in his eyes, a pleading note in his voice. He wants me to be alright. I want him to be, too, though neither of us knows how that should look for the other. But I know what could make a start for him. "Of course." I smile brightly, an ordinary girl with her ordinary brother, being dropped off for a term at school. He hugs me a little too tight, and ducks back into the car as if he can't bear to stay, or to see me walk into the station alone. It's only once he's gone that I let my smile slip and fall. I pace the platform restlessly. I've never faced the journey back to school without him or Philippa at my side, but it's past time I stood on my own, no matter the depth of the regrets I carry. The emptiness of the bunker haunts me still. Five and a half years since we last cowered in its dark interior, listening for the low growl of approaching planes or the muff led reverberation of nearby bomb strikes. Five and a half years since something inexplicable happened in the midst of all that darkness and waiting and fear. The truth haunts my brother and sister, too, I know. Poor darling Jamie, who works so hard and never quite feels he's doing enough. Poor lovely Philippa, off in America, running from our past. As for me, I refuse to be pitied. I refuse to be anyone but who I've always been: Evelyn Hapwell, teller of truths and walker of worlds, friend of the Woodlands and enemy of tyrants, beloved of Cervus, the Guardian of the Great Wood. The words Cervus once spoke to me are emblazoned on my bones, writ large across every inch of my skin. A Woodlands heart always finds its way home. Your words, Cervus, not mine. No matter how many years pass, I plan to hold you to them.
Content Warnings
The Light Between Worlds portrays characters dealing with depression, self-harm, post-traumatic stress disorder, suicidal ideation, illness and disordered eating, and the loss of a loved one. It refers to possible suicide, contains scenes of violence and war, and brief mentions may be unsettling to readers with emetophobia.
Did you know that comments are DELICIOUS? Well they are and if you comment on any of these posts you could win some awesome goodies!
Disclaimer:
"All opinions are 100% honest and my own."
Thanks to Goodreads and Amazon for the book cover, about the book, and author information. Buying via these links allows my site to get a % of the sale at no cost to you.

FTC Guidelines: In accordance with FTC guidelines regarding endorsements and testimonials for bloggers, I would like my readers to know that many of the books I review are provided to me for free by the publisher or author of the book in exchange for an honest review. If am compensated for any reviews on this site I will state that post has been sponsored.