Title:
Destination
Series:
Catching Hell #2)
Author: Marc Watson
Genres:
Young
Adult, Fantasy
Pages:
ebook
,
258 pages
Pub Date:
November 26th 2018
Publisher:
Double Dragon Publications
Add to Goodreads | Buy from Amazon
Synopsis:
The second part of this epic duology! A critical blow has been dealt to the robotic Army of the Old, but at a great price. Broken and weary, best friends Johan and Aryu have been separated while chasing forces from the distant past that they both fear.
Aryu, the man with wings, pursues the enemy while he slowly slips into the enticing magic and mystery of the Power, led by the great phoenix Nixon Ash.
Johan stands on the steps of Bankoor, a futuristic city full of wonder and mistrust. Here he must make his stand to avenge his destroyed home and find his friend.
As the gap between the brave warriors closes, the worlds of technology and magic will clash!
About the Author: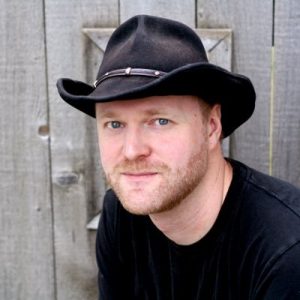 Marc Watson is an author of genre fiction of all lengths and styles. He began writing at the age of 15 and continues to be a part-time writing student at Athabasca University. He has been published on flash fiction site
www.101words.org
(find his stories
here
) as well as comedy site
www.thecorrectness.com
.
Marc lives in Calgary, Alberta. He is a husband and proud father of two. He is an avid outdoors-man, martial artist, baseball player, and lover of all Mexican foods.
He can be found at online
www.marcwatson.ca
, as well as on Facebook at
www.facebook.com/marcwroteabook
, and on twitter at @writewatson.
Marc is available for interviews, media appearances, speaking engagements, and/or book review requests - please contact
mickey.creativeedge@gmail.com
TECHNOLOGY AND MAGIC COLLIDE IN THE SECOND INSTALLMENT OF YOUNG ADULT DUOLOGY CATCHING HELL
CALGARY, ALBERTA: As a self-proclaimed

anti-author

, Marc Watson's success has a lot todo with his unconventional approach; he takes his writing seriously, but he'll also be the first to tell you, sometimes, he'd rather be fishing on the river or watching his son's play hockey, andmanages to balance his time because he knows the stories he wants to tell are worth writing down. Marc also pushes the boundaries of genre fiction, and captivates readers with the question- -who says you can't have robots and magic in the same novel? Enter 'Science Fantasy' and Marc's latest release, Catching Hell: Part 2 Destination released by Double Dragon Press.
On the heels of the release of Catching Hell: Part One Journey (April, 2018) which is still fresh in the minds of readers, Part Two Destination (November, 2018) continues the perilous journey of two best friends, Johan and Aryu, as science fiction and fantasy, technology and magic, collide in this epic finisher like no other. Avenging the destruction of their home was their goal, but with much more at stake, the robotic Army of Old, and the mysticism behind the Power, the two brave warriors will have to do more than just fight their fears if they are ever going to bridge the gap between them and reunite.
Marc, also a part-time writing student at the Athabasca University, is known for using a variety of writing styles to write effectively and believably his cross-genre fiction in order to engage readers with

thought provoking world building and unforgettable characters.
Did you know that comments are DELICIOUS? Well they are and if you comment on any of these posts you could win some awesome goodies!
Disclaimer:
"All opinions are 100% honest and my own."
Thanks to Goodreads and Amazon for the book cover, about the book, and author information. Buying via these links allows my site to get a % of the sale at no cost to you.

FTC Guidelines: In accordance with FTC guidelines regarding endorsements and testimonials for bloggers, I would like my readers to know that many of the books I review are provided to me for free by the publisher or author of the book in exchange for an honest review. If am compensated for any reviews on this site I will state that post has been sponsored.