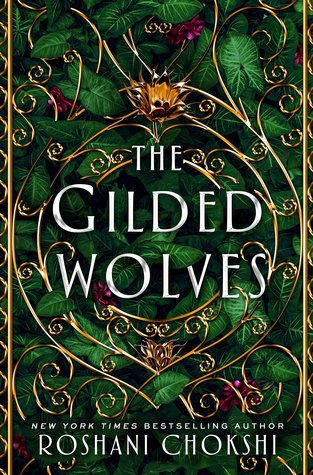 Series:
(The Gilded Wolves #1)
Author:

Roshani Chokshi
Genres: Young Adult, Historical Fiction, Fantasy
Expected publication: January
15th
2019 Publisher: Wednesday Books
Synopsis:
Set in a darkly glamorous world, The Gilded Wolves is full of mystery, decadence, and dangerous but thrilling adventure.
Paris, 1889: The world is on the cusp of industry and power, and the Exposition Universelle has breathed new life into the streets and dredged up ancient secrets. In this city, no one keeps tabs on secrets better than treasure-hunter and wealthy hotelier, Séverin Montagnet-Alarie. But when the all-powerful society, the Order of Babel, seeks him out for help, Séverin is offered a treasure that he never imagined: his true inheritance.
To find the ancient artifact the Order seeks, Séverin will need help from a band of experts: An engineer with a debt to pay. A historian who can't yet go home. A dancer with a sinister past. And a brother in all but blood, who might care too much.
Together, they'll have to use their wits and knowledge to hunt the artifact through the dark and glittering heart of Paris. What they find might change the world, but only if they can stay alive.
Add to Goodreads | Buy from Amazon
About the Author:
ROSHANI CHOKSHI is the
New York Times
bestselling author of
The Star-Touched Queen
,
A Crown of Wishes
,
Aru Shah and the End of Time,
and
The Gilded Wolves
.
Roshani Chokshi is the New York Times bestselling author of Aru Shah and the End of Time, The Star-Touched Queen, A Crown of Wishes, and The Gilded Wolves. Her work has been nominated for the Locus and Nebula awards, and her books have appeared on Barnes and Nobles Best New Books of the Year and Buzzfeed Best Books of the Year lists. Chokshi lives in Georgia, but doesn't have much of a Southern accent. Alas. For more information, visit her website, www.RoshaniChokshi.com, or follow her on Twitter @Roshani_Chokshi and Instagram @roshanichokshi.
"Evocative writing, sumptuous set pieces, and vividly sketched, authentically flawed characters distinguish this immersive tale of found family and star-crossed romance. Kaleidoscopic narration complements the intricate, high-stakes plot and allows Chokshi to showcase numerous aspects of her richly imagined universe all the way to the closing cliff-hanger."
-

Publishers Weekly,
Starred Review
"Leigh Bardugo's Six of Crows and Dan Brown's The Da Vinci Code converge in this dazzling new fantasy… An opulent heist adventure that will leave readers voracious for more."
–

Kirkus

, Starred Review
"Chokshi delivers a thrilling, gritty new fantasy set in an alternate nineteenth century Paris… Chokshi shines as a master storyteller in her newest novel; the setting, world building, plot, and conflict are all staggering. However, the elements that perhaps shine the most are the history, riddles, mysteries, and science, woven together in a world brimming with power and magic."
–

Booklist

, Starred Review
"A gorgeously layered story, with characters that make you laugh and ache and cheer."
– Ren
é
e Ahdieh,

New York Times

bestselling author of

The Wrath and The Dawn
"A masterpiece of imagination. You will want this book to steal your heart so that you will never have to leave this story."
Stephanie Garber,

New York Times

bestselling author of

Caraval
"This is a book to swan dive into, swim around in, luxuriate in. Trust me, you won't want to come out"
– Laini Taylor,

New York Times

bestselling author of

Strange The Dreamer
"
The Gilded Wolves
is part political misadventure, part puzzle and thoroughly charming, with a band of rapscallions and a string of surprises!"
– Holly Black,

New York Times

bestselling author of

The Cruel Prince
"
The Gilded Wolves
is the smart, dark adventure YA readers have been waiting for."
– Adrienne Young,

New York Times

bestselling author of

Sky In The Deep
"
The Gilded Wolves
has it all: magical Belle Époque Paris, dark and glittering prose, a cast of characters that will steal your heart inside their other heists. This is a book I wish I'd written."
–
Ryan Graudin, award-winning author of

Wolf By Wolf
My Review: I was so excited to get a copy of this to read and enjoy! But sadly for me, this book was just a so so read. I have to say that for most of this title I felt very confused and very lost! I pretty much understood what was going on and what was happening but this one had a ton of puzzles and really reminded me of a fantasy National Treasure or one of those Dan Brown movies. But where those movies and books explain the puzzles in a way you can follow them this one didn't do that very well. At times I ended up rereading pages and at one time a full chapter to really get what was going on. At others with all the math I really just didn't care at all and found myself skimming those pages. This book is a full-fledged novel that deals with religion, politics, fantasy, and a LOT of history, but it was just so thick at times that it made it more like a chore to read.
The world building in this one was great it was an alternative view of London at the turn of the century which was great. The magical system to me was very confusing at times and I wish it would have been explained a lot better. Just like a lot of the stuff mentioned above. At times I was very confused once again.
The characters were great I really loved them and kind of wished that they would have been in another book that I could enjoy. This one just had so many issues with it being bogged down with technical jargon to the point that I felt like I should be taking notes because there was going to be a test at the end. It did the one thing that I hate about adult fantasy novels. It tried to toss all of this information at you which is fine but it did it in a way that it's really not understandable.
In the end, this was a young adult novel written for adults. I really wish this author would have written this like her first two novels which were freaking amazing. Because this one I had a hard time getting through to love it.
One other thing I have to say is that this is one of those books that the cover and the title do not match the story. Did I miss it? But who are the Gilded Wolves? Are they guarding something?
I really think that this could have been a 1000 Star book if all of the technical crap and a lot of the history stuff that they spew would have been toned down or taken out.
Go Into This One Knowing: Light Romance, Confusing, Humor, Cliffhanger
Did you know that comments are DELICIOUS? Well they are and if you comment on any of these posts you could win some awesome goodies!
Disclaimer:
"All opinions are 100% honest and my own."
Thanks to Goodreads and Amazon for the book cover, about the book, and author information. Buying via these links allows my site to get a % of the sale at no cost to you.

FTC Guidelines: In accordance with FTC guidelines regarding endorsements and testimonials for bloggers, I would like my readers to know that many of the books I review are provided to me for free by the publisher or author of the book in exchange for an honest review. If am compensated for any reviews on this site I will state that post has been sponsored.