This week on Book Recommendations is a retelling of Alice in Wonderland but this time Alice is going gun hoe on some Nightmares!!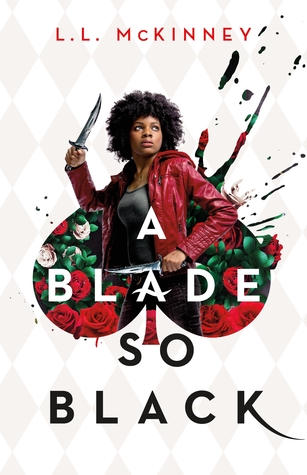 The first time the Nightmares came, it nearly cost Alice her life.
Now she's trained to battle monstrous creatures in the dark dream realm known as Wonderland with magic weapons and hardcore fighting skills.
Yet even warriors have a curfew.

Life in real-world Atlanta isn't always so simple, as Alice juggles an overprotective mom, a high-maintenance best friend, and a slipping GPA.
Keeping the Nightmares at bay is turning into a full-time job.
But when Alice's handsome and mysterious mentor is poisoned, she has to find the antidote by venturing deeper into Wonderland than she's ever gone before.
And she'll need to use everything she's learned in both worlds to keep from losing her head . . . literally.
About the Author:
L.L. McKinney is a writer, a poet, and an active member of the kidlit community. She's an advocate for equality and inclusion in publishing, and the creator of the hashtag #WhatWoCWritersHear. She's spent time in the slush by serving as a reader for agents and participating as a judge in various online writing contests. She's also a gamer girl and an adamant Hei Hei stan.
A Blade So Black
is her debut novel.
Recommended Age: Young Adult
Genre: Fantasy (Retelling of Alice in Wonderland)
Goodreads | Amazon
First, off I thought I would add a note here: During the time that I was creating this post I found out that this author said some things online about racism etc. Well, this review will be my thoughts on the book itself. I do not let others thoughts stop me from reading books.

My Review: I have to tell you that this book was freaking amazing. This book was one hell of a story!! It had a great new story for Alice and this really made me feel like the child of Buffy the Vampire Slayer and Clary from Shadowhunters. In this one, Alice is killing Nightmares and OMG IS IT GOOD!!

It was very funny and so action packed! I loved what the author did with the story of Alice and I really hope that we get a book two. I did think it was weird that somewhere in the story we get to see the original Alice but no one said anything about it being weird that they both had the same name. Especially since the name Alice is well pretty old. (My grandmother's name was Alice and she was born in the 1920's).

I really loved Alice, she was headstrong, could kick butt, and very smart. I did think that she should have given her mother some slack. I mean some girl was just killed in your town and you except your mom not to freak out when you disappear? I did love that her mom was in the story though as most parents in these stories are just not there.

This story was a great blend of the Wonderland we have grown to love and our world. The author did a great job with it fully.

In short, this book is for those who love the Alice in Wonderland story who wants something new to read! Its right up there with another retelling called Splintered by AG Howard.

Do I Recommend this book? YES! If you love Alice in Wonderland and want something new this is the book you should totally read!

Go Into This One Knowing: POC Alice, Nightmares, Wonderland
Did you know that comments are DELICIOUS? Well they are and if you comment on any of these posts you could win some awesome goodies!
Disclaimer:
"All opinions are 100% honest and my own."
Thanks to Goodreads and Amazon for the book cover, about the book, and author information. Buying via these links allows my site to get a % of the sale at no cost to you.

FTC Guidelines: In accordance with FTC guidelines regarding endorsements and testimonials for bloggers, I would like my readers to know that many of the books I review are provided to me for free by the publisher or author of the book in exchange for an honest review. If am compensated for any reviews on this site I will state that post has been sponsored.