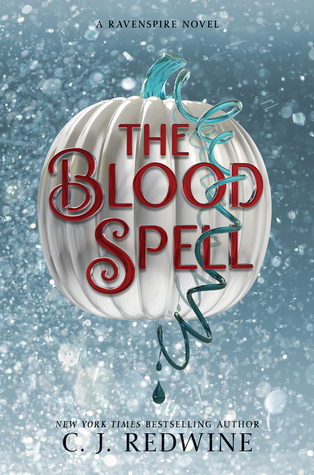 Title: The Blood Spell (Ravenspire #4)
Author: C. J. Redwine
Publisher: Balzer + Bray
Genres:
Young Adult, Fantasy, Retellings
Synopsis:
Blue de la Cour has her life planned: hide the magic in her blood and continue trying to turn metal into gold so she can help her city's homeless. But when her father is murdered and a cruel but powerful woman claims custody of Blue and her property, one wrong move could expose her—and doom her once and for all. The only one who can help? The boy she's loathed since childhood: Prince Kellan.
Kellan Renard, crown prince of Balavata, is walking a thin line between political success and devastating violence. Newly returned from boarding school, he must find a bride among the kingdom's head families and announce his betrothal—but escalating tension among the families makes the search nearly impossible. He's surprised to discover that the one person who makes him feel like he can breathe is Blue, the girl who once ruined all his best adventures.
When mysterious forces lead to disappearances throughout Balavata, Blue and Kellan must work together to find the truth. What they discover will lead them to the darkest reaches of the kingdom, and to the most painful moments of their pasts. When romance is forbidden and evil is rising, can Blue save those she loves, even if it costs her everything?
This title will be released on February 12, 2019.
Add to Goodreads | Buy from Amazon
About the Author:
C.J. Redwine
is a
New York Times
bestselling author of YA fantasy novels, including the Ravenspire series of fairytale retellings and the Defiance trilogy. She's still waiting for her letter from Hogwarts. Currently, she lives in Nashville with her husband, five children, three pets, and a wardrobe that stubbornly refuses to lead to Narnia, no matter how many times she tries. To learn more about C.J., visit her website at www.cjredwine.com.
"A splendid addition to any collection that includes fairy tales retold." (Booklist)
Praise for THE TRAITOR PRINCE: "An action-packed narrative of monsters, violence, and political intrigue." (School Library Journal)
Praise for THE WISH GRANTER: "Satisfying fare for fantasy fans." (Kirkus Reviews)
Praise for THE WISH GRANTER: "A welcome feminist revision of the classic fairy tale." (School Library Journal)
Praise for THE SHADOW QUEEN: "With poison, fire, and deadly deeds, this tale is hard to put down and even harder to forget. I'll never look at apples the same way again!" (Maria V. Snyder, New York Times bestselling author of the Study series)
Praise for THE SHADOW QUEEN: "Magic, dragons, and royalty in hiding: The Shadow Queen hits all the right notes of an incredible epic fantasy." (Jodi Meadows, author of the Orphan Queen duology)
Praise for THE SHADOW QUEEN: "Filled with complex characters, imaginative and horrible consequences, and sharp twists." (Booklist)
Praise for THE SHADOW QUEEN: "An action-packed retelling of "Snow White"...Great fun" (School Library Journal)
Praise for THE SHADOW QUEEN: "A fully imagined fairy tale landscape." (Publishers Weekly)
Praise for DELIVERANCE: "A sharp new epic" (Booklist)
My Review: I love this series so much. And I have to say that although you don't really need to read them all in order it is best that you do. Since we get some great cameos from characters from the other books. This one is all about Blue or Cinderella.
I really loved Redwine's take on this tale. In this one Blue is hiding her magic from the world. This was really a blend of a few different fairytales and they all worked hand in hand to make Blue one great character with an even greater story.
This one gives us a few POVs and each one stood on their own. I did love Blue the best but everyone else stood well and firm as well. This was one book that was hard to put down and I can not wait to get a copy of it in print!!
I will be crying until we get another book set in this world!
Go Into This One Knowing: Multi POVs, Many Tales not just Cinderella's
Did you know that comments are DELICIOUS? Well they are and if you comment on any of these posts you could win some awesome goodies!
Disclaimer:
"All opinions are 100% honest and my own."
Thanks to Goodreads and Amazon for the book cover, about the book, and author information. Buying via these links allows my site to get a % of the sale at no cost to you.

FTC Guidelines: In accordance with FTC guidelines regarding endorsements and testimonials for bloggers, I would like my readers to know that many of the books I review are provided to me for free by the publisher or author of the book in exchange for an honest review. If am compensated for any reviews on this site I will state that post has been sponsored.