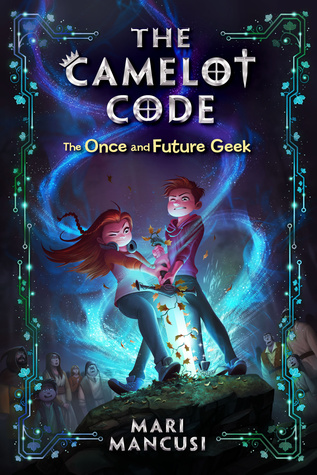 Title:
The Once and Future Geek
Series:
(The Camelot Code #1)
Author:

Mari Mancusi
Genres: Middle Grade, Science Fiction (Time Travel)
Published
November 20th 2018 by Disney Hyperion
Add to Goodreads
Buy from Amazon
Synopsis:
Young King Arthur accidentally time travels to the 21st century and googles himself, discovering the not-so-happily ever after in store for him once he pulls the sword from the stone. He decides he'd much rather stay here--and join the football team instead.
Now modern day gamer geeks Sophie and Stu, with the help of Merlin, find themselves in a race against time to pull a Camelot-size caper--get that sword pulled from the stone and the stubborn once and future king back to the past where he belongs. While Arthur takes on the role of wide-receiver in an attempt to save the football team from a losing season, Sophie and Stu sword-fight, joust, and horseback ride their way through Camelot as they fight to save the timeline. If they fail, the world as they know it (not to mention the existence of pepperoni pizza!) will cease to exist forever.
About the Author:
Mari Mancusi used to wish she could become a vampire back in high school. But she ended up in another blood sucking profession –journalism — instead. Today she works as an award-winning young adult author and freelance television producer, for which she has won two Emmys.
When not writing about fanciful creatures of myth and legend, Mari enjoys traveling, cosplay, watching cheesy (and scary) horror movies, and her favorite guilty pleasure--videogames. (World of Warcraft is her all time favorite.) A graduate of Boston University, she lives in Austin, Texas with her husband Jacob, daughter Avalon, and their two dogs.
"A wholesome, modern twist on the classic legend that could provide a gateway for newer readers and fun for the gaming set."―
Kirkus Reviews

"A highly imaginative twist on the legend of King Arthur, complete with time travel, programming, and fierce friendships, THE CAMELOT CODE is the perfect pick for tweens who love medieval lore and geek culture in equal measure!"―

Christina Soontornvat, author of The Changelings series



"Cinematic and epic in scale... A delightfully unexpected amount of detail from Arthurian lore... Fast-paced, downright fun novel. Certainly not the first retelling of the King Arthur legend, this start to a promising series is not only cleverly plotted but also has enough unique elements to elevate if from the rest."―

Booklist





Accolades
YAYBOOKS!: November 2018 Roundup, selection (2018)
"Impeccably incorporates contemporary and video-game elements into the original King Arthur story, creating an enjoyable and seamless narrative."―
Publishers Weekly
"Imagine
The Sword in the Stone
with a dash of
Freaky Friday
and a pinch of
World of Warcraft
--this funny, fast-paced adventure is chicken soup for the geek's soul."―
Zack Clark and Nick Eliopulos, authors of

The Adventurers Guild
"Arthurian legends just leveled up in this hilariously geeky, modern, and clever take on The Sword in the Stone.
A Connecticut Yankee in King Arthur's Court
meets
Ready Player One
for the middle-grade set."―
Julie Leung, author of The Mice of the Round Table series
"Dashes of romance, bullying, social anxiety, family stresses, commentary on middle school social structure, and bits of history and Arthurian lore all combine to create a though-provoking adventure story... Blending elements of several genres, this story will be appealing to many different types of readers."―
School Library Journal
"Boys and girls will ditch their video games and be sucked into the delightful world of (future) King Arthur and his unlikely saviors, Sophie and Stu. An absolute delight!"―
Jen Calonita, author of the Fairy Tale Reform School series
My Review: This was a great science fiction story about time travel in a Camalot, King Arthur kind of way. It had a great pace and I have to say that even though this is set for middle grade readers that I think young adults as well as adults will fall in love with this one. I also think that this would be a great story to read in the classroom. I also have to say that this book is for the gamers.
Go Into This One Knowing:
B
lended Families, Friendships
Did you know that comments are DELICIOUS? Well they are and if you comment on any of these posts you could win some awesome goodies!
Disclaimer:
"All opinions are 100% honest and my own."
Thanks to Goodreads and Amazon for the book cover, about the book, and author information. Buying via these links allows my site to get a % of the sale at no cost to you.

FTC Guidelines: In accordance with FTC guidelines regarding endorsements and testimonials for bloggers, I would like my readers to know that many of the books I review are provided to me for free by the publisher or author of the book in exchange for an honest review. If am compensated for any reviews on this site I will state that post has been sponsored.