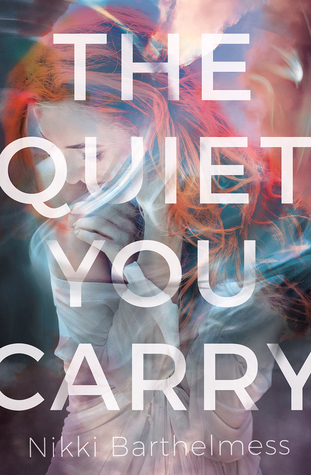 Title:
The Quiet You Carry
Author: Nikki Barthelmess
Genres:
Young Adult, Contemporary
Pages: Paperback, 272
Published: March 5, 2019
Publisher: Flux
Rating: ⭐⭐⭐⭐
Add to Goodreads
Buy from Amazon
Synopsis:
Victoria Parker knew her dad's behavior toward her was a little unusual, but she convinced herself everything was fine—until she found herself locked out of the house at 3:00 a.m., surrounded by flashing police lights.

Now, dumped into a crowded, chaotic foster home, Victoria has to tiptoe around her domineering foster mother, get through senior year at a new school, and somehow salvage her college dreams . . . all while keeping her past hidden.

But some secrets won't stay buried—especially when unwanted memories make Victoria freeze up at random moments and nightmares disrupt her sleep. Even worse, she can't stop worrying about her stepsister Sarah, left behind with her father. All she wants is to move forward, but how do you focus on the future when the past won't leave you alone?
About the Author:
Nikki Barthelmess is a journalist published everywhere from lifestyle blogs to survivalist magazines. She entered foster care in Nevada at twelve and spent the next six years living in six different towns. During this time, Nikki found solace in books, her journal, and the teachers who encouraged her as a writer. A graduate of the University of Nevada, Reno, Nikki lives in Los Angeles with her husband and her pride-and-joy corgi pup. The Quiet You Carry is her debut novel.
You can find Nikki online on Twitter (@nikkigrey_), Instagram (@nikkibarthelmess), and her website, nikkibarthelmess.com.

My Review: "None of us can understand what's going on in another person's life from the outside looking in. No one can really see the quiet you carry unless you let them."

The above statement can't be any truer and this is what the bases of this book is. It's a look into the life of one girl who carries a quiet unlike any other. I found this book to be very heartbreaking and deep. This book starts out with us not really knowing what in the world is going on. The MC is being taken away from her home by Children Services.

Although this is a very dark title I also want to say that it is also a very inspiring story as well. Even though Victoria is in the foster care system she never gives up on school etc. She never lets it define who she is and I really enjoyed that about her. I also have to say that I was surprised to find that the author herself spent time in the foster care system. I think this gave the story a better real look about what happens in the system.

All of the kids in this story were amazing. I loved that she had a BFF with a weird name and just everyone she came into contact with.

In the end, I think this one was a big eye-opener for those who don't know about the Foster Care System as well as mental illness etc. The author did an amazing job with this one and I hope to get a finished copy soon.



Go Into This One Knowing: Foster Care, Sexual Assault, Family Violence, Physical and Mental Illness, Eating Disorders, Self Harm, Suicide Attempt
Did you know that comments are DELICIOUS? Well they are and if you comment on any of these posts you could win some awesome goodies!
Disclaimer:
"All opinions are 100% honest and my own."
Thanks to Goodreads and Amazon for the book cover, about the book, and author information. Buying via these links allows my site to get a % of the sale at no cost to you.

FTC Guidelines: In accordance with FTC guidelines regarding endorsements and testimonials for bloggers, I would like my readers to know that many of the books I review are provided to me for free by the publisher or author of the book in exchange for an honest review. If am compensated for any reviews on this site I will state that post has been sponsored.