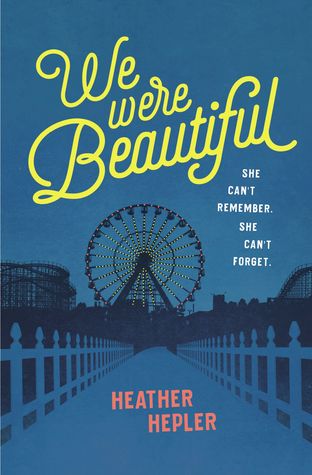 Author: Heather Hepler
Genres:
Young Adult, Contemporary
Pages: Paperback, 304
Published: April 2, 2019
Publisher: Blink
Rating: 3 ★★★
Add to Goodreads
Buy from Amazon
Synopsis:
It's been a year since fifteen-year-old Mia Hopkins was in the car crash that killed her older sister and left her terribly scarred. The doctors tell her she was lucky to survive. Her therapist says it will take time to heal. The police reports claim there were trace amounts of alcohol in her bloodstream. But no matter how much she tries to reconstruct the events of that fateful night, Mia's memory is spotty at best. She's left with accusations, rumors, and guilt so powerful it could consume her.
As the rest of Mia's family struggles with their own grief, Mia is sent to New York City to spend the summer with a grandmother she's never met. All Mia wants to do is hide from the world, but instead she's stuck with a summer job in the bustling kitchens of the cafe down the street. There she meets Fig--blue-haired, friendly, and vivacious--who takes Mia under her wing. As Mia gets to know Fig and her friends--including Cooper, the artistic boy who is always on Mia's mind--she realizes that she's not the only one with a painful past.
Over the summer, Mia begins to learn that redemption isn't as impossible as she once thought, but her scars inside run deep and aren't nearly so simple to heal ... especially when Mia finally pieces together her memories of the night Rachel died.
About the Author:
Heather Hepler is the author of
Frosted Kisses
(Scholastic, 2015)
Love? Maybe
(Dial, 2012),
The Cupcake Queen
(Dutton, 2009),
Jars of Glass
(Dutton, 2008),
Dream Factory
(Dutton, 2007), and
Scrambled Eggs at Midnight
(Dutton, 2006). Heather has been making up stories in her head for as long as she can remember. It was an amazing day when she realized that she could use her talent for good instead of evil. Now instead of making up outrageous stories to explain why her hands were dyed purple; what happened to the last cookie; or why she decided that spending twenty dollars on a talking fish was a good idea, she pours her creative energy into her novels. Heather fills her award-winning novels with whatever captures her attention. Outer space, cupcakes, Renaissance Fairs, bacon truffles, Disney Princesses, sea glass, and love potions have all made the list. Currently she is fascinated with aliens and fruitcake. Her writing has received many awards and accolades and she has been told more than once by her son that when she writes, she makes weird faces. More about Heather can be found by visiting her website: www.heatherhepler.com. You can contact Heather at cupcakequeen@heatherhepler.com.
My Review:
The first part of this story was pretty boring, nothing really happened and it was all about the main character is basically shunned by her dad and then shipped off to her grams whom she has never meant. Then she gets a job and the story really starts picking up. I wished the side characters would have gotten more development because I felt like they were very one-sided and just kind of there to move the story along. Lastly, the entire mystery of how her sister died wasn't all that revealing either. I was waiting for this tragic thing that happened with all the feels but it just wasn't there. I wish this one would have had more depth and maybe if there were would have been alternating chapters leading up to the accident might have been better.
At the end with this one, it was acceptable but it could have been amazing. At least for this reader.
Go Into This One Knowing:
Car Accident Resulting in Death of a Sibling, Trauma, Scarring, Loss, Insta-Love
Did you know that comments are DELICIOUS? Well they are and if you comment on any of these posts you could win some awesome goodies!
Disclaimer:
"All opinions are 100% honest and my own."
Thanks to Goodreads and Amazon for the book cover, about the book, and author information. Buying via these links allows my site to get a % of the sale at no cost to you.

FTC Guidelines: In accordance with FTC guidelines regarding endorsements and testimonials for bloggers, I would like my readers to know that many of the books I review are provided to me for free by the publisher or author of the book in exchange for an honest review. If am compensated for any reviews on this site I will state that post has been sponsored.