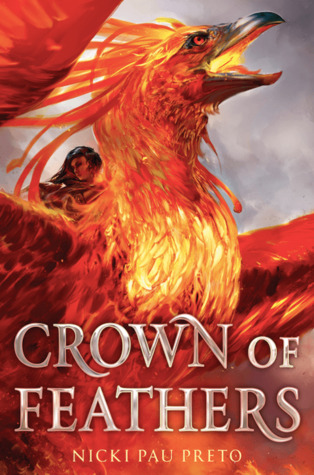 Synopsis:
I had a sister, once…

In a world ruled by fierce warrior queens, a grand empire was built upon the backs of Phoenix Riders—legendary heroes who soared through the sky on wings of fire—until a war between two sisters ripped it all apart.

I promised her the throne would not come between us.

Sixteen years later, Veronyka is a war orphan who dreams of becoming a Phoenix Rider from the stories of old. After a shocking betrayal from her controlling sister, Veronyka strikes out alone to find the Riders—even if that means disguising herself as a boy to join their ranks.

But it is a fact of life that one must kill or be killed. Rule or be ruled.

Just as Veronyka finally feels like she belongs, her sister turns up and reveals a tangled web of lies between them that will change everything. And meanwhile, the new empire has learned of the Riders' return and intends to destroy them once and for all.

Sometimes the title of queen is given. Sometimes it must be taken.
Add to Goodreads
Buy from Amazon
About the Author:
Nicki Pau Preto is a graphic designer and YA author living just outside Toronto, Canada. Her favorite stories have always been the ones that take her somewhere new, with characters she can love and worlds she can get lost in. Like all starving artists, she considers bargain shopping a competitive sport and Froot Loops a suitable meal replacement.
Rating: ★
My Review:
I wanted to love this one so much. I mean the cover was just so pretty and I love stories about sisters, magic, and magical creatures. But I have to say that this one started out pretty well with some info dumping but the author started out with this being done in a way that I wanted to learn more. But the closer I crept towards 60 pages I just found myself wanting to skim the pages because it was just dragging so bad. After that I was just kind of done. The dual POV wasn't right for this story if you ask me. I would have much rather had the story all in
Veronyka's as I was really interested in her part of the
story and really didn't care about the other guy who I have to say wasn't even in the description of this title. So that was kind of weird.
For me I really just wished that this book would have been faster.
Go Into This One Knowing: Dual POV, Slow Plot, InfoDumping
"Set in a world of warrior queens and their fierce phoenixes, Nicki Pau Preto's CROWN OF FEATHERS is absolutely unforgettable. It draws you in with the first flaming feather and doesn't let go. Fans of magical creatures, get in line, because I haven't loved a phoenix this much since Dumbledore's Fawkes. This is an instant favorite." (Kendare Blake, #1 New York Times bestselling author of the Three Dark Crowns series)
"A fierce and incendiary tale of warrior women, sisterhood, and the choices that define us, all set in a soaring new world that readers will fall in love with. I couldn't put it down." (Lisa Maxwell, New York Times bestselling author of the Last Magician series)
"A beautifully told story about justice, sisterhood, and warrior women. This richly woven world had me turning pages well into the night. Nicki Pau Preto is one to watch!" (Shea Ernshaw, New York Times bestselling author of THE WICKED DEEP)
"The unique and imaginative world of the Phoenix Riders had my rapt attention from the first sentence. Nicki Pau Preto is a bright new talent, and I can't wait to read more!" (Morgan Rhodes, New York Times Bestselling author of the Falling Kingdoms series)
Crown of Feathers
is a feast of magic, action, and romance. An immersive, deeply satisfying fantasy that will stay with you long after the story is finished. Nicki Pau Preto is an author to watch! (From Elly Blake, New York Times Bestselling author of FROSTBLOOD)
Queen Nefyra was the first in a long line of Rider Queens, women who walked through fire and emerged to ride the great phoenixes. Hundreds of years later, with Riders called rebels and phoenixes almost never seen, Veronyka has only one dream: to become a Rider. Her sister Val had once wanted the same thing, but a great betrayal has split the siblings apart. Veronyka seeks out the hidden Riders, dressing as a boy named Nyk to infiltrate their training program. Meanwhile, Val lurks in the shadows, and her return could ruin everything as the two mage sisters relive the great war that left their world divided. Also included in this story are enslaved Sev and apprentice Rider Tristan, who are both connected to the legendary phoenixes in strange ways. Interspersed between alternating chapters are pieces of scripture about Nefyra and the history of phoenix riders. This is a new twist on fantasy favorites, and Pau Preto's first novel is as ambitious as it is lyrical. — Stacey Comfort (Booklist
Nov 1, 2018
)
Gr 7 Up–Phoenix Riders are the warriors and heroes who defend their kingdom with the help of phoenixes. When a war between two sisters rips their kingdom apart, the Riders are hunted and phoenix eggs become scarce. Veronyka dreams of being a Phoenix Rider and even begins to bond with a newly hatched phoenix until her sister, in an attempt to control Veronyka, kills the legendary bird. Disguised as a boy named Nyk, Veronyka leaves her home and joins the remaining Riders, caring for animals and helping the local commander's handsome son Tristan train with his phoenix for battle. Just as Veronyka feels like she's made a place for herself, her sister appears and things get complicated in the web of lies surrounding them. In the midst of this sticky situation, the army finds the Riders and marches to destroy their stronghold. The novel begins a little slowly as world-building develops, but it soon becomes an action-packed adventure that will leave fans of epic fantasies eager to find out more. The ending is the perfect setup for a sequel. VERDICT Recommended for fantasy shelves.–Terri Lent, Patrick Henry High School, Ashland, VA (School Library Journal
December 2018
)
Veronyka has always dreamed of becoming one of the fierce Phoenix Riders—warriors who once defended the Golden Empire but have since been banned. Desperate to join the now all-male Riders, she breaks away from the control of her manipulative sister, Val, and disguises herself as a boy to join the secret group outside the fringes of the empire. There she finds allies in the Commander's son, Tristan, and later Sev, an empire soldier on the other side, and all three viewpoints are interlaced with bits of history, mythology, and phoenix biology that breathe life into the tale. The characters are well developed and the cast is unusually strong on representation, with broad racial diversity (Veronyka's brown skin is prominently noted) and a same-sex romance (plus the possibility that Tristan is attracted to Veronyka in her male guise). The novel reflects its phoenix motif in the theme of rebirth that symbolically impacts each of the characters as they remake themselves into stronger people. The well-paced plot is chock-full of shocking revelations, betrayals, and moments of empowerment in the face of adversity that give this novel an epic scope and set up the beginning of a promising book series. A glossary and timeline help readers keep track of the intricate world building. (BCCB
January 2019
)
"Crown of Feathers is epic in the truest sense...it's the perfect series kickoff." (Quill and Quire)
Did you know that comments are DELICIOUS? Well they are and if you comment on any of these posts you could win some awesome goodies!
Disclaimer:
"All opinions are 100% honest and my own."
Thanks to Goodreads and Amazon for the book cover, about the book, and author information. Buying via these links allows my site to get a % of the sale at no cost to you.

FTC Guidelines: In accordance with FTC guidelines regarding endorsements and testimonials for bloggers, I would like my readers to know that many of the books I review are provided to me for free by the publisher or author of the book in exchange for an honest review. If am compensated for any reviews on this site I will state that post has been sponsored.