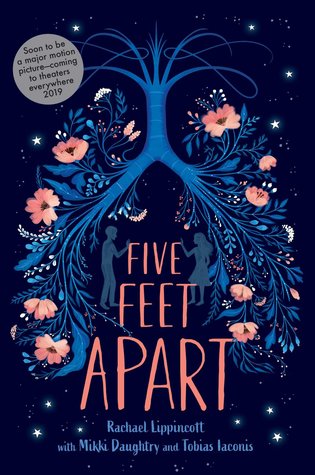 Synopsis:
Can you love someone you can never touch?
Stella Grant likes to be in control—even though her totally out of control lungs have sent her in and out of the hospital most of her life. At this point, what Stella needs to control most is keeping herself away from anyone or anything that might pass along an infection and jeopardize the possibility of a lung transplant. Six feet apart. No exceptions.
The only thing Will Newman wants to be in control of is getting out of this hospital. He couldn't care less about his treatments, or a fancy new clinical drug trial. Soon, he'll turn eighteen and then he'll be able to unplug all these machines and actually go see the world, not just its hospitals.
Will's
exactly
what Stella needs to stay away from. If he so much as breathes on Stella she could lose her spot on the transplant list. Either one of them could die. The only way to stay alive is to stay apart. But suddenly six feet doesn't feel like safety. It feels like punishment.
What if they could steal back just a little bit of the space their broken lungs have stolen from them? Would five feet apart really be so dangerous if it stops their hearts from breaking too?
Add to Goodreads
Buy from Amazon
About the Author:
Rachael Lippincott was born in Philadelphia and raised in Bucks County, Pennsylvania. She holds a BA in English writing from the University of Pittsburgh. She currently resides in Pittsburgh, Pennsylvania, splitting her time between writing and running a food truck with her partner.
Mikki Daughtry is from Atlanta, Georgia. She graduated from Brenau University, where she studied theatre arts. She is now a screenwriter living in Los Angeles.
Tobias Iaconis was born in Germany to an American father and a German mother. He studied English literature at Haverford College in Philadelphia, and now works as a screenwriter in Los Angeles, where he lives with his wife and son.
Rating: 🌟🌟🌟🌟🌟
My Review: This story was wonderful and yes it did make me cry. And when I watched the movie it was even worse. This story is so sad but also so eye opening. It covers the illness of CF or cystic fibrosis. You learn a lot of about this illness during the course of this story from how new lungs won't cure them but give them another 5+ years to live. And how they must stay 6 feet apart from other CF's or risk infection. The author did a wonderful job keeping those with this illness in the forefront of the story. She did this very respectfully.
This story started out with Stella living for her treatment and Will not wanting to live at all. But by the end everything changed I really loved how strong Stella was and although she did have a save the world complex (as the story says) there was just something about her where you wanted to get healthy if you weren't.
This one is insta-love on crack if you ask me. It takes place over the course of a few weeks of these three almost adults in the hospital and you know what I loved it!! It felt real and didn't really feel all that much like normal insta-love.
Book vs. Movie I have to say that I was happily surprised when I watched the movie to this one. They did everything they could to keep this the same. I found out later that this had been a screen play first then had been turned into a book. I think more books need to happen this way. Because for the most part things were word for word from book to movie. Which makes my book to movie heart happy. The one major thing that the book did and that the movie did not was give us 8 more months. At the end of the book we get an epilogue that is set 8 months after the end of the movie. And that is what a lot better than the open ending of the movie.
In the end I really enjoyed both the movie and the book but if I had to choose one I think for this one I would choose the book for those extra 8 months. I kind of feel like Stella right now as I am stealing those 8 months from the book and really wished we would have gotten to see that in the movie.
On a side note about the org. cover. I kind of wished we could have gotten the one that was done by Stella's sister Abby in the movie. It was so pretty!!
Go Into This One Knowing: cystic fibrosis, Death, Talking about Death, Movie (Open Ending), Book (8 Months Later)
"The characters' backstories are complex and moving, and the unpredictability of the disease will break readers' hearts. Teens will clamor to read this before the film version releases in March 2019." (Booklist
November 1, 2018
)
"
The Fault in our Stars
meets Kasie West in this beautiful, heartrending tale...The three coauthors portray believable teen characters with the emotional maturity of adults without losing their target audience. VERDICT A strong purchase for all libraries." (School Library Journal
December 2018
)
Did you know that comments are DELICIOUS? Well they are and if you comment on any of these posts you could win some awesome goodies!
Disclaimer:
"All opinions are 100% honest and my own."
Thanks to Goodreads and Amazon for the book cover, about the book, and author information. Buying via these links allows my site to get a % of the sale at no cost to you.

FTC Guidelines: In accordance with FTC guidelines regarding endorsements and testimonials for bloggers, I would like my readers to know that many of the books I review are provided to me for free by the publisher or author of the book in exchange for an honest review. If am compensated for any reviews on this site I will state that post has been sponsored.