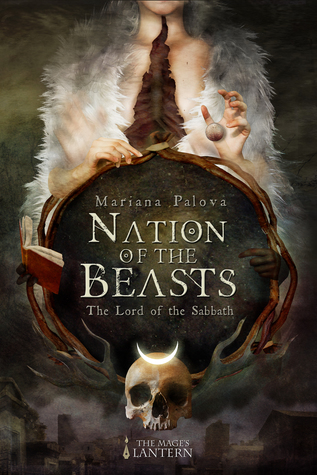 Synopsis:
The abyss watches him. Nightmares hunt him. And now, a battle begins.
Terrifying creatures, unseen to all around him, have tormented Elisse since he was a little boy. These "night terrors" and the cruel life as a young Westerner in a refugee camp have left him isolated and alone. The only clue to his past is an old, tattered envelope with a picture of his father who mysteriously abandoned him at a monastery as a baby.
When Elisse flees India and journeys to New Orleans in search of his father and the truth of his troubled existence, he finds not only the answers to his extraordinary life, an ancestral secret with a grave responsibility, but also the one thing he most desires. A family—but of beasts.
Now, Elisse's awakening gifts attract dark forces rooted in Louisiana magic, and he must do the unthinkable to protect everyone he loves. Will Elisse accept the burdens of his gifts and conquer darkness? Or will that same darkness consume him and destroy the love he so desperately longed for?
Mariana Palova's debut novel,
Nation of the Beasts: The Lord of the Sabbath
, is an unforgettable journey of magic, heartache, and the unbreakable bonds that span this world and the other.
Add to Goodreads
Buy from Amazon
About the Author:
Is an enthusiastic alchemist who, from time to time, likes to do a bit of magic. Born in Jalisco, Mexico in 1990, she decided to dedicate her life to a constant and disastrous search for her own personality, which has led her to become a writer, artist and forest creature.
With a special weakness for nature, wolves, occultism and folk music, her visual work has been exhibited in more than seventy shows around the world. Her first literary saga, Nation of the Beasts, was recently acquired to be published in United States and Latin America.
Nowadays, her biggest dream is to get a small wood cabin in Alaska and live forever happy surrounded by her books.
Rating: ⭐⭐⭐⭐
My Review:
The theme of this book drew me in and this book sure will send you on a wild ride.

We meet our main character Elisse.

He is on a journey to not only find out who he is and why he is constantly seeing monsters, but also looking to find more information about his father.
I liked the way that this story was told and how it is told from a few different points of view.

The author did a good job making sure you could tell each character view you were reading from.
I liked how this story took a twist that I was not expecting and if you're like me and you love to read a good fantasy story with plenty of monsters and action then this is the book for you.

I got sucked into the world Palova created and I can't wait to be able to pick up book two!
Though this book was slow in the beginning it picks up and I had a hard time putting it down.

The characters were all unique and I found myself identifying with one of the characters.

I also liked the relationship between the main character and others around him as well as being able to watch him grow as a person and discover that he is stronger than he ever thought he could be.
My favorite character ended up being a man named Tared.

The way he cares for those around him and the strength and compassion he is able to give to his friends astounded me.
Though I was not crazy about the ending of this book, that is part of the reason I knocked one star from my rating.

We learned a bit of information about a character then the story just ended on a cliff hanger and was very abrupt.

When I finished this book it left me with some questions but defiantly left me wanting more and I can not wait to pick up book two.
Go Into This One Knowing: Multiple POV, Cliffhanger
Did you know that comments are DELICIOUS? Well they are and if you comment on any of these posts you could win some awesome goodies!
Disclaimer:
"All opinions are 100% honest and my own."
Thanks to Goodreads and Amazon for the book cover, about the book, and author information. Buying via these links allows my site to get a % of the sale at no cost to you.

FTC Guidelines: In accordance with FTC guidelines regarding endorsements and testimonials for bloggers, I would like my readers to know that many of the books I review are provided to me for free by the publisher or author of the book in exchange for an honest review. If am compensated for any reviews on this site I will state that post has been sponsored.