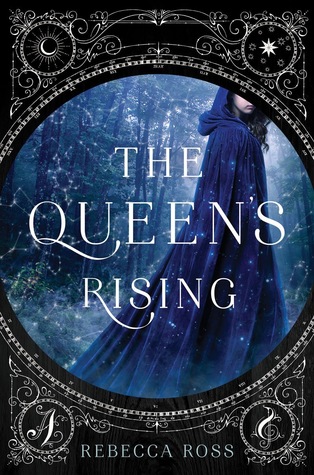 Synopsis:
When her seventeenth summer solstice arrives, Brienna desires only two things: to master her passion and to be chosen by a patron.
Growing up in the southern Kingdom of Valenia at the renowned Magnalia House should have prepared her for such a life. While some are born with an innate talent for one of the five passions—art, music, dramatics, wit, and knowledge—Brienna struggled to find hers until she belatedly chose to study knowledge. However, despite all her preparations, Brienna's greatest fear comes true—the solstice does not go according to plan and she is left without a patron.
Months later, her life takes an unexpected turn when a disgraced lord offers her patronage. Suspicious of his intent, and with no other choices, she accepts. But there is much more to his story, and Brienna soon discovers that he has sought her out for his own vengeful gain. For there is a dangerous plot being planned to overthrow the king of Maevana—the archrival kingdom of Valenia—and restore the rightful queen, and her magic, to the northern throne. And others are involved—some closer to Brienna than she realizes.
With war brewing between the two lands, Brienna must choose whose side she will remain loyal to—passion or blood. Because a queen is destined to rise and lead the battle to reclaim the crown. The ultimate decision Brienna must determine is: Who will be that queen?
Add to Goodreads
Buy from Amazon
About the Author:
Rebecca Ross grew up in Georgia, where she continues to reside with her husband, lively dog and endless piles of books. She received her bachelor's degree in English from UGA and enjoys rainy days, endless cups of coffee and DIY projects. Rebecca writes fantasy for young adult readers. Her debut, THE QUEEN'S RISING, will be out February 6, 2018 from HarperTeen.
Visit her online at www.rebeccarossauthor.com.
Rating: 🌟🌟
My Review: I really wanted to love this book. I gave it over 200 pages instead of the normal 50-100 pages that I normally give books but sadly this one came to an end around page 225. I found that it took the story way to long to get really started. At about 100 pages the story picked up but even past that it lagged a lot.
I loved the idea of the passions it was something fresh and new. The world that they lived in was like most fantasy worlds set in this time period of Castles and queens and kings. My main issue was that I was just bored to tears. I wished that this would have started out like it did with Brienna showing up at the school and then it skipping to 7 years later. But I wished that those chapters after that leading up to the solstice and her graduating would have been summed up a lot faster.
The next issue I had was that if you looked at the front of the book it gives you a very convent family tree that lays out who everyone belongs to and where. So this entire book that centered around Brienna's family was kind of stupid I am sorry to say. Because we already knew who her father was etc. So that was a very big let down. I wished that the author/publisher would have maybe put that at the back of the book because it really is like a MAJOR spoiler for the story.
This book just really lacked the suspense and thrill that it could have had. I kept reading because I was hoping that something was going to happen to speed up the story and make me be like OMG that's awesome. But in 225 pages that just didn't happen.
So sadly this one just was not for me. If you like slower stories that well are fairly predictable then check this one out.
Go Into This One Knowing: Spoilers at the start of the book, Predictable, Slow
A sprawling girl-powered fantasy that pulls readers on an adventure that spans generations...Ross expertly weaves Brienna's past and present into a compelling page-turner.
-- "School Library Journal"
Sophisticated plotting is the hallmark of this debut, which deftly navigates complex, treasonous plots and political intrigue. Brienna herself, unsure but brave and passionate, is an admirable narrator, and her struggles to belong and understand enhance this stunning literary adventure.
-- "Booklist (starred review)"
Did you know that comments are DELICIOUS? Well they are and if you comment on any of these posts you could win some awesome goodies!
Disclaimer:
"All opinions are 100% honest and my own."
Thanks to Goodreads and Amazon for the book cover, about the book, and author information. Buying via these links allows my site to get a % of the sale at no cost to you.

FTC Guidelines: In accordance with FTC guidelines regarding endorsements and testimonials for bloggers, I would like my readers to know that many of the books I review are provided to me for free by the publisher or author of the book in exchange for an honest review. If am compensated for any reviews on this site I will state that post has been sponsored.