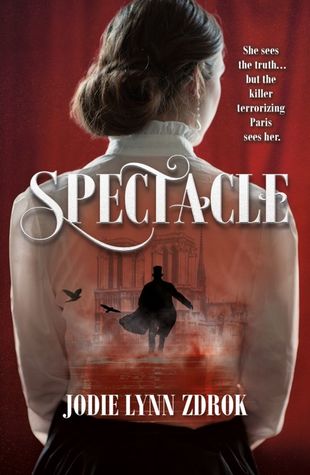 Synopsis:
A YA murder mystery in which a young reporter must use her supernatural visions to help track down a killer targeting the young women of Paris.
Paris, 1887.
Sixteen-year-old Nathalie Baudin writes the daily morgue column for Le Petit Journal. Her job is to summarize each day's new arrivals, a task she finds both fascinating and routine. That is, until the day she has a vision of the newest body, a young woman, being murdered--from the perspective of the murderer himself.
When the body of another woman is retrieved from the Seine days later, Paris begins to buzz with rumors that this victim may not be the last. Nathalie's search for answers sends her down a long, twisty road involving her mentally ill aunt, a brilliant but deluded scientist, and eventually into the Parisian Catacombs. As the killer continues to haunt the streets of Paris, it becomes clear that Nathalie's strange new ability may make her the only one who can discover the killer's identity--and she'll have to do it before she becomes a target herself.
Add to Goodreads
Buy from Amazon
About the Author:
Jodie Lynn Zdrok
holds two MAs in European History and an MBA. In addition to being an author, she's a marketing professional, a freelancer, and an unapologetic Boston sports fan. She enjoys traveling, being a foodie, doing sprint triathlons, and enabling cats.
Spectacle
is her debut.
Rating: 🌟🌟🌟
My Review: I normally really love historical fiction but this one just seemed very slow and very descriptive. It was very slow to start and at first I was very confused about what was going on. I liked the idea and really wonder if back in this day that they had open morgues where unidentified bodies could be viewed. For me the story with this one just seemed kind of all over the place, as it didn't feel like it really knew which part of the story it wanted to tell first.
Once you get through all of that and you are on the hunt for a killer the idea of this paranormal aspect was actually pretty good. It was something that I hadn't seen before in young adult so that was nice a fresh. The ending though lacked that tie up that I was hoping for. I don't think this is a series so that was a little weird. Because, I could understand the ending if it would have been.
"Clever and full of murder, Jodie Lynn Zdrok's Spectacle had my eyes glued to the pages as the body count rose, and mystery stacked upon mystery as our heroine closed in on a killer who seemed miles ahead of the Parisian authorities. Fans of serial killers and criminal investigations will find much to love, and fascinating passages about morgue tours will appeal to the morbid rubbernecker in us all."―Kendare Blake, #1 New York Times bestselling author of the Three Dark Crowns series
"With a fierce heroine, grisly 19th-century murders, and a mystery that left me on the edge of my seat, Spectacle is an immersive, Parisian, YA From Hell that I absolutely devoured!"―Gretchen McNeil, author of Ten and #MurderTrending

"Zdrok explores the universal fascination with death, set among the darker corners of 1887 Paris, and the very idea of the morgue viewings (to which parents brought their children) is chilling...Grisly, plot driven―and very creepy. Fans of historical thrillers that invoke the enduring spirit of Jack the Ripper will have fun."―Kirkus Reviews

"Hints of the murderer's identity are subtly and intriguingly folded into the story, and unresolved plot threads pave the way for future cases, during which Nathalie can discover more about her powers. The blend of history, mystery, and fantasy makes this debut novel a good pick for fans of Libba Bray's Diviners series or William Ritter's Jackaby books."―Booklist

"The book seamlessly brings several threads together: the mystery of the murder and the horrors of the killings themselves; the beauty, bustle, and darkness of nineteenth-century Paris (the killer's pursuit of Nathalie through the catacombs is thrillingly described); the bizarre but historically based practices of morgue viewing and blood transfusions for magic; and the destructive nature of family secrets and their generational effects. ...the tension amps up to a gasp-worthy climax."―Bulletin of the Center for Children's Books
"Zdrok has concocted an ambitious Victorian-era story. ...Intricately plotted, the story's pace burns slow before racing ahead to set up and topple assumptions about the true identity of the Dark Artist."―School Library Journal
Did you know that comments are DELICIOUS? Well they are and if you comment on any of these posts you could win some awesome goodies!
Disclaimer:
"All opinions are 100% honest and my own."
Thanks to Goodreads and Amazon for the book cover, about the book, and author information. Buying via these links allows my site to get a % of the sale at no cost to you.

FTC Guidelines: In accordance with FTC guidelines regarding endorsements and testimonials for bloggers, I would like my readers to know that many of the books I review are provided to me for free by the publisher or author of the book in exchange for an honest review. If am compensated for any reviews on this site I will state that post has been sponsored.