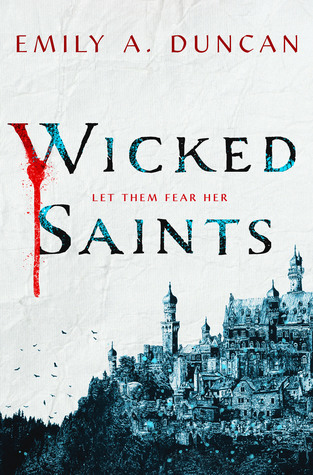 Synopsis:
A girl who can speak to gods must save her people without destroying herself.
A prince in danger must decide who to trust.
A boy with a monstrous secret waits in the wings.
Together, they must assassinate the king and stop the war.
In a centuries-long war where beauty and brutality meet, their three paths entwine in a shadowy world of spilled blood and mysterious saints, where a forbidden romance threatens to tip the scales between dark and light.
Wicked Saints
is the thrilling start to Emily A. Duncan's devastatingly Gothic Something Dark and Holy trilogy..
Add to Goodreads
Buy from Amazon
About the Author:
EMILY A. DUNCAN works as a youth services librarian. She received a Master's degree in library science from Kent State University, which mostly taught her how to find obscure Slavic folklore texts through interlibrary loan systems. When not reading or writing, she enjoys playing copious amounts of video games and dungeons and dragons.
Wicked Saints
is her first book. She lives in Ohio.
Rating: 🌟🌟🌟🌟
My Review: This one started off way strong. I did feel like the powers in this one were a little convenient but once you really got going it worked out for this world. I loved the aspect of the magic in this title. So many people try to make different names for powers or use the same thing over and over and it really makes the story irritating. In this one though the author made it clear that we have this special gods blessed power that Nadya has and then blood magic. I like that although it was somewhat complicated it was also very simple.
The story itself did have a few issues. I thought that some parts were slower than they needed to be. This is one of those titles that really is a set up for the series as a whole. So if you have that in mind going in then you most likely will have a better time with it. as you would be prepared for it. Even with the slower than I liked parts this book was still very good.
I loved the setting and the use of Russian, Slavic, and Polish cultures (I looked this up as I was not sure). I think the author did a wonderful job with all of it. You could tell that this was a debut which is fine. I am excited to see how the author grows into the next title.
For Nadya herself I really enjoyed how she grew over the title. I hope that she continues to grow throughout the series and I did like that her transformation in this one was not quick. It had a great pace on her changing and I can not wait to see where she goes from here.
I really think those who loved The Black Witch might enjoy this one. As it deals with a very devout girl who learns a new way of thinking. It has magic etc. I know that I enjoyed it.
Do you think books transfer to movies well? Which is your favorite/worst book to movie transfer?
I think books and movies are totally different mediums and it's not that they don't work, it's that people have prebuilt expectations when they know about the source material of a film. And listen, my favorite is Legend of the Seeker, which was a tv show not a film, but it was so much fun and it was cancelled much too soon.
What is your favorite book and Why? Have you read it more than once?
Well, I don't have a singular favorite book but I do have a book that I've reread more times than any other book. I don't reread books, like, ever, so the fact that I've read Till We Have Faces by C.S. Lewis four times is saying something, I would think. It's theological but without the, well, preachiness of some of Lewis' other works and it's just plain weird. I really love books about weird theology.
**Indie Next Pick for the Spring 2019 Kids' List**
BOOKRIOT,
"20 YA Dark Fantasy Books For Your Winter TBR"
GOODREADS,
"32 Big Books that YA Fans Can't Wait for in 2019"
CULTRESS,
"19 books we can't wait to get our hands on in 2019"
THE NERD DAILY,
"2019 Book Releases"
"This dark fantasy starts off with a bang... The upfront presence of the gods adds an intriguing twist to a brutal story. The ending is as powerful as the opening, and there are explosive elements waiting to detonate in the expected sequels." -
BOOKLIST
"If you love dark fantasy this book promises to be a brutal, enchanting gem, full of terrifying blood-magic." –
BOOKRIOT, "20 Dark Fantasy Books For Your Winter TBR"
"Rarely does a dark, magical epic have so effective a character-grounded sense of humor." -
BULLETIN OF THE CENTER OF CHILDREN'S BOOKS
"Will leave readers hungry for a sequel." -
PUBLISHERS WEEKLY
"Prepare for a snow frosted, blood drenched fairy tale where the monsters steal your heart and love ends up being the nightmare. Utterly absorbing." -
Roshani Chokshi,
New York Times
bestselling author of
The Gilded Wolves
"Full of blood and monsters and magic―this book destroyed me and I adored it. Emily is a wicked storyteller, she's not afraid to hurt her characters or her readers. If you've ever fallen in love with a villain you will fall hard for this book." -
Stephanie Garber,
New York Times
bestselling author of
Caraval
"This is the novel of dark theology and eldritch blood-magic that I've been waiting for all my life. It's got a world at once brutal and beautiful, filled with characters who are wounded, lovable, and ferocious enough to break your heart. A shattering, utterly satisfying read." -
Rosamund Hodge, author of
Cruel Beauty
and
Bright Smoke, Cold Fire
"
Wicked Saints
is a lush, brutal, compelling fantasy that is dark, deep, and bloody―absolutely riveting! With a boy who is both man and monster, mysterious saints with uncertain motives, and a girl filled with holy magic who is just beginning to understand the full reaches of her power, this gothic jewel of a story will sink its visceral iron claws into you, never letting go until you've turned the last page. And truthfully, not even then -the explosive ending will haunt you for days! " -
Robin LaFevers,
New York Times

bestselling author of the

His Fair Assassin

trilogy
"Dark, bloody, and monstrously romantic. This is the villain love interest that we've all been waiting for." -
Margaret Rogerson,
New York Times

bestselling author of

An Enchantment of Ravens
"Seductively dark and enchanting,
Wicked Saints
is a trance you won't want to wake from. Duncan has skillfully erected a world like no other, complete with provocative magic, sinister creatures, and a plot that keeps you guessing. This spellbinding YA fantasy will bewitch readers to the very last page." -
Adrienne Young,
New York Times

bestselling author of

Sky in the Deep
Did you know that comments are DELICIOUS? Well they are and if you comment on any of these posts you could win some awesome goodies!
Disclaimer:
"All opinions are 100% honest and my own."
Thanks to Goodreads and Amazon for the book cover, about the book, and author information. Buying via these links allows my site to get a % of the sale at no cost to you.

FTC Guidelines: In accordance with FTC guidelines regarding endorsements and testimonials for bloggers, I would like my readers to know that many of the books I review are provided to me for free by the publisher or author of the book in exchange for an honest review. If am compensated for any reviews on this site I will state that post has been sponsored.