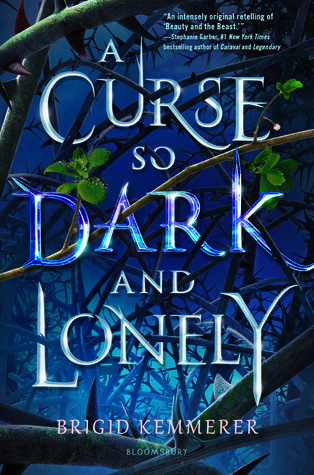 Synopsis:
An instant New York Times Best Seller! In a lush, contemporary fantasy retelling of Beauty and the Beast, Brigid Kemmerer gives readers another compulsively readable romance perfect for fans of Marissa Meyer.
Fall in love, break the curse.
It once seemed so easy to Prince Rhen, the heir to Emberfall. Cursed by a powerful enchantress to repeat the autumn of his eighteenth year over and over, he knew he could be saved if a girl fell for him. But that was before he learned that at the end of each autumn, he would turn into a vicious beast hell-bent on destruction. That was before he destroyed his castle, his family, and every last shred of hope.
Nothing has ever been easy for Harper Lacy. With her father long gone, her mother dying, and her brother barely holding their family together while constantly underestimating her because of her cerebral palsy, she learned to be tough enough to survive. But when she tries to save someone else on the streets of Washington, DC, she's instead somehow sucked into Rhen's cursed world.
Break the curse, save the kingdom.
A prince? A monster? A curse? Harper doesn't know where she is or what to believe. But as she spends time with Rhen in this enchanted land, she begins to understand what's at stake. And as Rhen realizes Harper is not just another girl to charm, his hope comes flooding back. But powerful forces are standing against Emberfall . . . and it will take more than a broken curse to save Harper, Rhen, and his people from utter ruin.
About the Author:
Brigid Kemmerer
is the
New York Times
bestselling author
More Than We Can Tell, Letters to the Lost,
and the Elementals series. She was born in Omaha, Nebraska, though her parents quickly moved her all over the United States, from the desert in Albuquerque, New Mexico, to the lakeside in Cleveland, Ohio, and several stops in between, eventually settling near Annapolis, Maryland.
www.brigidkemmerer.com
@BrigidKemmerer
Rating: 🌟🌟🌟🌟🌟
My Review:
When I started this one I really was thinking that I was going to end up DNFing it. And that all was because of the pacing. This is this author first dip into the world of fantasy and don't get me wrong the book was freaking amazing and by the end, I was like NO NO NO You can't end yet!!!
And that major twist at the end was just WOW I did not see that coming!! But the rest of the book especially the middle parts were very slow and really reminds me more of a contemporary novel vs. a fantasy. I mean yes this one had the cursed castle and prince etc. But the core parts of the book laid heavy in the romantic aspect and well Contempo.
I will say that as this is a series I think Kemmerer is more than capable to flourish as a fantasy author I just think that this one could have been just a tad better.
This book wow just wow. I loved what Brigid did with the characters and the world. This twist on a tale as old as time knocked my socks off for the most part. I loved how she wove elements of sci-fi (parallel worlds) with that of fantasy and her normal titles which are contemporary. This story was so beautifully woven with all of these elements and I could not put it down. I can not wait for the next title in the series and I have to say that for a first try into the world of fantasy I think the author did a bang-up first try.
Go Into This One Knowing:
Dual POV (there is one more POV at the end), Blend of Scifi, Fantasy, and Heavy Contemporary, Slight Cliffhanger, A Little Slow in the Middle.
"Has everything you'd want in a retelling of a classic fairy tale: a finely-drawn fantasy world, a heroine rarely seen in fiction, and a tortured hero with a secret. I have only one complaint: I wish the sequel were already available!" -
Jodi Picoult, New York Times bestselling author of A SPARK OF LIGHT and SMALL GREAT THINGS
"Absolutely spellbinding.
A Curse So Dark and Lonely
expands on all the beloved themes of 'Beauty and the Beast' to create an intensely original retelling: one full of fierce new characters, wicked magic, and wondrous amounts of heart. Brigid Kemmerer doesn't just tell a story, she builds an entire world that you will never want to leave." -
Stephanie Garber, #1 New York Times bestselling author of CARAVAL and LEGENDARY
"I couldn't get this creative, suspenseful take on 'Beauty and the Beast' out of my head." -
Sara Holland, New York Times bestselling author of EVERLESS
"Slow burning, big hearted, magical fun! I loved every minute." -
New York Times bestselling author Wendy Higgins
"Beautifully dark, filled with wild adventure and a modern-day heroine every reader will find a bit of themselves in." -
Alexandra Christo, author of TO KILL A KINGDOM
"Harper is the undisputed hero . . . Avoiding disability inspiration tropes, she is a fallible, well-rounded character who fights for the vulnerable and resists being labeled as such herself despite how others perceive her. A fast-paced, richly detailed feminist epic." -
Kirkus Reviews, starred review
"Heartwarming, thoughtful, and romantic: Brigid Kemmerer took me on a magical journey with this dark fairy tale about growing up, falling in love, and making impossible choices. I can't wait to see where these characters go next." -
Jodi Meadows, New York Times bestselling co-author of MY LADY JANE and MY PLAIN JANE
"This enthralling modern fable champions altruism while illustrating intimacy's relationship with honesty, respect, trust, and consent." -
Publishers Weekly, starred review
"A complex, creative, and compelling reimagining of
Beauty and the Beast."
-
School Library Connection, starred review
"A fresh twist on an old story. . . . Fans of Sarah J. Maas will be eager for this one." -
Booklist
"Kemmerer knows how to blend a compelling story with a swoony romance, and the love triangle that inevitably develops . . . is organic and unforced because of strong characterization." -
BCCB
"A unique world filled with fantasy and menace . . . will leave readers anxious to see what happens next." -
School Library Journal
"Kemmerer merges modern sensibilities with an epic love story in this
Beauty and the Beast
retelling." -
Shelf Awareness
"Readers looking for a different sort of coming-of-age story or teen protagonists grappling with complex situations will fall in love with this romance-tinged novel." -
Starred review, Booklist on MORE THAN WE CAN TELL
"A must-have for any YA collection. Give to teens who enjoyed
A Boy Called It
by Dave Pelzer or
The Perks of Being a Wallflower
by Stephen Chbosky." -
Starred review, School Library Journal on MORE THAN WE CAN TELL
"This book is going to fly off the shelves to all teens, but it will hold special interest for those looking for a tear-jerking romance and serious readers of realistic fiction." -
VOYA on LETTERS TO THE LOST
"A great concept, delivered in a compulsively readable package . . . romance readers will stay up late to finish this very satisfying and heartfelt read." -
Booklist on LETTERS TO THE LOST
"Explores the ideas of carving identity out of pain and the way perception colors expectations." -
BCCB on LETTERS TO THE LOST
"Readers will find themselves rooting for the real Declan to win Juliet's heart the same way his online persona did. Consider this tale of modern star-crossed love as a first purchase for YA collections." -
School Library Journal on LETTERS TO THE LOST
Did you know that comments are DELICIOUS? Well they are and if you comment on any of these posts you could win some awesome goodies!
Disclaimer:
"All opinions are 100% honest and my own."
Thanks to Goodreads and Amazon for the book cover, about the book, and author information. Buying via these links allows my site to get a % of the sale at no cost to you.

FTC Guidelines: In accordance with FTC guidelines regarding endorsements and testimonials for bloggers, I would like my readers to know that many of the books I review are provided to me for free by the publisher or author of the book in exchange for an honest review. If am compensated for any reviews on this site I will state that post has been sponsored.