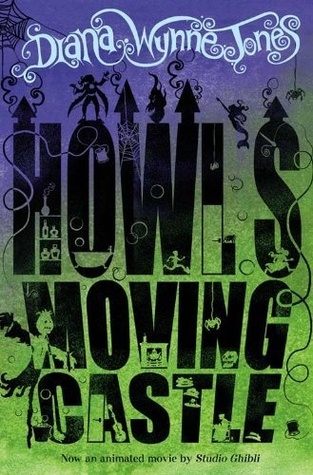 Synopsis:
'In the land of Ingary, where seven league boots and cloaks of invisibility do exist, Sophie Hatter catches the unwelcome attention of the Witch of the Waste and is put under a spell.'
Deciding she has nothing more to lose she makes her way to the moving castle that hovers on the hills above Market Chipping.
But the castle belongs to the dreaded Wizard Howl whose appetite, they say, is satisfied only by the souls of young girls…
There she meets Michael, Howl's apprentice, and Calcifer the Fire Demon, with whom she agrees a pact.
But Sophie isn't the only one under a curse – her entanglements with Calcifer, Howl, and Michael, and her quest to break her curse is both gripping – and 'howlingly' funny!
Add to Goodreads
Buy from Amazon
About the Author:
In a career spanning four decades, award-winning author Diana Wynne Jones wrote more than forty books of fantasy for young readers. Characterized by magic, multiple universes, witches and wizards—and a charismatic nine-lived enchanter—her books were filled with unlimited imagination, dazzling plots, and an effervescent sense of humor that earned her legendary status in the world of fantasy. From the very beginning, Diana Wynne Jones's books garnered literary accolades: her novel Dogsbody was a runner-up for the 1975 Carnegie Medal, and Charmed Life won the esteemed Guardian children's fiction prize in 1977. Since then, in addition to being translated into more than twenty languages, her books have earned a wide array of honors—including two Boston Globe-Horn Book Award Honors—and appeared on countless best-of-the-year lists. Her work also found commercial success: in 1992 the BBC adapted her novel Archer's Goon into a six-part miniseries, and her best-selling Howl's Moving Castle was made into an animated film by Japanese director Hayao Miyazaki in 2004. The film was nominated for an Academy Award in 2006, and became one of the most financially successful Japanese films in history. The author herself has also been honored with many prestigious awards for the body of her work. She was given the British Fantasy Society's Karl Edward Wagner Award in 1999 for having made a significant impact on fantasy, received a D.Lit from Bristol University in 2006, and won the Lifetime Achievement Award at the World Fantasy Convention in 2007.
Born just outside London in 1934, Diana Wynne Jones had a childhood that was "very vivid and often very distressing"—one that became the fertile ground where her tremendous imagination took root. When the raids of World War II reached London in 1939, the five-year-old girl and her two younger sisters were torn from their suburban life and sent to Wales to live with their grandparents. This was to be the first of many migrations, one of which brought her family to Lane Head, a large manor in the author-populated Lake District and former residence of John Ruskin's secretary, W.G. Collingwood. This time marked an important moment in Diana Wynne Jones's life, where her writing ambitions were magnified by, in her own words, "early marginal contacts with the Great." She confesses to having "offending Arthur Ransome by making a noise on the shore beside his houseboat," erasing a stack of drawings by the late Ruskin himself in order to reuse the paper, and causing Beatrix Potter (who also lived nearby) to complain about her and her sister's behavior. "It struck me," Jones said, "that the Great were remarkably touchy and unpleasant, and I thought I would like to be the same, without the unpleasantness." Prompted by her penny-pinching father's refusal to buy the children any books, Diana Wynne Jones wrote her first novel at age twelve and entertained her sisters with readings of her stories. Those early stories—and much of her future work—were inspired by a limited but crucial foundation of classics: Malory's Morte D'Arthur, The Arabian Nights, and Epics and Romances of the Middle Ages. Fantasy was Jones's passion from the start, despite receiving little support from her often neglectful parents. This passion was fueled further during her tenure at St. Anne's College in Oxford, where lectures by J. R. R. Tolkien and C. S. Lewis increased her fascination with myth and legend. She married Medievalist John Burrow in 1956; the couple have three sons and six grandchildren.
After a decade of rejections, Diana Wynne Jones's first novel, Changeover, was published in 1970. In 1973, she joined forces with her lifelong literary agent, Laura Cecil, and in the four decades to follow, Diana Wynne Jones wrote prodigiously, sometimes completing three titles in a single year. Along the way she gained a fiercely loyal following; many of her admirers became successful authors themselves, including Newbery Award winners Robin McKinley and Neil Gaiman, and Newbery Honor Book author Megan Whalen Turner. A conference dedicated solely to her work was held at the University of West England, Bristol, in 2009. Diana Wynne Jones continued to write during her battle with lung cancer, which ultimately took her life in March 2011. Her last book, Earwig and the Witch, will be published by Greenwillow Books in 2012.
Rating: 🌟🌟🌟🌟
My Review: Don't get me wrong there is really nothing wrong with this book. But for me it felt like if this was published now as it sits. It felt more like middle grade novel vs. a young adult one. The book is very fairytale esc which I think kids that are reading middle grade novels now a days would love it.
Grade 6 Up Sophie Hatter reads a great deal and soon realizes that as the eldest of three daughters she is doomed to an uninteresting future. She resigns herself to making a living as a hatter and helping her younger sisters prepare to make their fortunes. But adventure seeks her out in the shop where she sits alone, dreaming over her hats. The wicked Witch of the Waste, angered by "competition" in the area, turns her into a old woman, so she seeks refuge inside the strange moving castle of the wizard Howl. Howl, advertised by his apprentice as an eater of souls, lives a mad, frantic life trying to escape the curse the witch has placed on him, find the perfect girl of his dreams and end the contract he and his fire demon have entered. Sophie, against her best instincts and at first unaware of her own powers, falls in love. So goes this intricate, humorous and puzzling tale of fantasy and adventure which should both challenge and involve readers. Jones has created an engaging set of characters and found a new use for many of the appurtenances of fairy talesseven league boots and invisible cloaks, among others. At times, the action becomes so complex that readers may have to go back to see what actually happened, and at the end so many loose ends have to be tied up at once that it's dizzying. Yet Jones' inventiveness never fails, and her conclusion is infinitely satisfying. Sara Miller, White Plains Public Library, N.Y.
Copyright 1986 Reed Business Information, Inc.
Did you know that comments are DELICIOUS? Well they are and if you comment on any of these posts you could win some awesome goodies!
Disclaimer:
"All opinions are 100% honest and my own."
Thanks to Goodreads and Amazon for the book cover, about the book, and author information. Buying via these links allows my site to get a % of the sale at no cost to you.

FTC Guidelines: In accordance with FTC guidelines regarding endorsements and testimonials for bloggers, I would like my readers to know that many of the books I review are provided to me for free by the publisher or author of the book in exchange for an honest review. If am compensated for any reviews on this site I will state that post has been sponsored.