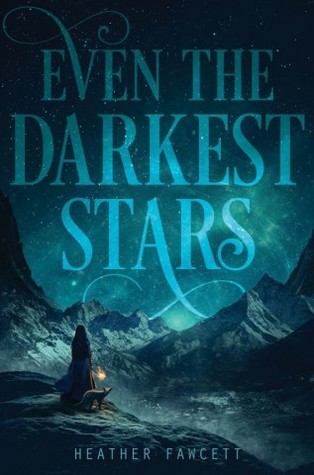 Synopsis:
Kamzin has always dreamed of becoming one of the Emperor's royal explorers, the elite climbers tasked with mapping the wintry, mountainous Empire and spying on its enemies. She knows she could be the best in the world, if only someone would give her a chance.
But everything changes when the mysterious and eccentric River Shara, the greatest explorer ever known, arrives in her village and demands to hire Kamzin—not her older sister Lusha, as everyone had expected—for his next expedition. This is Kamzin's chance to prove herself—even though River's mission to retrieve a rare talisman for the emperor means climbing Raksha, the tallest and deadliest mountain in the Aryas. Then Lusha sets off on her own mission to Raksha with a rival explorer who is determined to best River, and Kamzin must decide what's most important to her: protecting her sister from the countless perils of the climb or beating her to the summit.
The challenges of climbing Raksha are unlike anything Kamzin expected—or prepared for—with avalanches, ice chasms, ghosts, and even worse at every turn. And as dark secrets are revealed, Kamzin must unravel the truth of their mission and of her companions—while surviving the deadliest climb she has ever faced.
Add to Goodreads |
Buy from Amazon
About the Author:
Heather Fawcett
has worked as an archaeologist, an aerospace technical writer, and a backstage assistant for a Shakespearean theater festival. In her spare time, she can be found reading, hiking, reading, eating ice cream, or reading. She is the author of
Ember and the Ice Dragons
,
Even the Darkest Stars,
and
All the Wandering Light
. She lives on Vancouver Island, Canada. Visit Heather online at www.heatherfawcettbooks.com.
Rating: 🌟🌟🌟🌟
My Review:
This one was very good but not totally OMG you have to read this one now! It had a lot going for it though. First off was the world building the author did an amazing job creating this world and making it come to life. I also really liked that she had a part in the beginning that killed the chance of a love triangle although you can see how much Tem really loves Kamzin. So we might end up still seeing one in the next book. The adventure worked out in this one taking these characters across the vastness of this world and I couldn't put it down. So I know what you're thinking why the 4 stars? Well although the world building was great and so was the story. It's not very memorable, there is no doubt in my mind that I won't have to reread this book before I read book two. Although parts of this one (mainly the creatures) stood out I don't think this story is going to stick with me for the long haul. Which is fine. I really did love it and will be reading it again in the future but it lacked that wow factor that a lot of books have. This one has a few twists and turns one of which I saw coming a mile away. I am a little fuzzy on how this one ended and I think I might go back and reread the last few chapters again. I am currently sick and the words on the pages were kind not standing still by the time I got to the end.
"An utterly inventive and wholly original debut." (Booklist
(starred review)
)
"With a dash of romantic entanglement, a rich original mythology, and a sizzler of a twist at the end, this duology opener will appeal to fans of femalecentric fantasy by such authors as Leigh Bardugo and Sarah Maas." (Kirkus Reviews)
"Brilliantly rendering aspects of mountaineering, debut novelist fawcett makes readers feel the constant danger and bitter cold." (Voice of Youth Advocates (VOYA))
"Fawcett brings snow-capped mountains—and their baleful secrets—alive in this magical, atmospheric debut." (Evelyn Skye, New York Times bestselling author of The Crown's Game)
"Cinematically vivid…immersive and absorbing." (Bulletin of the Center for Children's Books)
"A
deeply
satisfying feast for fantasy lovers...I fell in love with this book from the earliest pages and have left the gnawed-off pieces of my heart scattered across the Aryas." (Catherine Egan, author of
Julia Vanishes
)
"A lush adventure filled with magic, myth, and monsters.
Even the Darkest Stars
will sweep you off your feet, steal your heart somewhere between the mountains and sky, and leave you breathless." (Sarah Glenn Marsh, author of
Fear the Drowning Deep
and
Reign of the Fallen
)
"It's
Into Thin Air
drenched in fantasy with some bonus high-altitude make-outs." (The Globe and Mail)
a Rafflecopter giveaway
Did you know that comments are DELICIOUS? Well they are and if you comment on any of these posts you could win some awesome goodies!
Disclaimer:
"All opinions are 100% honest and my own."
Thanks to Goodreads and Amazon for the book cover, about the book, and author information. Buying via these links allows my site to get a % of the sale at no cost to you.

FTC Guidelines: In accordance with FTC guidelines regarding endorsements and testimonials for bloggers, I would like my readers to know that many of the books I review are provided to me for free by the publisher or author of the book in exchange for an honest review. If am compensated for any reviews on this site I will state that post has been sponsored.