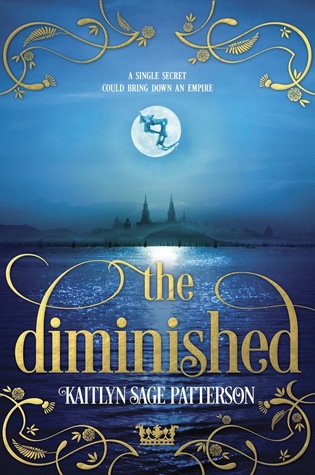 Synopsis:
In the Alskad Empire, nearly all are born with a twin, two halves to form one whole…yet some face the world alone.
The singleborn
A rare few are singleborn in each generation, and therefore given the right to rule by the gods and goddesses. Bo Trousillion is one of these few, born into the royal line and destined to rule. Though he has been chosen to succeed his great-aunt, Queen Runa, as the leader of the Alskad Empire, Bo has never felt equal to the grand future before him.
The diminished
When one twin dies, the other usually follows, unable to face the world without their other half. Those who survive are considered diminished, doomed to succumb to the violent grief that inevitably destroys everyone whose twin has died. Such is the fate of Vi Abernathy, whose twin sister died in infancy. Raised by the anchorites of the temple after her family cast her off, Vi has spent her whole life scheming for a way to escape and live out what's left of her life in peace.
As their sixteenth birthdays approach, Bo and Vi face very different futures—one a life of luxury as the heir to the throne, the other years of backbreaking work as a temple servant. But a long-held secret and the fate of the empire are destined to bring them together in a way they never could have imagined.
Add to Goodreads |
Buy from Amazon
About the Author:
Kaitlyn Sage Patterson grew up with her nose in a book near the Great Smoky Mountains. When she's not untangling some particularly troublesome plot point, she can be found cooking elaborate meals, riding horses, or with her husband and their rescue dogs.
Rating: 🌟🌟
My Review: Sadly, I really wanted to love this one. I actually purchased a copy thinking I was going to die hard love it but unfortunately that just wasn't the case. It felt like a jumble of ideas all tossed together without really explaining anything. The writing seemed stilted and confusing at times. And the main plot just never happened. The world really intrigued me but just didn't work. For this one I felt like the characters weren't fully formed and that it just really wasn't for me.
Go Into This One Knowing: Bad Execution
"Rich worldbuilding... An intriguing premise and well-constructed setting anchor this fantasy debut." -Kirkus Reviews
"Two fierce young people battle a fiery landscape and vicious foes in a race for freedom. I was glued to my seat!" -#1 New York Times bestselling author Tamora Pierce
"A fascinating and wholly original novel. Bo and Vi are fierce, complex characters, and I couldn't devour their story fast enough!" -Amy Tintera, New York Times bestselling author of Ruined
"Kaitlyn Sage Patterson's debut novel has strong and imaginative world-building and complex characters. With a splash of swoony romance and a thrilling conclusion, readers will be clamoring for the sequel." -Zoraida Córdova, award-winning author of Labyrinth Lost and The Vicious Deep trilogy
"Life and death, right and wrong, love and grief?Patterson's debut explores the dangerous nature of a world entrenched in dualities. This daring novel challenges the status quo beautifully." -Natalie C. Parker, author of Beware the Wild
"[A] character-driven narrative that champions self-determination and condemns xenophobia... Entertaining." -Publishers Weekly
"Readers are in for a wild ride...Patterson serves up an adventurous story with plenty of opulence in a richly designed world that fans of Melina Marchetta's Finnikin of the Rock will appreciate. Surprising alliances paired with themes that reflect modern struggles will remind readers of The Handmaid's Tale while remaining accessible, enjoyable, and relevant for teens." -School Library Journal
"Patterson seamlessly subverts traditional gender dynamics by having women succeed in many traditionally masculine roles, and same-sex relationships-integral to Alskad society-are treated in a matter-of-fact manner... This series starter is written with refreshing inclusiveness, and that makes it a worthwhile addition to fantasy collections." ?Booklist
Did you know that comments are DELICIOUS? Well they are and if you comment on any of these posts you could win some awesome goodies!
Disclaimer:
"All opinions are 100% honest and my own."
Thanks to Goodreads and Amazon for the book cover, about the book, and author information. Buying via these links allows my site to get a % of the sale at no cost to you.

FTC Guidelines: In accordance with FTC guidelines regarding endorsements and testimonials for bloggers, I would like my readers to know that many of the books I review are provided to me for free by the publisher or author of the book in exchange for an honest review. If am compensated for any reviews on this site I will state that post has been sponsored.