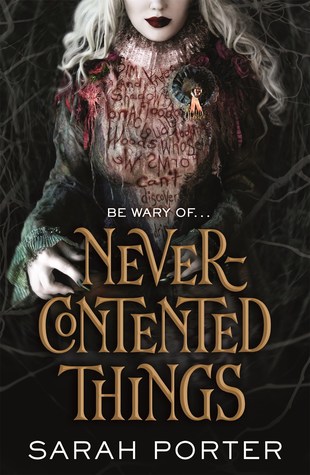 Synopsis:
Seductive. Cruel. Bored
Be wary of…
Prince and his fairy courtiers are staggeringly beautiful, unrelentingly cruel, and exhausted by the tedium of the centuries―until they meet foster-siblings Josh and Ksenia.
Drawn in by their vivid emotions, undying love for each other, and passion for life, Prince will stop at nothing to possess them.
First seduced and then entrapped by the fairies, Josh and Ksenia learn that the fairies' otherworldly gifts come at a terrible price―and they must risk everything in order to reclaim their freedom.
This title will be released on March 19, 2019.
Add to Goodreads
Buy from Amazon
About the Author:
Sarah Porter is a writer, artist, and freelance teacher who lives in Brooklyn with her husband and two cats. She is the author of the Lost Voices Trilogy (
Lost Voices
,
Waking Storms
,
The Twice Lost
) in addition to
Vassa in the Night
and
When I Cast Your Shadow
―all for the teen audience. She has an M.F.A. in Creative Writing from City College.
Rating: 🌟🌟🌟🌟🌟
My Review:
First off this is NOT ANYTHING like the Cruel Prince!!
When I started this one I thought I was going to DNF it. It was weird and felt kind of choppy to me. But I held out and I am so glad that I did because this is by far Porter's best book yet!!
If you are looking for an old tale about the Fey then look no further. This one kind of reminded me of Vip Ran Winkle where he was enthralled by the Fey. I have to say that this was nothing like The Cruel Prince and it was something totally new. As the Fey are not the main theme of this title.
This is one dark and messed up title about two kids in foster care. Where one is getting ready to age out the other one is stuck with their foster family for another two years.
I have to say that this title had a great message of hope. That no matter what has happened to you, you can always have hope.
The relationship Josh and Ksenia was both heartbreaking and very messy. Although they are not blood related for Ksenia, Josh is her brother not her lover etc. But Josh doesn't see her that way. He wants them to be together forever. It was a twist that I didn't know what to do with when I read it. It was like at every turn these two chose the wrong thing to stay together.
I have to say that in the end this was so worth the read and I am totally glad that I did read it. It had some very hard parts to get through about roles within relationships and at times it was very very dark. But it had a few great messages about hope and getting out of poison relationships and learning to choose the right thing.
Go Into This One Knowing: LGBT, Dark, Fey, Bad Relationships
"Tragic and engrossing, filled with nightmarish dreamscapes and menacing villains, it also treads the tender terrain of family, and the strange and sometimes dysfunctional ties between siblings. Highly recommended!" ―Kendare Blake,
New York Times
bestselling author of
Three Dark Crowns
on
When I Cast Your Shadow
"You'll never think of your nightmares the same way again. Darkly seductive. Sarah Porter's writing glitters and her storytelling stuns in this twisted tale of siblings, love, and death." ―Stephanie Garber,
New York Times
bestselling author of
Caraval
on
When I Cast Your Shadow
"Sarah Porter is a genius. Her language is lush and dangerous, and her books burn with the beautiful, ferocious intensity of a bonfire in the darkest night. Read
Never-Contented Things
with the lights on. Then read it again."―Brittany Cavallaro,
New York Times
bestselling author of
A Study in Charlotte
"Sarah Porter's
Never-Contented Things
creates a creepy new world like none I've seen before. Eerie, edgy and filled with mystery, Porter takes us to the depths of the magical and psychological."―Danielle Paige,
New York Times
bestselling author of
Dorothy Must Die
"In Porter's hands, even undead, skinless slivers of shadow burst to life… A wildly innovative, whip-smart, and utterly spellbinding testament to family, memory, and love―and the messes and miracles of each―poised to possess legions of readers." ―
Booklist
, starred review, on
When I Cast Your Shadow
"Porter offers a poignant consideration of how far we will go for the people we love… An excellent selection for libraries serving teens." ―
School Library Journal
, starred review on
When I Cast Your Shadow
"….[D]elivers a deliciously disturbing and engaging portrait of the complexities of familial love and takes readers to the boundaries between innocence and corruption, self-preservation and sacrifice, the dreaming and the dead…. A haunting tale of possession that explores the ghostly landscape of dreams and nightmares―but more importantly, the particular dynamics among siblings, both oppressive and redemptive." ―
Kirkus Reviews
"This book is relentlessly dark and horrifying, compelling the reader to seek out the redemption that these characters so desperately need. Ruby is so utterly bound by grief over Dash's death, she seems unable to avoid becoming his victim. Everett, however, personifies the loving sibling bond that allows the cathartic conclusion of the novel to occur. …This book is recommended for teen fans of supernatural fiction ready for the dark and disturbing material."―
VOYA
a Rafflecopter giveaway
Did you know that comments are DELICIOUS? Well they are and if you comment on any of these posts you could win some awesome goodies!
Disclaimer:
"All opinions are 100% honest and my own."
Thanks to Goodreads and Amazon for the book cover, about the book, and author information. Buying via these links allows my site to get a % of the sale at no cost to you.

FTC Guidelines: In accordance with FTC guidelines regarding endorsements and testimonials for bloggers, I would like my readers to know that many of the books I review are provided to me for free by the publisher or author of the book in exchange for an honest review. If am compensated for any reviews on this site I will state that post has been sponsored.