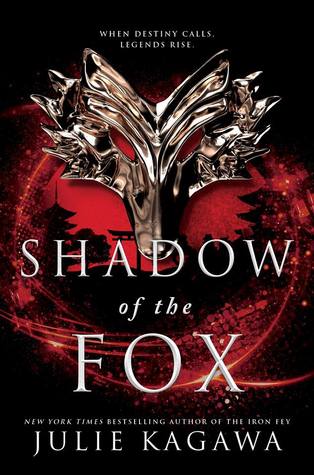 Synopsis:
One thousand years ago, the great Kami Dragon was summoned to grant a single terrible wish—and the land of Iwagoto was plunged into an age of darkness and chaos.
Now, for whoever holds the Scroll of a Thousand Prayers, a new wish will be granted. A new age is about to dawn.
Raised by monks in the isolated Silent Winds temple, Yumeko has trained all her life to hide her yokai nature. Half kitsune, half human, her skill with illusion is matched only by her penchant for mischief. Until the day her home is burned to the ground, her adoptive family is brutally slain and she is forced to flee for her life with the temple's greatest treasure—one part of the ancient scroll.
There are many who would claim the dragon's wish for their own. Kage Tatsumi, a mysterious samurai of the Shadow Clan, is one such hunter, under orders to retrieve the scroll…at any cost. Fate brings Kage and Yumeko together. With a promise to lead him to the scroll, an uneasy alliance is formed, offering Yumeko her best hope for survival. But he seeks what she has hidden away, and her deception could ultimately tear them both apart.
With an army of demons at her heels and the unlikeliest of allies at her side, Yumeko's secrets are more than a matter of life or death. They are the key to the fate of the world itself.
Add to Goodreads |
Buy from Amazon
About the Author:
Born in Sacramento, CA, Julie Kagawa moved to Hawaii at the age of nine. There she learned many things; how to bodyboard, that teachers scream when you put centipedes in their desks, and that writing stories in math class is a great way to kill time. Her teachers were glad to see her graduate.
Julie now lives is Louisville, KY with her husband and furkids. She is the international and NYT bestselling author of The Iron Fey series. Visit her at juliekagawa.com.
Rating: 🌟🌟
My Review: Sadly I just really didn't care for this one. I think that it would work our way better as a movie. The way it was written at least to me felt more like a screen play. I think that the visuals would have been amazing. I guess this was written via an anime so maybe that is why it felt like that to me. This is the first ever time that I haven't loved a story by Julie Kagawa and I hope that it will be the last that I ever do.
The story felt very choppy to me and with no mention of the dual POV changes it made it very hard to know who what what and where. The characters themselves just felt flat and overall I just didn't enjoy this one at all sadly.
Go Into This One Knowing: Dual POV with no headers for changes, Choppy Story
"Shadow of the Fox has just become one of my all time favorite fantasy novels! I'm in love with this book, its characters, its worldbuilding! Oni, giant centipedes, flesh eating ghosts, and terrifying half women/half spider things that will give me nightmares for weeks to come, this book is filled with terrifying Asian mythological creatures that make Medusa look like a mean grandma with a bad wig. Not to mention a lovable kitsune, a sexy demonslayer, and quite a few side characters that are larger than life and have completely wormed their way into my heart. I'm so invested in their lives and their quest and I cannot wait for the next installment of my new favorite series. In the meantime, I plan to re-read Shadow of the Fox again and again until I can be reunited with Yumeko and Tatsumi soon. So dear Julie, please write faster!" -Ellen Oh, author of the Prophecy and Spirit Hunters series
"Kagawa uses elements of Japanese mythology and folklore to spin an epic yarn...readers will be drawn into the world of Kagawa's first Japan-based fantasy; with its engaging action scenes and the cliffhanger ending, they will look forward to the next volume. Action-packed adventure." -Kirkus Reviews
"Kagawa's series starter never disappoints; she's a vet at putting realistic characters within believable worlds, here doused in Japanese folklore. Fans will be right at home and anticipate the next chapter." -Booklist
"[E]xcellent writing and skillful plotting... [A] fresh and imaginative thrill-ride."-Publishers Weekly on The Immortal Rules, starred review
"The Iron Daughter is a book that will keep its readers glued to the pages until the very end."-New York Journal of Books on The Iron Daughter
Did you know that comments are DELICIOUS? Well they are and if you comment on any of these posts you could win some awesome goodies!
Disclaimer:
"All opinions are 100% honest and my own."
Thanks to Goodreads and Amazon for the book cover, about the book, and author information. Buying via these links allows my site to get a % of the sale at no cost to you.

FTC Guidelines: In accordance with FTC guidelines regarding endorsements and testimonials for bloggers, I would like my readers to know that many of the books I review are provided to me for free by the publisher or author of the book in exchange for an honest review. If am compensated for any reviews on this site I will state that post has been sponsored.