Author: C.A. Gray
Narrator: Matthew E. Berry
Length: 6 hours and 16 minutes
Publisher: Wanderlust Publishing
Released: July 17, 2019
Genre: Fantasy, Magical Realism


Workaholic insurance attorney Luke Darringer has it all: money, looks, ambition. Sure, he hasn't taken a vacation in over a decade, and his personal life is almost nonexistent - but that's a small price to pay in order to maintain strict control, and minimize his vulnerabilities.

But then Luke's firm, with the help of his cheeky administrative assistant Charlotte, strong-arms him into becoming the first-ever client of the new Dreamscape Adventures, Inc. The new company promises fantastical vacations to wealthy clients, as well as controlled therapeutic experiences to individuals suffering from various forms of mental illness, such as autism and PTSD. They're a potentially huge client for Luke's firm, but they need liability insurance before they can get off the ground. Luke expects he'll have a quick little canyoneering adventure like he did back in his college days, and then get right back to the grindstone.

But Luke's adventure doesn't quite go the way he planned. Eli, the entrepreneur in charge, assures Luke that the glitches are nothing to worry about, and they'll have things under control again in no time. Instead, Luke soon finds himself in a wilderness of questionable reality, where he is responsible not only for his own safety, but also Charlotte's, Eli's, and that of a nonverbal autistic boy whose vulnerability strikes a bit too close to home. Forced to confront his past and his deepest fears, Luke must decide whether to rewrite history and become the man he's always wanted to be - or whether instead he is doomed to repeat it.






By day, C.A. Gray is a Naturopathic Medical Doctor (NMD) with a primary care practice in Tucson, AZ, and she writes medical books under her real name (Dr. Lauren Deville). She lives with her husband, with whom she maintains a facetiously contentious movie review blog, and travels as often as they can get away. When not writing or seeing patients, she does yoga, drinks red wine while eating dark chocolate, and consumes audiobooks like there's no tomorrow!

Matthew has been very active in his career as a radiologic technologist, but something was nagging at him. His urging to be involved with the written word. The medical journals he wrote did not fill the desire for the kind of words he wanted to be a part of. He had always considered himself a writer. But one that often had difficulties completing the story. So, how else could he be involved? Matthew began listening to audiobooks and decided in 2017 that he was going to give it a try.
He now has 9 audiobook projects on sale at Amazon, Audible, and iTunes with two projects in the works.

This was a very unique story. Luke an insurance broker gets sent paperwork from a unique company, Dreamscape Adventures, Inc. Dreamscape Adventures, Inc. a company that uses special vr domes to help create your perfect fantasy world. They hope to also be able to use their technology to help those with disabilities or other needs. They wrote Luke's company hoping that they would insure them so they can launch their company publicly. However to do so Luke must test their vr system for safety before they are able to insure them. This book makes me wish our vr systems were more advance. It was interesting to see the worlds it created for each person and how easily things can go bad. The journey Luke took on in this story was amazing. I loved the character development of Luke and you can really see him change during the story due to the circumstances. He was able to finally find his true self. I also loved the narration by Matthew E Berry. He really made the characters come to life and did a good job changing the voices for the characters so it was easy to tell which character was talking.
I received this audiobook as part of my participation in a blog tour with Audiobookworm Promotions. The tour is being sponsored by C.A. Gray. The gifting of this audiobook did not affect my opinion of it.

Giveaway: $25 Amazon Gift Card
Dreamscape Adventures, Inc. Giveaway: $25 Amazon Gift Card

Aug. 27th:
Viviana MacKade
Nesie's Place
Aug. 28th:
Hall Ways Blog
The Book Junkie Reads . . .
Aug. 29th:
Valerie Ullmer | Romance Author
Dab of Darkness Audiobook Reviews
T's Stuff
Crossroad Reviews
Aug. 30th:
Buried Under Books
Country Road Reviews
What Is That Book About
Aug. 31st:
Momma Says To Read or Not to Read
My Creatively Random Life
Audiobook Ebook Fascination
Sep. 1st:
Jazzy Book Review
s
Lynn's Romance Enthusiasm
Sep. 2nd:
Locks, Hooks and Books
The Book Addict's Reviews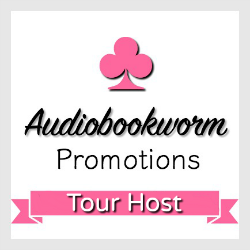 Did you know that comments are DELICIOUS? Well they are and if you comment on any of these posts you could win some awesome goodies!

Disclaimer:
"All opinions are 100% honest and my own."
Thanks to Goodreads and Amazon for the book cover, about the book, and author information. Buying via these links allows my site to get a % of the sale at no cost to you.

FTC Guidelines: In accordance with FTC guidelines regarding endorsements and testimonials for bloggers, I would like my readers to know that many of the books I review are provided to me for free by the publisher or author of the book in exchange for an honest review. If am compensated for any reviews on this site I will state that post has been sponsored.