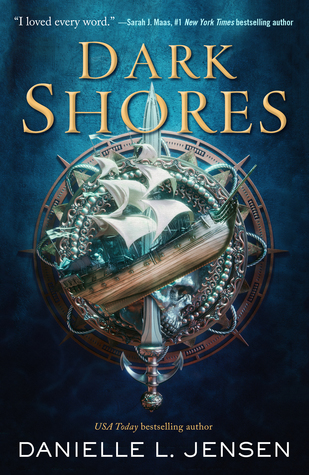 Synopsis:
High seas adventure, blackmail, and meddling gods meet in Dark Shores, the first novel in a new YA fantasy series.
In a world divided by meddlesome gods and treacherous oceans, only the Maarin possess the knowledge to cross the Endless Seas. But they have one mandate: East must never meet West.
A PIRATE WITH A WILL OF IRON
Teriana is the second mate of the Quincense and heir to the Maarin Triumvirate. Her people are born of the seas and the keepers of its secrets, but when her closest friend is forced into an unwanted betrothal, Teriana breaks her people's mandate so her friend might escape—a choice with devastating consequences.
A SOLDIER WITH A SECRET
Marcus is the commander of the Thirty-Seventh, the notorious legion that has led the Celendor Empire to conquer the entire East. The legion is his family, but even they don't know the truth he's been hiding since childhood. It's a secret he'll do anything to protect, no matter how much it costs him – and the world.
A DANGEROUS QUEST
When an Empire senator discovers the existence of the Dark Shores, he captures Teriana's crew and threatens to reveal Marcus's secret unless they sail in pursuit of conquest, forcing the two into an unlikely—and unwilling—alliance. They unite for the sake of their families, but both must decide how far they are willing to go, and how much they are willing to sacrifice.
Add to Goodreads |
Buy from Amazon
About the Author:
Danielle L. Jensen is the USA Today bestselling author of The Malediction Novels: Stolen Songbird, Hidden Huntress, Warrior Witch, and The Broken Ones (Angry Robot), as well as The Bridge Kingdom (Audible Originals). Her latest novel, Dark Shores, was released by Tor Teen in May. She lives with her family in Calgary, Alberta.
Rating: 🌟🌟🌟🌟
My Review: I am so sad that I didn't care for this one. I loved this author's other stories and this is the first one that I just didn't enjoy. When I first started this one I just knew I wasn't going to like it. This one just didn't have the same feel as Stolen Songbird and this one really felt like it wasn't even written by the same person.
"Richly-woven, evocative, and absolutely impossible to put down―I was hooked from the first lines! Dark Shores has everything I look for in a fantasy novel: fresh, unique settings, a cast of complex and diverse characters, and an unflinching boldness with the nuanced world-building. I loved every word."―Sarah J. Maas, #1 New York Times bestselling author
"The book grabs readers from the beginning with its stellar worldbuilding and multidimensional characters, and the mythical elements are truly believable within the constructs of the story. The perspective shifts between the viewpoints of Teriana and Marcus from chapter to chapter, offering readers greater insights into each. ...A gripping introduction to a new series."―Kirkus Reviews(starred)
"This is a lush, imaginative world, and as the focus shifts between Teriana and Marcus, it becomes clear that the readers are only getting a glimpse of its complicated history and mythology. ...Their secrets don't, of course, stop Teriana and Marcus from embarking on a steamy romance, and fans of Rutkoski's sighworthy The Winner's Kiss and the high-stakes sea adventure of Levenseller's Daughter of the Pirate King will want to know where Marcus and Teriana journey to next." ―Bulletin of the Center for Children's Books

"The plot's twists and turns and fantastical elements add to the allure of this thrilling story. VERDICT Exhilarating fantasy-adventure romance for fans of Tricia Levenseller's Daughter of the Pirate King, Alexandra Christo's To Kill a Kingdom, or Natalie C. Parker's Seafire. Readers will eagerly await the next book in the series."
―School Library Journal
Did you know that comments are DELICIOUS? Well they are and if you comment on any of these posts you could win some awesome goodies!
Disclaimer:
"All opinions are 100% honest and my own."
Thanks to Goodreads and Amazon for the book cover, about the book, and author information. Buying via these links allows my site to get a % of the sale at no cost to you.

FTC Guidelines: In accordance with FTC guidelines regarding endorsements and testimonials for bloggers, I would like my readers to know that many of the books I review are provided to me for free by the publisher or author of the book in exchange for an honest review. If am compensated for any reviews on this site I will state that post has been sponsored.