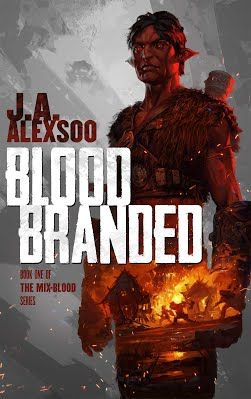 (The Mix-Blood: Book One)
Young Adult, Coming of Age, Fantasy
Date Published: October 1, 2019
Publisher: Breezy Pages Publishing
Defiance is paid in blood.
Their time is up. The crimsons are coming, marching on Hammerstone to crush the rebellious grays who renounce their rule. The graybacks have defied the ban that forbids trade or alliances with other races.
Frafnar understands intolerance better than most. Every season the grayback settlements send tribute to their oppressive orc cousins, and Hammerstone is no exception. After Frafnar is denied the opportunity to join the tribute guard because of his mixed heritage, he leaps at the chance to prove himself when his father's signal horn is left behind.
Smoke rises in the distance. Frafnar must warn Hammerstone of the threat and comes to realize that his people are struggling with what he's faced all his life. Now he must fight alongside those he loves—and hates—to protect his home.
Can Hammerstone withstand the siege, or will it become the final gravesite in a failed rebellion?
When the crimsons strike, always remember… strength in blood.
If you're a fan of the epic or high fantasy genres, coming of age stories, or action-packed tales with haughty orcs and mysterious magic, then you'll want to pick up Blood Branded.
The words pierced the chatter among the gathering, reaching Frafnar and echoing his own thoughts.
"I want to see a crimson!" another hollered.
"Better hope you're not against me!" someone else shouted.
Then the energy of the group stilled as if everyone held their breath. Frafnar stood on the tips of his toes, but he still couldn't see past the bobbing heads and shoulders of the other runts.
"Frafnar, son of Armastus."
His elation was cut short by the groans of the group. The outbursts ceased when Trainer Groth roared for silence.
The gathering leaned forward.
"No!" Bromh yelled from within the crowd. "I won't be paired against the mix-blood."
"Then you forfeit," Groth said, already searching for the next contender.
"Get over here," Groth snapped. "Where's Frafnar? Let him through."
The circle of bodies parted enough that Frafnar squeezed between them, ignoring the sharp stares from the others. He kept his chin high and broke eye contact only as he passed the runts towering over him.
Trainer Groth and Bromh waited in the center of the ring.
"What's the matter?" Frafnar taunted when he broke through the crowd. "Afraid you'll lose?"
Bromh scoffed. "I'll crush you in an instant, twig."
Groth's scowl deepened. Veins popped out of the tight flesh on his arms and neck.
"Fine," Bromh stammered. "But everyone knows I should've had a real challenge," he dared to add.
Frafnar met Bromh in the middle of the circle, a solid wood construction between them.
"Winner moves on to the finals," Groth reiterated with a huff.
Frafnar mirrored Bromh by grasping the iron bar on the side of the wood platform with one hand and placing his elbow on the leather pad. Bromh glared over their clasped hands and squeezed so hard his knuckles paled. Maybe when he was younger, Frafnar might have cried out because of the pain. Today, Bromh would have to break his hand before he'd let go. When he won, they'd have no choice but to acknowledge him as an orc.
Trainer Groth balanced two thin strips of kindling on each side of their hands to ensure they started at his command. "Prepare," he said. Then, after a suspense-filled moment, "Go."
The audience erupted with noise, hollering as the strips fell over. Frafnar met Bromh's strength with his own. He inched his opponent's arm halfway down to the wood surface. The notion of a quick triumph crumbled when he heard Bromh snicker.
"That all you got, twig?"
About the Author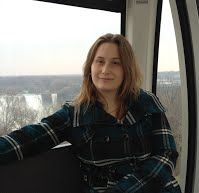 J.A. Alexsoo lives in Ontario, Canada, and has forever been a fan of fantasy and science fiction. When not working on writing or imagining new adventures, she tours the lands with her two trusty canine companions. She's the author of THE KNIGHT'S ORDER and her new book BLOOD BRANDED is scheduled to be released October 1st.
Did you know that comments are DELICIOUS? Well they are and if you comment on any of these posts you could win some awesome goodies!

Disclaimer:
"All opinions are 100% honest and my own."
Thanks to Goodreads and Amazon for the book cover, about the book, and author information. Buying via these links allows my site to get a % of the sale at no cost to you.

FTC Guidelines: In accordance with FTC guidelines regarding endorsements and testimonials for bloggers, I would like my readers to know that many of the books I review are provided to me for free by the publisher or author of the book in exchange for an honest review. If am compensated for any reviews on this site I will state that post has been sponsored.