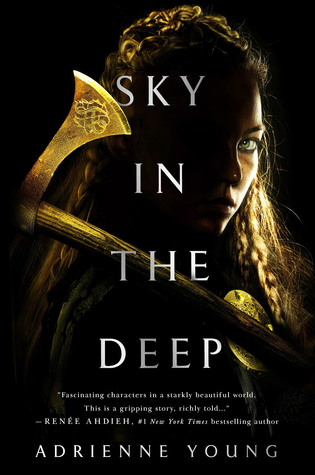 Synopsis:
Part Wonder Woman, part Vikings—and all heart.

Raised to be a warrior, seventeen-year-old Eelyn fights alongside her Aska clansmen in an ancient rivalry against the Riki clan. Her life is brutal but simple: fight and survive. Until the day she sees the impossible on the battlefield—her brother, fighting with the enemy—the brother she watched die five years ago.

Faced with her brother's betrayal, she must survive the winter in the mountains with the Riki, in a village where every neighbor is an enemy, every battle scar possibly one she delivered. But when the Riki village is raided by a ruthless clan thought to be a legend, Eelyn is even more desperate to get back to her beloved family.

She is given no choice but to trust Fiske, her brother's friend, who sees her as a threat. They must do the impossible: unite the clans to fight together, or risk being slaughtered one by one. Driven by a love for her clan and her growing love for Fiske, Eelyn must confront her own definition of loyalty and family while daring to put her faith in the people she's spent her life hating.
Add to Goodreads |
Buy from Amazon
About the Author:
Adrienne Young
is a born and bred Texan turned California girl. She is a foodie with a deep love of history and travel and a shameless addiction to coffee. When she's not writing, you can find her on her yoga mat, scouring antique fairs for old books, sipping wine over long dinners, or disappearing into her favorite art museums. She lives with her documentary filmmaker husband and their four little wildlings beneath the West Coast sun.
Adrienne is the author of the
New York Times
bestseller
Sky in the Deep
and the forthcoming
The Girl the Sea
Gave Back
.
Rating: 🌟🌟🌟🌟
My Review:
Sky in the Deep has one kick butt heroine that will totally knock your socks off!! She is the warrior, the daughter, the sister, and of course the lover and I loved Eelyn so freaking much!! I read this book in one setting and just could not put down and I am so happy that I already have book two so I can read that one as well.
The story is one that was kind of what I would consider childish. That two tribes come together every 5 years to battle and kill each other. I kind of wished that the author would have chosen a real reason why these two tribes were killing each other. So that was a little weird. The other issue I had was the flow of some of the chapters. It felt like they didn't flow from one to the other very well. But this didn't happen very often.
This was a wonderful historical fiction with no fantasy elements which was a great break from the norm. I was at first missing those elements but after a few chapters in I didn't miss any of that at all. The story was steeped in the culture and religion of the Vikings and I loved what the author did. I do wish that we would have gotten some more of this than what we got but I am happy with how it all turned out.
In the end this book gave me everything I was looking for family, love, life, forgiveness, and more!
"A rousing saga and moving coming-of-age tale, perfect for those who appreciate the wild and the wildlings, strong female protagonists, and cinematic battles." -
Kirkus,

Starred Review
"Drawing on Viking history and lore, debut author Young crafts an exciting, at times heart-wrenching story centered around 17-year-old Eelyn, her Aska clan, and their centuries-old war with the Riki...Young's often poetic writing forms a stark juxtaposition with her vivid descriptions of battle and bloodshed, creating a clear picture of the brutality of war."
-

Publishers Weekly
"Young's brutal, emotional debut is set in a land that is as unforgiving as its people. The strongest aspect of Young's work is the world building; she packs it with details that viscerally pull the reader into Eelyn's world. Young has also populated this world with complicated characters who evolve as readers get to know them. Even better, the theme at the core of the story―overcoming prejudice and unifying to fight a greater threat―resonates with current real-world issues. With its gorgeous prose and epic battle scenes, fantasy lovers will be easily satisfied." -
Booklist
"Viking history aficionados as well as fans of Sarah J. Maas' Throne of Glass series will fall in love with this richly crafted world. In particular, readers will respond to Eelyn, who is as emotionally passionate as she is physically capable. Young has built a detailed culture into Sky in the Deep in which her characters thrive. This intensely authentic story will appeal to adult readers as well as teens." -
RT Reviews

,

4 ½ stars Top Pick
"Eelyn is a relentlessly fierce warrior, and even her romance with a Riki fighter doesn't quite soften her; indeed, the two find that their lust for blood is almost as strong as their lust for each other... The action on the battlefield and the rising political tensions between the clans will easily keep readers involved through the final page." -
The Bulletin of the Center for Children's Books
"A refreshing tale where life is tested and people have to overcome their differences to fight a bigger foe to survive. A fast-paced, action-filled fantasy for all YA collections." -
School Library Journal
Did you know that comments are DELICIOUS? Well they are and if you comment on any of these posts you could win some awesome goodies!
Disclaimer:
"All opinions are 100% honest and my own."
Thanks to Goodreads and Amazon for the book cover, about the book, and author information. Buying via these links allows my site to get a % of the sale at no cost to you.

FTC Guidelines: In accordance with FTC guidelines regarding endorsements and testimonials for bloggers, I would like my readers to know that many of the books I review are provided to me for free by the publisher or author of the book in exchange for an honest review. If am compensated for any reviews on this site I will state that post has been sponsored.