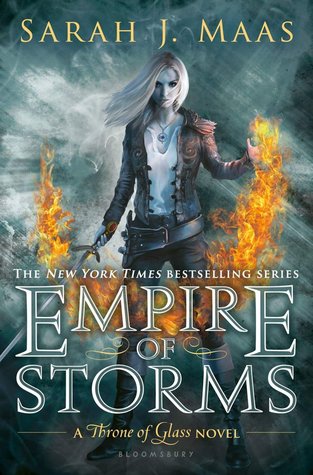 Series:
(Throne of Glass, #5)
Author:

Sarah J. Maas
Genres: Young Adult, Fantasy, Romance
Pages:
Hardcover
,
704 pages
Published:
September 6th 2016
Publisher:
Bloomsbury Children's Books
Add to Goodreads
Buy from Amazon
Synopsis:
The long path to the throne has only just begun for Aelin Galathynius as war looms on the horizon. Loyalties have been broken and bought, friends have been lost and gained, and those who possess magic find themselves at odds with those who don't.
With her heart sworn to the warrior-prince by her side, and her fealty pledged to the people she is determined to save, Aelin will delve into the depths of her power to protect those she loves. But as monsters emerge from the horrors of the past, and dark forces become poised to claim her world, the only chance for salvation will lie in a desperate quest that may mark the end of everything Aelin holds dear.
In this breathtaking fifth installment of the
New York Times
bestselling Throne of Glass series, Aelin will have to choose what—and who—to sacrifice if she's to keep the world of Erilea from breaking apart.
About the Author:
Sarah J. Maas
is the #1
New York Times
and internationally bestselling author of the Throne of Glass series, as well as the Court of Thorns and Roses series. Her books are published in over thirty-six languages. A New York native, Sarah lives in Pennsylvania with her husband and dog.
www.worldofsarahjmaas.com
www.facebook.com/theworldofsarahjmaas
Instagram: therealsjmaas
"Tightly plotted, delightful escapism." -
Kirkus Reviews
"Fans devoted to the series (and there are many) will be eager for this installment's cinematic action, twisty schemes, and intense revelations of secrets and legacies." -
Booklist
"The best, most exciting installment yet. . . . Each page teems with fierce intensity, romantic tension and propulsive suspense as power, magic and evil surge in this high-stakes saga." ―
USA Today on QUEEN OF SHADOWS
"Sizzles with action, deception and sexual tension, making it the best yet." ―
RT Book Reviews on QUEEN OF SHADOWS
"Impossible to put down." ―
Kirkus Reviews on QUEEN OF SHADOWS
"Celaena is as much an epic hero as Frodo or Jon Snow!" ―New York Times bestselling author Tamora Pierce on HEIR OF FIRE
"Intriguing, beautiful, heartbreaking, romantic and exciting . . . . This story will consume your imagination and leave you drooling for more. . . . Epic fantasy gold." ―
USA Today on HEIR OF FIRE
"Tension snowballs into devastating twists and an absolutely riveting ending. . . . Will leave readers ravenous for more." ―
Kirkus Reviews on HEIR OF FIRE
"An epic fantasy readers will immerse themselves in and never want to leave." ―starred review,
Kirkus Reviews on CROWN OF MIDNIGHT
"A thrill ride of epic fantasy proportions." ―
USA Today on CROWN OF MIDNIGHT
"A thrilling read." ―starred review,
Publishers Weekly on THRONE OF GLASS
"A must-read for lovers of epic fantasy and fairy tales." ―
USA Today on THRONE OF GLASS
"Fans of Tamora Pierce and George R.R. Martin, pick up this book!" ―
RT Book Reviews on THRONE OF GLASS
"Simply dazzles. . . . Maas' Throne of Glass series has been a smash hit [and] this new series is primed to follow in its footsteps." ―starred review,
Booklist on A COURT OF THORNS AND ROSES
"Maas delivers what may be her best work to date. . . . Enchanting, spellbinding, and imaginative. . . . The world-building is stellar, as only Maas can imagine it." ―
USA Today on A COURT OF THORNS AND ROSES
"A gorgeously written tale as lush and romantic as it is ferocious. Absolutely spellbinding." ―New York Times bestselling author Alexandra Bracken on A COURT OF THORNS AND ROSES
My Review: I really wonder if any of these titles won't make me cry. This book shocked and delighted me to no end. There were a lot of times where I would scream out either to say NO or YES!! Where the last book left me with a feeling of so much hope. This one left me feeling very scared of how it was all going to end. We get revolations on what has to happend for these people to save the world and its so much worse than I could ever have imagined.
Go Into This One Knowing: Griping, Twists and Turns, and ONE Killer Ending!!
Did you know that comments are DELICIOUS? Well they are and if you comment on any of these posts you could win some awesome goodies!
Disclaimer:
"All opinions are 100% honest and my own."
Thanks to Goodreads and Amazon for the book cover, about the book, and author information. Buying via these links allows my site to get a % of the sale at no cost to you.

FTC Guidelines: In accordance with FTC guidelines regarding endorsements and testimonials for bloggers, I would like my readers to know that many of the books I review are provided to me for free by the publisher or author of the book in exchange for an honest review. If am compensated for any reviews on this site I will state that post has been sponsored.