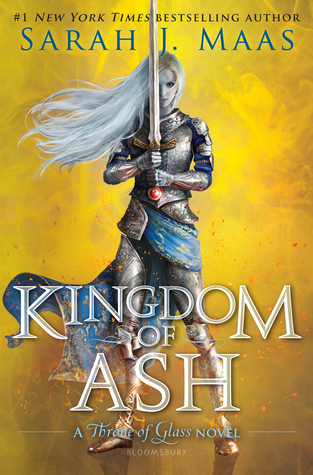 Series:
(Throne of Glass, #7)
Author:

Sarah J. Maas
Genres: Young Adult, Fantasy, Romance
Pages:
Hardcover
,
984 pages
Published:
October 23rd 2018
Publisher:
Bloomsbury YA
Add to Goodreads
Buy from Amazon
Synopsis:
Years in the making, Sarah J. Maas's #1 New York Times bestselling Throne of Glass series draws to an epic, unforgettable conclusion. Aelin Galathynius's journey from slave to king's assassin to the queen of a once-great kingdom reaches its heart-rending finale as war erupts across her world. . .
Aelin has risked everything to save her people―but at a tremendous cost. Locked within an iron coffin by the Queen of the Fae, Aelin must draw upon her fiery will as she endures months of torture. Aware that yielding to Maeve will doom those she loves keeps her from breaking, though her resolve begins to unravel with each passing day…
With Aelin captured, Aedion and Lysandra remain the last line of defense to protect Terrasen from utter destruction. Yet they soon realize that the many allies they've gathered to battle Erawan's hordes might not be enough to save them. Scattered across the continent and racing against time, Chaol, Manon, and Dorian are forced to forge their own paths to meet their fates. Hanging in the balance is any hope of salvation―and a better world.
And across the sea, his companions unwavering beside him, Rowan hunts to find his captured wife and queen―before she is lost to him forever.
As the threads of fate weave together at last, all must fight, if they are to have a chance at a future. Some bonds will grow even deeper, while others will be severed forever in the explosive final chapter of the Throne of Glass series.
About the Author:
Sarah J. Maas
is the #1
New York Times
and internationally bestselling author of the Court of Thorns and Roses series, as well as the Throne of Glass series. Her books are published in over thirty-six languages. A New York native, Sarah lives in Pennsylvania with her husband and dog.
www.sarahjmaas.com
www.facebook.com/theworldofsarahjmaas
Instagram: therealsjmaas
"Fans will delight in this gorgeous edition. . . . Action-packed and full of insight into Celaena's character. . . . What a ride!" ―
Booklist on The Assassin's Blade
"A thrilling read." ―
Publisher's Weekly on Throne of Glass
"A must-read for lovers of epic fantasy and fairy tales." ―
USA Today on Throne of Glass
"Fans of Tamora Pierce and George R.R. Martin, pick up this book!" ―
RT Book Reviews on Throne of Glass
"An epic fantasy readers will immerse themselves in and never want to leave." ―
Kirkus Reviews on Crown of Midnight
"A thrill ride of epic fantasy proportions." ―
USA Today on Crown of Midnight
"With assassinations, betrayal, love and magic, this novel has something to match everyone's interests." ―
RT Book Reviews on Crown of Midnight
"Celaena is as much an epic hero as Frodo or Jon Snow!" ―
Tamora Pierce, New York Times bestselling author on HEIR OF FIRE
"Maas shines as a brilliant storyteller. . . . The most exhilarating installment yet." ―
RT Book Reviews on Heir of Fire
"Impossible to put down." ―
Kirkus Reviews on Queen of Shadows
"Beautifully written prose and brilliantly crafted plots come together in this entry of the awe-inspiring fantasy series that will leave readers anticipating the next volume." ―
SLJ on Queen of Shadows
"Tightly plotted, delightful escapism." ―
Kirkus Reviews on Empire of Storms
"Sarah J. Maas turns a corner from sprawling epic to thrilling psychological fantasy....A worthy new chapter in the Throne of Glass saga." ―
HuffPost
My Review: 4,200 pages is how long this series is that I have just finished. And no words could ever tell you how much this series has ripped out my heart only to put it back together. This has been one of the most amazing journeys that I have ever taken in a series and it is not one that I will soon forget.
One thing that I didn't like is that although we do get an epilogue set a few months past the last chapter I would have liked to have something that was years in the future. So much of this story was left open so I really hope that when the paperback comes out that we get another story set in this world as I would like to know what everyone is up to by that time.
This last book in this amazing series is one to bring you a lot of heartbreak. I know that through most of it I was either shouting out with YES or crying my eyes out both happy and sad tears. I will say to make sure to have tissues on hand and a lot of water. Even after finishing this story I couldn't pick a fav. character or couple as they have all found a special place in my heart. And I will think of them from time to time. I would love to revisit this series a few years from now when their story starts to grow faint in my mind. So I can once again fall in love with each of them.
I really don't know what else to say about this story other than it wowed me and I kind of wished that I could have been there to help each and everyone one of those characters. As a spirit on the wind leading them in their fight. I will leave you with this though as my final thoughts on this story.
Although Aelin might be a fictional character as far as we know. She is one that showed us to never give up. To NEVER YIELD and to Fight for a better world. So Aelin I am here with you and lets hope for a better tomorrow.
Go Into This One Knowing: Ends with openings, Lots of deaths, Have tissues!
Did you know that comments are DELICIOUS? Well they are and if you comment on any of these posts you could win some awesome goodies!
Disclaimer:
"All opinions are 100% honest and my own."
Thanks to Goodreads and Amazon for the book cover, about the book, and author information. Buying via these links allows my site to get a % of the sale at no cost to you.

FTC Guidelines: In accordance with FTC guidelines regarding endorsements and testimonials for bloggers, I would like my readers to know that many of the books I review are provided to me for free by the publisher or author of the book in exchange for an honest review. If am compensated for any reviews on this site I will state that post has been sponsored.