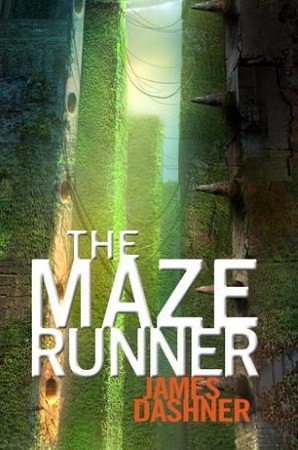 If you ain't scared, you ain't human.
When Thomas wakes up in the lift, the only thing he can remember is his name. He's surrounded by strangers—boys whose memories are also gone.
Nice to meet ya, shank. Welcome to the Glade.
Outside the towering stone walls that surround the Glade is a limitless, ever-changing maze. It's the only way out—and no one's ever made it through alive.
Everything is going to change.
Then a girl arrives. The first girl ever. And the message she delivers is terrifying.
Remember. Survive. Run.
Finished
About the Author
›
Twitter
|
Goodreads
|
Website
Biography
My Book Review 5 Running Stars
Ive had these ever since I heard there was going to be a movie. So when it came time for a book to be chosen for my book club I jumped at the chance to add all of them. Well I have to say that I wasn't disappointed! This book just blew me away.
The Story: You end not getting very much in a past events until the very end which normally I hate. But, this is done so well in this book that It made me want to read faster to find out what in the world was going on. So the story is long but very good.
Character: Well the characters were beyond amazing. I really want to know why only one girl was there. Was it just to through them all off or was there a real reason. Also I really want to switch and go read the prequel but I'm not (breaths, no no) I am going to start and finish book two prob tonight. haha. Yes its that good. This has some great characters that will stick with you.
Creatures: Creepy!!
Plot: OOO great mystery, suspense, So can't wait to see what they do with the movie. OMG.
All together: No love triangles for miles in this one. It was a pretty fast paced read even though parts of it were a little slow. You won't even notice. Its a deff must read for me!!!
You won't find out much in this first book. I have SO many questions. The ending will leave you screaming WTF so deff have book two near so you can start it.
My Movie Review: 5 Stars
OMG Saw this in IMax and it was so worth the extra money. It was FAB! I think the movie people are finally getting it right! So worth seeing it a few times. The Maze was creepy as ever, the Grivers are gonna give me nightmares, and ya Galley is still an a**!! So can't wait for part two!
"All opinions are 100% honest and my own."
Buy From Amazon
Buy From iTunes



Disclaimer: Thanks to Goodreads and Amazon for the book cover, about the book, and author information.