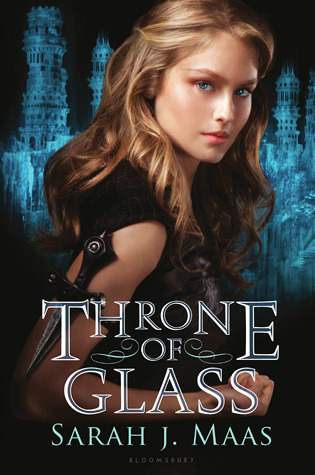 After serving out a year of hard labor in the salt mines of Endovier for her crimes, 18-year-old assassin Celaena Sardothien is dragged before the Crown Prince. Prince Dorian offers her her freedom on one condition: she must act as his champion in a competition to find a new royal assassin. Her opponents are men-thieves and assassins and warriors from across the empire, each sponsored by a member of the king's council. If she beats her opponents in a series of eliminations, she'll serve the kingdom for three years and then be granted her freedom.
Celaena finds her training sessions with the captain of the guard, Westfall, challenging and exhilirating. But she's bored stiff by court life. Things get a little more interesting when the prince starts to show interest in her... but it's the gruff Captain Westfall who seems to understand her best.
Then one of the other contestants turns up dead... quickly followed by another.
Can Celaena figure out who the killer is before she becomes a victim? As the young assassin investigates, her search leads her to discover a greater destiny than she could possibly have imagined.
Finished
About the Author
Biography
Website:
http://sarahjmaas.com/
Twitter:
SJMaas
Facebook:
THRONEOFGLASS
Goodreads:
Sarah J. Maas
My Review 5 Killer Stars
Meeting Tonight!


https://www.facebook.com/groups/notyournormal/

We meet online and in group Currently we are meeting on Saturdays at 6pm EST. via Google+ Hangouts.
OMG!! When I purchased this almost two years ago I didn't know what awaited me in its pages! But now that I have read it I'm mystified. And kinda happy that I didn't read it until ALL of the books were out haha. I would have been crying right now. The characters were AMAZING! And I have to say that I didn't even care there was a love triangle. I've been swallowed by these three characters to a point where I just hope that everyone gets a happily ever after. This book was a wonderful blend of fantasy and realism. I wouldn't be surprised if I found a history book all about the assassin. Haha. This book just makes you feel so much that you will talk about it for years to come. Deff not one to let slip through your fingers......off to read book two!
I have to say that I am over joyed to have this book chosen by the
book club!
I have to say that I really hope everyone gets a happy ending in this love triangle cause I really don't want anyone to get hurt. Ugh!!
"All opinions are 100% honest and my own."
Buy The Book
Disclaimer: Thanks to Goodreads and Amazon for the book cover, about the book, and author information.