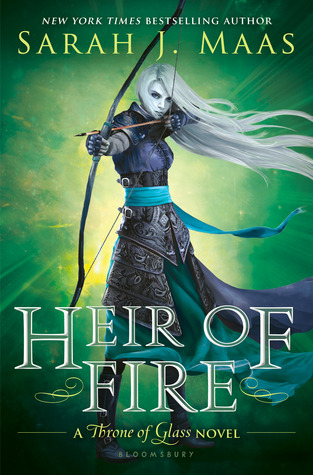 Lost and broken, Celaena Sardothien's only thought is to avenge the savage death of her dearest friend: as the King of Adarlan's Assassin, she is bound to serve this tyrant, but he will pay for what he did. Any hope Celaena has of destroying the king lies in answers to be found in Wendlyn. Sacrificing his future, Chaol, the Captain of the King's Guard, has sent Celaena there to protect her, but her darkest demons lay in that same place. If she can overcome them, she will be Adarlan's biggest threat – and his own toughest enemy.
While Celaena learns of her true destiny, and the eyes of Erilea are on Wendlyn, a brutal and beastly force is preparing to take to the skies. Will Celaena find the strength not only to win her own battles, but to fight a war that could pit her loyalties to her own people against those she has grown to love?
About the Author
Biography
Website:
http://sarahjmaas.com/
Twitter:
SJMaas
Facebook:
THRONEOFGLASS
Goodreads:
Sarah J. Maas
My Review 5 Killer Stars
OMG I finally finished this. I am still bummed that this is not a trilogy haha. If only for the fact that by the time the next book comes out ill have to read this all over again......Ok I'm not that bummed!! There are three more books so far in this series to come out.
This one was again beyond amazing! It was long and good! We meet new friends and get to follow the old ones through their journey. If the length scares you don't let it. You will miss out on a journey that everyone should read! This series will deff be something that in years to come that we consider being a classic.
It was amazing and will live in my home forever....Now wheres my movie!!!
"All opinions are 100% honest and my own."
Buy The Book
Disclaimer: Thanks to Goodreads and Amazon for the book cover, about the book, and author information.