Welcome to my posting of #Vote2Win Mondays. Each Monday I post a few ARCs for you to vote on. Then if your name is chosen you win that book.
Winner will be announced the following morning.

How it works:
Enter the Rafflecopter then if your name is chosen then you win that ARC.

This is open to all!!
Last Weeks Winner Was!
Born of Illusion by Teri Brown
If this one is chosen it is for book one and two (if I end up liking book one.)
Anna Van Housen has a secret.
A gifted illusionist, Anna assists her mother, the renowned medium Marguerite Van Housen, in her stage show and séances, easily navigating the underground world of magicians, mediums, and mentalists in 1920's New York. As the illegitimate daughter of Harry Houdini—or so Marguerite claims—sleight of hand illusions have never been a challenge for Anna. The real trick is keeping her own gifts secret from her opportunistic mother. Because while Marguerite's own powers may be a sham, Anna possesses a true ability to sense people's feelings and foretell the future.
But as Anna's powers intensify, she begins to experience frightening visions of her mother in peril, which leads her to explore the powers she's tried so long to hide. And when a mysterious young man named Cole moves into the flat downstairs, introducing Anna to a secret society that studies people with gifts like hers, she is forced to confront her past and rethink everything she's ever known. Is her mother truly in danger, or are Anna's visions merely illusion? And could the great Houdini really be her father, or is it just another of Marguerite's tricks?
From Teri Brown comes a world bursting with magic, with romance, and the temptations of Jazz Age New York—and the story of a girl about to become the mistress of her own destiny.
See my Review here:
!THESE WEEKS PICKS! Are All ARCs the winner will win that book!
The 100 Society by Carla Spradbery
For sixth-form student Grace Becker, The 100 Society is more than just a game; it's an obsession. Having convinced her five friends at Clifton Academy to see it through to the end, Grace will stop at nothing to carry out the rules of the game: tagging 100 locations around the city. With each step closer to the 100-mark they get, the higher the stakes become. But when the group catches the attention of a menacing stalker - the Reaper - he seems intent on exposing their illegal game, tormenting Grace with anonymous threats and branding their dormitory doors with his ominous tag.
As the once tight-knit group slowly unravels, torn apart by doubt and the death of a student, they no longer know who to trust.
With time running out, Grace must unmask the Reaper before he destroys everything she cares about for ever...
A Song for Ella Grey by David Almond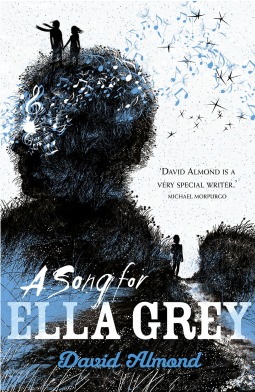 "I'm the one who's left behind. I'm the one to tell the tale. I knew them both...knew how they lived and how they died."
Claire is Ella Grey's best friend. She's there when the whirlwind arrives on the scene: catapulted into a North East landscape of gutted shipyards; of high arched bridges and ancient collapsed mines. She witnesses a love so dramatic it is as if her best friend has been captured and taken from her. But the loss of her friend to the arms of Orpheus is nothing compared to the loss she feels when Ella is taken from the world. This is her story - as she bears witness to a love so complete; so sure, that not even death can prove final.
This week the books listed are all ARCs the winner will win that copy!
Disclaimer: Thanks to Goodreads and Amazon for the book cover, about the book, and author information.
a Rafflecopter giveaway