Welcome to our by weekly chat about books! You to can join in! Just going the Facebook group
https://www.facebook.com/groups/390457901109305/
and start voting and reading with us!
Tonight we will be chatting it up about Daughter of Smoke and Bone by Laini Taylor. I have to say that with all these thick books its a wonder we get them done in time haha. Well join us tonight at
3PM PC | 4PM MT | 5PM CT | 6PM ET
on Google+ Hangouts!
And if you like to read books why not join us!
https://plus.google.com/events/c8u09uq7aoqokpuk9aap89tktog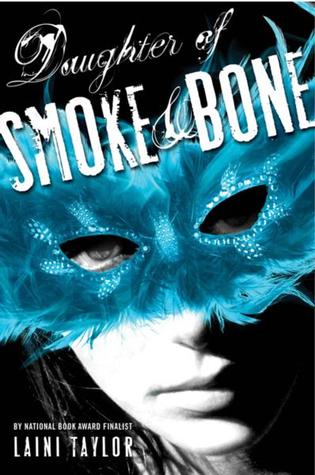 Around the world, black handprints are appearing on doorways, scorched there by winged strangers who have crept through a slit in the sky.
In a dark and dusty shop, a devil's supply of human teeth grows dangerously low.
And in the tang
led lanes of Prague, a young art student is about to be caught up in a brutal otherwordly war.
Meet Karou. She fills her sketchbooks with monsters that may or may not be real, she's prone to disappearing on mysterious "errands", she speaks many languages - not all of them human - and her bright blue hair actually grows out of her head that color. Who is she? That is the question that haunts her, and she's about to find out.
When beautiful, haunted Akiva fixes fiery eyes on her in an alley in Marrakesh, the result is blood and starlight, secrets unveiled, and a star-crossed love whose roots drink deep of a violent past. But will Karou live to regret learning the truth about herself?
About the Author
Biography
This was an amazing book! It was slow to start and I was wondering if I was going to hate it. But I am happy to say that I fell in love! Want to see what I have to say about the book through out the book. Check out my Pinterest board for by #BookChat!
Go Into This One Knowing
Slow to start but speeds up
"All opinions are 100% honest and my own."


Disclaimer: Thanks to Goodreads and Amazon for the book cover, about the book, and author information.