Ok so this is now going to be a by weekly meme. What that means is the first post will be to vote then the next one will be the review for the book that won. Then it will start over. This was just so I wouldn't be over whelmed.

This is Not a Test by Courtney Summers
It's the end of the world. Six students have taken cover in Cortege High but shelter is little comfort when the dead outside won't stop pounding on the doors. One bite is all it takes to kill a person and bring them back as a monstrous version of their former self. To Sloane Price, that doesn't sound so bad. Six months ago,
her
world collapsed and since then, she's failed to find a reason to keep going. Now seems like the perfect time to give up. As Sloane eagerly waits for the barricades to fall, she's forced to witness the apocalypse through the eyes of five people who actually
want
to live. But as the days crawl by, the motivations for survival change in startling ways and soon the group's fate is determined less and less by what's happening outside and more and more by the unpredictable and violent bids for life—
and
death—inside. When everything is gone, what do
you
hold on to?
Amity by Micol Ostow
Here is a house of ruin and rage, of death and deliverance.Here is where I live, not living.
Here is always mine.
When Connor's family moves to Amity, a secluded house on the peaceful banks of New England's Concord River, his nights are plagued with gore-filled dreams of demons. destruction, and revenge. Dreams he kind of likes. Dreams he could make real, with Amity's help.
Ten years later, Gwen's family moves to Amity for a fresh start. Instead, she's haunted by lurid visions, disturbing voices, and questions about her own sanity. But with her history, who would ever believe her? And what could be done if they did?
Because Amity isn't just a house. She is a living force, bent on manipulating her inhabitants to her twisted will. She will use Connor and Gwen to bring about a violent end as she's done before. As she'll do again. And again. And again.
Inspired by a true-crime story,
Amity
spans generations to weave an overlapping, interconnected tale of terror, insanity. danger, and death.
The Cure for Dreaming by Cat Winters
Olivia Mead is a headstrong, independent girl—a suffragist—in an age that prefers its girls to be docile. It's 1900 in Oregon, and Olivia's father, concerned that she's headed for trouble, convinces a stage mesmerist to try to hypnotize the rebellion out of her. But the hypnotist, an intriguing young man named Henri Reverie, gives her a terrible gift instead: she's able to see people's true natures, manifesting as visions of darkness and goodness, while also unable to speak her true thoughts out loud. These supernatural challenges only make Olivia more determined to speak her mind, and so she's drawn into a dangerous relationship with the hypnotist and his mysterious motives, all while secretly fighting for the rights of women. Winters breathes new life into history once again with an atmospheric, vividly real story, including archival photos and art from the period throughout.
Tabula Rasa by Kristen Lippert-Martin
The Bourne Identity meets Divergent in this heart-pounding debut.
Sixteen-year-old Sarah has a rare chance at a new life. Or so the doctors tell her. She's been undergoing a cutting-edge procedure that will render her a tabula rasa—a blank slate. Memory by memory her troubled past is being taken away.
But when her final surgery is interrupted and a team of elite soldiers invades the isolated hospital under cover of a massive blizzard, her fresh start could be her end.
Navigating familiar halls that have become a dangerous maze with the help of a teen computer hacker who's trying to bring the hospital down for his own reasons, Sarah starts to piece together who she is and why someone would want her erased. And she won't be silenced again.
A high-stakes thriller featuring a non-stop race for survival and a smart heroine who will risk everything, Tabula Rasa is, in short, unforgettable.
Of Metal and Wishes by Sarah Fine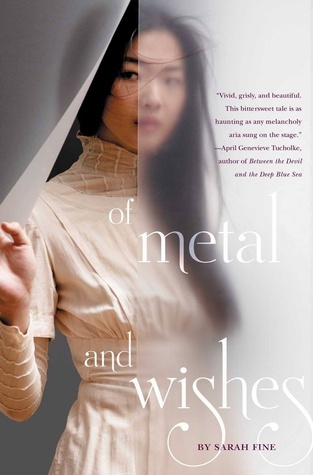 There are whispers of a ghost in the slaughterhouse where sixteen-year-old Wen assists her father in his medical clinic—a ghost who grants wishes to those who need them most. When one of the Noor, men hired as cheap factory labor, humiliates Wen, she makes an impulsive wish of her own, and the Ghost grants it. Brutally.
Guilt-ridden, Wen befriends the Noor, including their outspoken leader, a young man named Melik. At the same time, she is lured by the mystery of the Ghost and learns he has been watching her … for a very long time.
As deadly accidents fuel tensions within the factory, Wen must confront her growing feelings for Melik, who is enraged at the sadistic factory bosses and the prejudice faced by his people at the hand of Wen's, and her need to appease the Ghost, who is determined to protect her against any threat—real or imagined. She must decide whom she can trust, because as her heart is torn, the factory is exploding around her … and she might go down with it.
A Long Long Sleep by Anna Sheehan
It should have been a short suspended-animation sleep. But this time Rose wakes up to find her past is long gone-- and her future full of peril.
Rosalinda Fitzroy has been asleep for sixty-two years when she is woken by a kiss. Locked away in the chemically induced slumber of a stasis tube in a forgotten subbasement, sixteen-year-old Rose slept straight through the Dark Times that killed millions and utterly changed the world she knew. Now, her parents and her first love are long gone, and Rose-- hailed upon her awakening as the long-lost heir to an interplanetary empire-- is thrust alone into a future in which she is viewed as either a freak or a threat. Desperate to put the past behind her and adapt to her new world, Rose finds herself drawn to the boy who kissed her awake, hoping that he can help her to start fresh. But when a deadly danger jeopardizes her fragile new existence, Rose must face the ghosts of her past with open eyes-- or be left without any future at all.
a Rafflecopter giveaway
Disclaimer: Thanks to Goodreads and Amazon for the book cover, about the book, and author information.