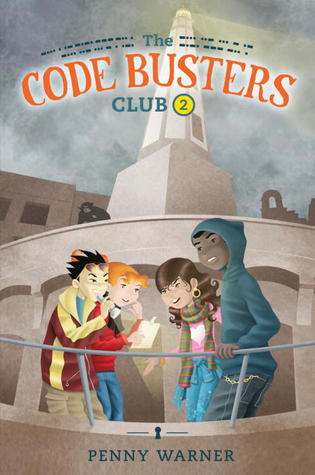 "A fun series sure to appeal to graduates of Encyclopedia Brown and Ivy & Bean."-- Shelf Awareness
When Cody, Quinn, M.E., and Luke receive a cryptic message directing them to Alcatraz Island, the promise of a new adventure, and possible treasure, sets them on the trail to the famous prison to solve a decades-old mystery involving the Alcatraz lighthouse, a jewel thief, and his fabled missing haul. If the Code Busters can unravel the secret of Diamond Dave's biggest theft, they could be in for a fortune!
Also available in electronic book format (ISBN 978-1-60684-362-8)
Biography
Penny Warner has published over 60 books for both adults and children. Her first mystery series featuring Connor Westphal, a deaf reporter in the California Gold Country, won a Macavity Award for Best First Mystery, and was nominated for an Agatha and an Anthony Award. Books in the series include, DEAD BODY LANGUAGE, SIGN OF FOUL PLAY, and RIGHT TO REMAIN SILENT. All are available on Kindle.

Her other mystery series features event planner, Presley Parker, and is set in the San Francisco Bay Area. HOW TO HOST A KILLER PARTY, offers a wedding on Alcatraz, HOW TO CRASH A KILLER BASH, features a Murder Mystery Party at the de Young Museum, HOW TO SURVIVE A KILLER SÉANCE, presents a Séance Party at the Winchester Mystery House, and HOW TO PARTY WITH A KILLER VAMPIRE is set in Colma, the City of Souls. HOW TO DINE ON KILLER WINE offers a mystery in the Napa Wine Country.

Her middle-grade mystery, CODE BUSTERS CLUB: SECRET OF THE SKELETON KEY, was nominated for an Agatha Best Juvenile Mystery Award. It features four kids who solve a mystery by cracking codes in each chapter. The second book in the series, CODE BUSTERS: THE HAUNTED LIGHTHOUSE, is set on Alcatraz. (Join the Code Busters Club at www.codebustersclub.com.) Her non-fiction book, THE OFFICIAL NANCY DREW HANDBOOK, was nominated for an Agatha Award.

She writes a column for the local newspaper on family life in the Valley, creates fund-raising murder mystery events for libraries across the country, and teaches child development at Diablo Valley College. She can be reached at http://www.pennywarner.com or pennywarnerink@yahoo.com.









The code busters are back and better than ever. Im getting sad that my mom has to give these away. Would it be bad for me to enter it?
I'm really loving these books. Each one is a set of new clues to solve a mystery. Each character has their own strengths and its just well awesome!
This is another one that I think would be better for ages under mine. (I'm 10) as its way easy to read and understand.
Go Into This One Knowing
Wont be able to put down!
"All opinions are 100% honest and my own."


a Rafflecopter giveaway
Disclaimer: Thanks to Goodreads and Amazon for the book cover, about the book, and author information.