#

ReadOn
Nov. 8th 4pm ET.
#

Authors
@

rominarussell
@

SaraBLarson
@

rebeccaaserle
@

LoriMLee
@

byRachelMWilson
#

giveaway
https://plus.google.com/events/c1o8g4to713or67hiakjnnrjjjs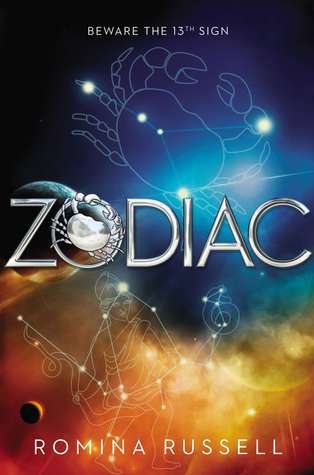 At the dawn of time, there were 13 Houses in the Zodiac Galaxy. Now only 12 remain….
Rhoma Grace is a 16-year-old student from House Cancer with an unusual way of reading the stars. While her classmates use measurements to make accurate astrological predictions, Rho can't solve for 'x' to save her life—so instead, she looks up at the night sky and makes up stories.
When a violent blast strikes the moons of Cancer, sending its ocean planet off-kilter and killing thousands of citizens—including its beloved Guardian—Rho is more surprised than anyone when she is named the House's new leader. But, a true Cancrian who loves her home fiercely and will protect her people no matter what, Rho accepts.
Then, when more Houses fall victim to freak weather catastrophes, Rho starts seeing a pattern in the stars. She suspects Ophiuchus—the exiled 13th Guardian of Zodiac legend—has returned to exact his revenge across the Galaxy. Now Rho—along with Hysan Dax, a young envoy from House Libra, and Mathias, her guide and a member of her Royal Guard—must travel through the Zodiac to warn the other Guardians.
But who will believe anything this young novice says? Whom can Rho trust in a universe defined by differences? And how can she convince twelve worlds to unite as one Zodiac?
Embark on a dazzling journey with ZODIAC, the first novel in an epic sci-fi-meets-high-fantasy series set in a galaxy inspired by the astrological signs.
ABOUT THE AUTHOR
Romina Russell is a Los Angeles based author who originally hails from Buenos Aires, Argentina. As a teen, Romina landed her first writing gig—
College She Wrote
, a weekly Sunday column for the
Miami Herald
that was later picked up for national syndication—and she hasn't stopped writing since. When she's not working on the ZODIAC series, Romina can be found producing movie trailers, taking photographs, or daydreaming about buying a new drum set. She is a graduate of Harvard College and a Virgo to the core. This is Romina's first novel.
A lush and gorgeously written debut, packed with action, intrigue, and heart-racing romance.
Alexa Hollen is a fighter. Forced to disguise herself as a boy and serve in the king's army, Alex uses her quick wit and fierce sword-fighting skills to earn a spot on the elite prince's guard. But when a powerful sorcerer sneaks into the palace in the dead of night, even Alex, who is virtually unbeatable, can't prevent him from abducting her, her fellow guard and friend Rylan, and Prince Damian, taking them through the treacherous wilds of the jungle and deep into enemy territory.
The longer Alex is held captive with both Rylan and the prince, the more she realizes that she is not the only one who has been keeping dangerous secrets. And suddenly, after her own secret is revealed, Alex finds herself confronted with two men vying for her heart: the safe and steady Rylan, who has always cared for her, and the dark, intriguing Damian. With hidden foes lurking around every corner, is Alex strong enough to save herself and the kingdom she's sworn to protect?
Author of YA Fantasy DEFY (January 2014) and IGNITE (Jan. 6, 2015) from Scholastic. Mommy of three. Lover of chocolate, desserts of all kinds, and Swedish Fish. Also good books. Represented by Josh Adams of Adams Literary.
The romantic story of a girl who gets plucked from obscurity to star in the next major feature film fra
nchise based on a book and the ensuing love triangles she gets entangled in on—-and off screen.

Meet Paige Townsen, Rainer Devon, and Jordan Wilder…

When Paige Townsen, a young unknown, gets cast in the movie adaptation of a blockbuster book series, her life changes practically overnight. Within a month, Paige has traded the quiet streets of her hometown for a crowded movie set on the shores of Maui, and is spending quality time with her co-star Rainer Devon, one of People's Sexiest Men Alive. But when troubled star Jordan Wilder lands the role of the other point in the movie's famous love triangle, Paige's crazy new life gets even crazier.

In this coming-of-age romance inspired by the kind of celeb hookups that get clever nicknames and a million page views, Paige must figure out who she is – and who she wants – while the whole world watches.
Rebecca Serle is the author of
When You Were Mine
and
The Edge of Falling
and is an obsessive lover of all things pop culture. She lives in Manhattan and can be found on Twitter @RebeccaASerle.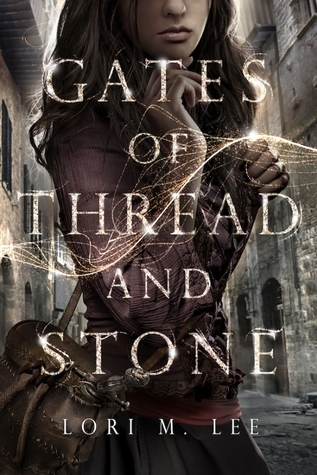 In the Labyrinth, we had a saying: keep silent, keep still, keep safe.
In a city of walls and secrets, where only one man is supposed to possess magic, seventeen-year-old Kai struggle
s to keep hidden her own secret—she can manipulate the threads of time. When Kai was eight, she was found by Reev on the riverbank, and her "brother" has taken care of her ever since. Kai doesn't know where her ability comes from—or where
she
came from. All that matters is that she and Reev stay together, and maybe one day move out of the freight container they call home, away from the metal walls of the Labyrinth. Kai's only friend is Avan, the shopkeeper's son with the scandalous reputation that both frightens and intrigues her.
Then Reev disappears. When keeping silent and safe means losing him forever, Kai vows to do whatever it takes to find him. She will leave the only home she's ever known and risk getting caught up in a revolution centuries in the making. But to save Reev, Kai must unravel the threads of her past and face shocking truths about her brother, her friendship with Avan, and her unique power.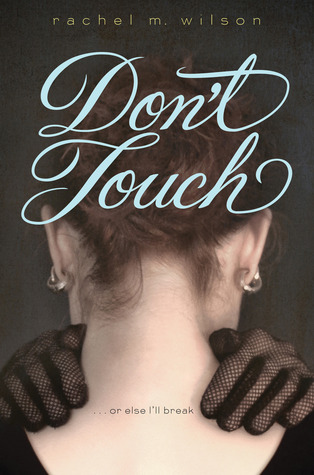 A powerful story of a girl who is afraid to touch another person's skin, until the boy auditioning for Hamlet opposite her Ophelia gives her a reason to overcome her fears.
Step on a crack, break your mother's back. Touch another person's skin, and Dad's gone for good.
Caddie can't stop thinking that if she keeps from touching another person's skin, her parents might get back together... which is why she wears full-length gloves to school and covers every inch of her skin.
It seems harmless at first, but Caddie's obsession soon threatens her ambitions as an actress. She desperately wants to play Ophelia in her school's production of Hamlet. But that would mean touching Peter, who's auditioning for the title role—and kissing him. Part of Caddie would love nothing more than to kiss Peter—but the other part isn't sure she's brave enough to let herself fall.
Perfect for fans of Laurie Halse Anderson, this debut novel from Rachel M. Wilson is a moving story of a talented girl who's fighting an increasingly severe anxiety disorder, and the friends and family who stand by her.
ABOUT THE AUTHOR
Rachel M. Wilson received her MFA in writing for children and young adults from Vermont College of Fine Arts.
Don't Touch
is her first novel. Originally from Alabama, she now lives in Chicago, Illinois.
a Rafflecopter giveaway
Disclaimer: Thanks to Goodreads and Amazon for the book cover, about the book, and author information.