This saturday I would like to share with you the review of last weeks winner! Of Metal and Wishes by Sarah Fine! Make sure to visit next week when the next vote to win will be posted!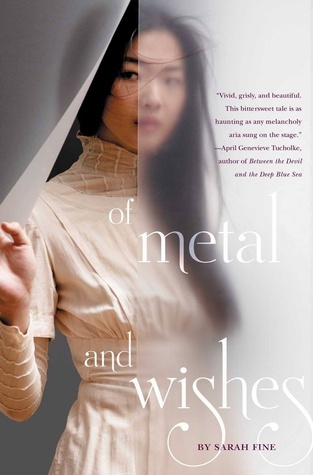 There are whispers of a ghost in the slaughterhouse where sixteen-year-old Wen assists her father in his medical clinic—a ghost who grants wishes to those who need them most. When one of the Noor, men hired as cheap factory labor, humiliates Wen, she makes an impulsive wish of her own, and the Ghost grants it. Brutally.
Guilt-ridden, Wen befriends the Noor, including their outspoken leader, a young man named Melik. At the same time, she is lured by the mystery of the Ghost and learns he has been watching her … for a very long time.
As deadly accidents fuel tensions within the factory, Wen must confront her growing feelings for Melik, who is enraged at the sadistic factory bosses and the prejudice faced by his people at the hand of Wen's, and her need to appease the Ghost, who is determined to protect her against any threat—real or imagined. She must decide whom she can trust, because as her heart is torn, the factory is exploding around her … and she might go down with it.
About the Author
Biography
Well this one just didn't work out for me. I got almost half way in the book before I just had to stop. The story was very slow to start and seemed to keep that pace. The characters were mediocre at best and really didn't make me care about them. The tone of the store felt like the main character was of middle school age vs. a 16 year old and I just really didn't connect with anything in the store.
Go Into This One Knowing
SLOW with boring characters
"All opinions are 100% honest and my own."


If by chance you have read this book and loved it here is something for you. Check it out! http://crossroads.jamberrynails.net
Disclaimer: Thanks to Goodreads and Amazon for the book cover, about the book, and author information. If you can not see the link above you will need to turn off your spam blocker. Buying via these above links allows my site to get a % of the sale at no cost to you. This money gets used to buy items for giveaways.