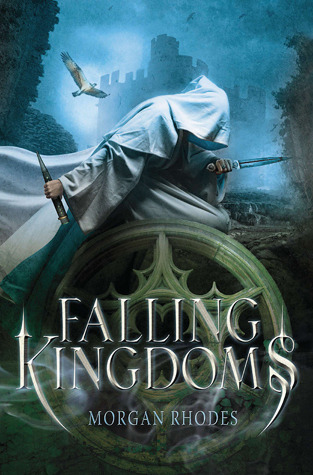 In the three kingdoms of Mytica, magic has long been forgotten. And while hard-won peace has reigned for centuries, a deadly unrest now simmers below the surface.
As the rulers of each kingdom grapple for power, the lives of their subjects are brutally transformed... and four key players, royals and rebels alike, find their fates forever intertwined. Cleo, Jonas, Lucia, and Magnus are caught in a dizzying world of treacherous betrayals, shocking murders, secret alliances, and even unforeseen love.
The only outcome that's certain is that kingdoms will fall. Who will emerge triumphant when all they know has collapsed?

It's the eve of war.... Choose your side.
Princess:
Raised in pampered luxury, Cleo must now embark on a rough and treacherous journey into enemy territory in search of magic long thought extinct.
Rebel:
Jonas, enraged at injustice, lashes out against the forces of oppression that have kept his country cruelly impoverished. To his shock, he finds himself the leader of a people's revolution centuries in the making.
Sorceress:
Lucia, adopted at birth into the royal family, discovers the truth about her past—and the supernatural legacy she is destined to wield.
Heir:
Bred for aggression and trained to conquer, firstborn son Magnus begins to realise that the heart can be more lethal than the sword....
About the Author
Well I had gotten an ARC of book three and book one had been sitting around for a while. So I thought I should read it. Well it started out well enough but I only got to around page 80 before I had to put the whine fest down.
In this book you have to deal with not 1 not 2 not 3 but 4 different kingdoms. And well unlike the book Throne of Glass which does this in an amazing easy to follow way. This one I was forgetting who was who. By the time I finished one chapter with new characters I had to go back to the chart in the front of the book to see who they were.
I don't think I should need a float chart to keep characters together!
Go Into This One Knowing
weird flow, to many kingdoms, and whine fest characters
"All opinions are 100% honest and my own."


Disclaimer: Thanks to Goodreads and Amazon for the book cover, about the book, and author information. If you can not see the link above you will need to turn off your spam blocker. Buying via these above links allows my site to get a % of the sale at no cost to you. This money gets used to buy items for giveaways.
Love doing your nails? Well find a new way to do it without all the smell and fuss! Jamberry nail wraps are the way to go! They are vinyl wraps that no dry time and are sold for $15 a sheet that will get you 2 manicures and 2 pedicures! And you can even buy them Buy 3 Get 1 Free!
http://crossroads.jamberrynails.net
The best part is if you buy from me I will send you a loyalty card. And when you fill it up you get free products! Want more for free? Well host a party! Its free and It can even be done online!
http://crossroads.jamberrynails.net/host/
Right now for my bookish followers I'm offering anyone who buys any Buy 3 Get 1 Free!
Gets to choose 2 books via my box!
https://www.facebook.com/CrossroadReview